April 2014 Demonstration
Our demonstrator for April was Robin Thornhill. She presented a demonstration of a pastel seascape or landscape.
The meeting was held in the Guild Hall, First Congregational Church (middle side door), Sanborn Street, Reading, Wednesday April 9th, 2014 at 7:30 p.m.
We have some photographs of the event in case you could not make it there in person. You can click on any of the images on this page to view a larger version of it. Then, use the Back button on your browser to return to this page.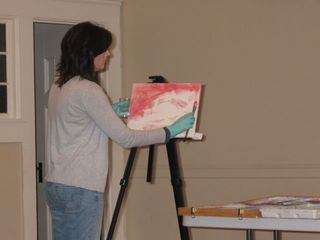 Robin started out with a rough background in red pastel
which she painted with rubbing alcohol to smooth it out.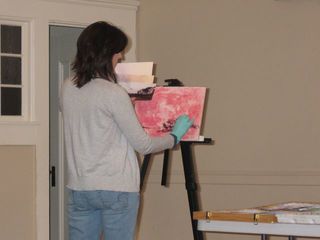 Next she put in a horizon line with some trees.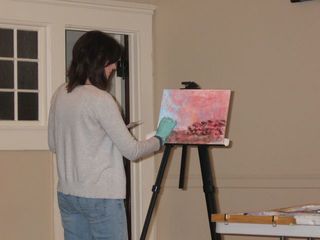 The next step was to start painting the sky.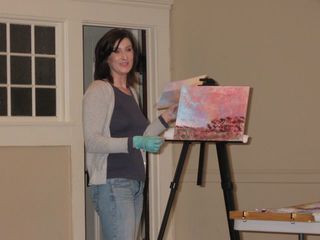 Robin says that she paints slowly because she enjoys doing it that way.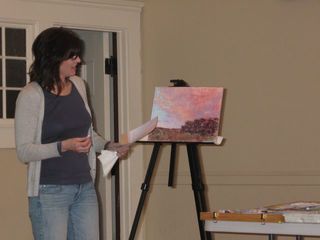 Progress continues.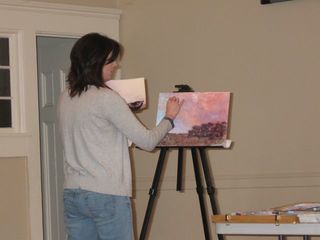 Still working on the sky.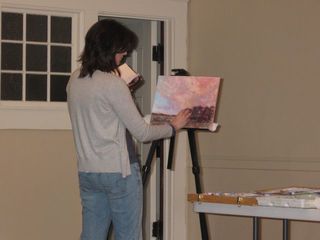 Adding some sky holes to the trees.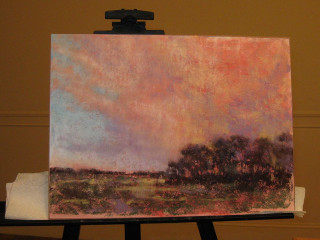 Here is the painting as it was when time ran out.
The audience thought Robin ought to leave it like that.
Robin thought that it needs more work on the sky.
What do you think?
Robin Thornhill's Bio
Visit Robin's web page at http://robinthornhill.com/
Robin Thornhill declared, "Art has always been a piece of me - of my life. Although I am primarily self-taught, I have taken courses over the years including life drawing, design and advanced drawing courses. In 1992 I took an oil painting class which sparked my passion, but I had to put it aside and didn't return to it until I took a landscape oil painting class in the fall of 2006. I haven't stopped painting since! Soon after, I taught myself to paint with pastels, and a new love affair began! Although I will always paint the landscape, I also paint still life, and currently I am immersing myself in studying portraits and figures."
Robin is a signature member of the Pastel Society of America, a member of the Newburyport Art Association, a member of the Pastel Society of New Hampshire, and a juried member of the New Hampshire Art Association. She is part of the group called The Band of Brushes, a plein air group based out of Newburyport. Her studio space at the Artists' Muse Studios in Amesbury is an artist's working studio, where she provides ongoing oil, pastel and acrylic classes.
Robin has won many awards at Andover Art in the Park; Honorable Mention in Pastels, 2007; 2nd Place in Pastels, 2008; 1st Place and Best in Show in Oils, 2010; 3rd Place in Pastels, 2011; 2nd Place in Pastels, 2012; and 2nd Place in Oils, 2013. She also won awards at several shows at the Newburyport Art Association, the Magnolia Library Show, and the Terry Ludwig Award at the Cape Cod Art Association for Pastels Only.
---
Mission Statement
About Us
Our Program
Membership
Schedule
General Information
Archives
---
Home
Search
Acknowledgements and Links
Add Sidebar Menu
---
This web site and all of its content, text and images are Copyright © 2000 - Reading Art Association
All rights reserved.
Last updated October 30, 2016