April 2016 Demonstration
Our demonstrator for April was Don Ouellette. He did a Watercolor Landscape Demo. In fact, he did three watercolor demos.
The meeting was held in the Guild Hall, First Congregational Church (middle side door), Sanborn Street, Reading, Wednesday April 13th, 2016 at 7:30 p.m.
We have some photographs of the event in case you could not make it there in person.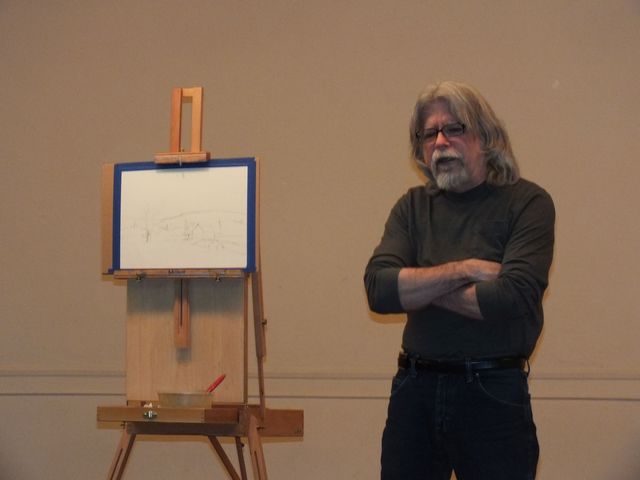 Don had some drawings already done for the demonstration,
so he could jump right into the painting.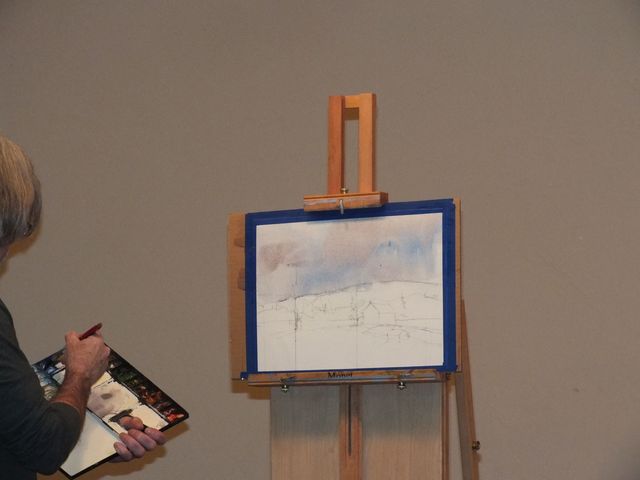 He paints wet-in-wet, so first he brushed water on the sky area.
Then, he brushed broad strokes of color into the wet sky.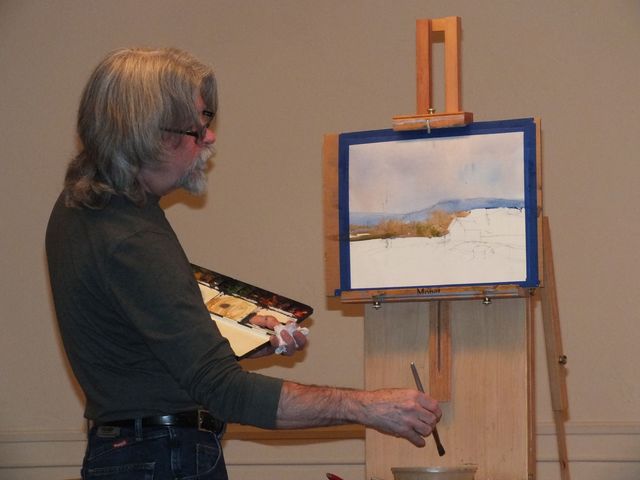 Working background to foreground, he quickly added color in the foliage.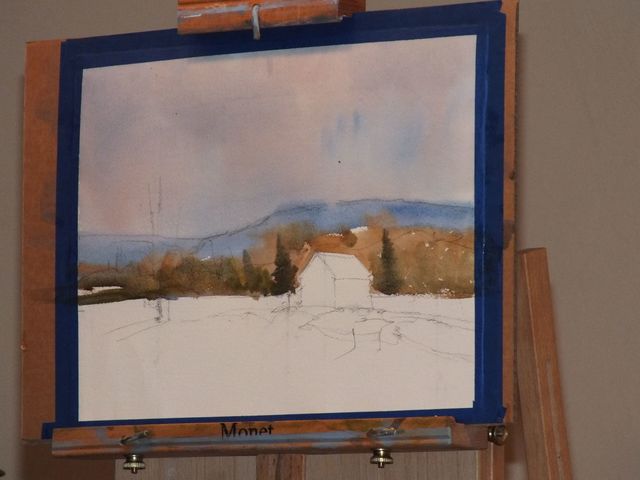 After only a few minutes, he already had the basics of a painting.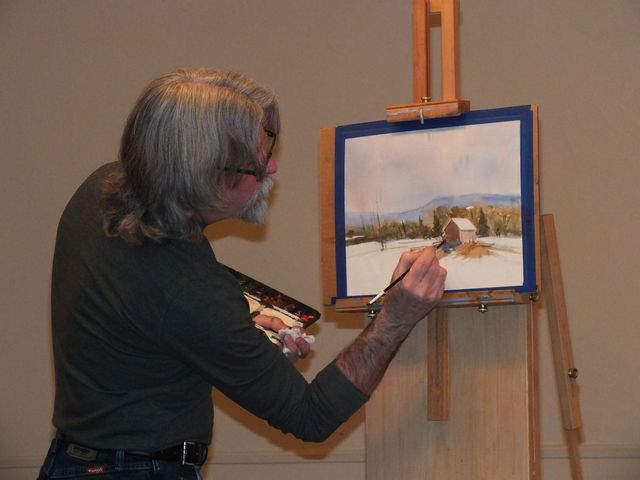 He added a few more details.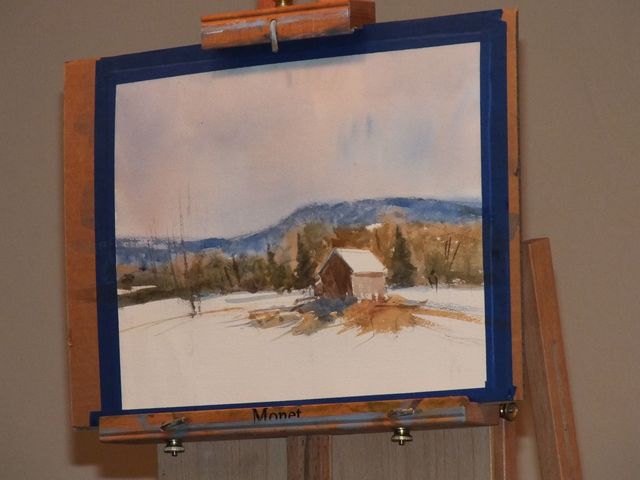 The painting of the barn and the foreground are almost done.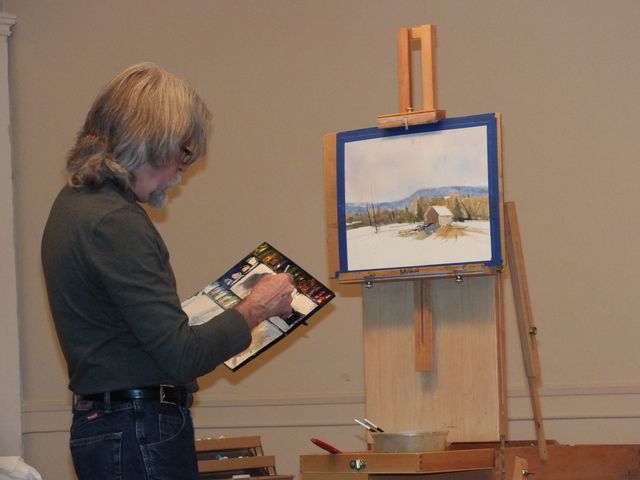 He added some details in the foliage.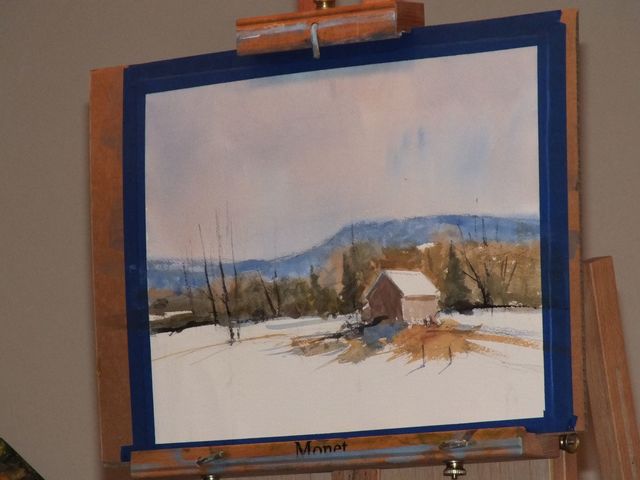 Don decided to leave the foreground white,
so this part of the demonstration was done.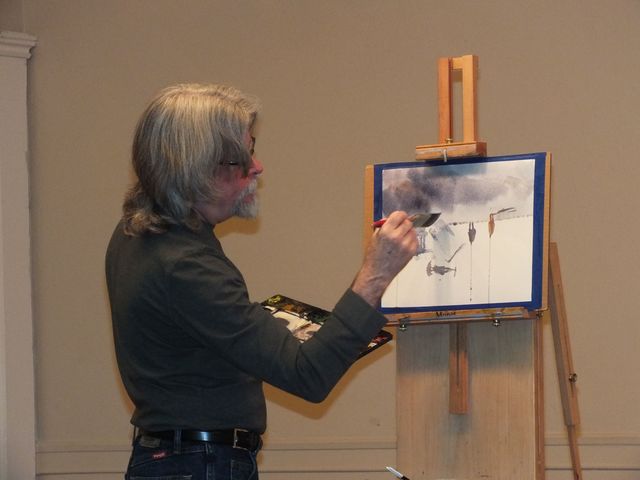 The next painting he did was started with a dark sky.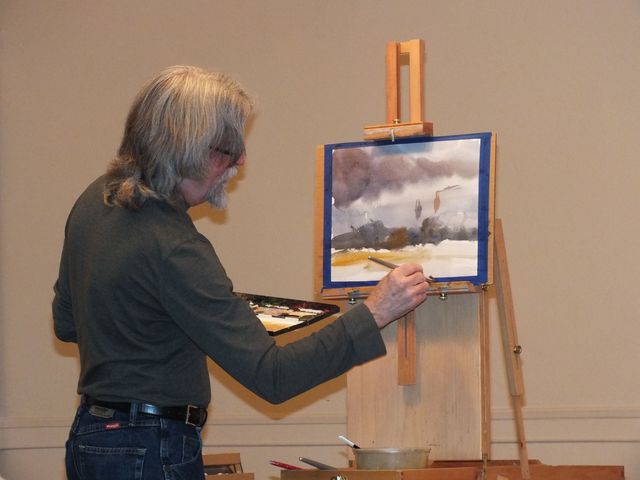 Once again, he worked from background to foreground.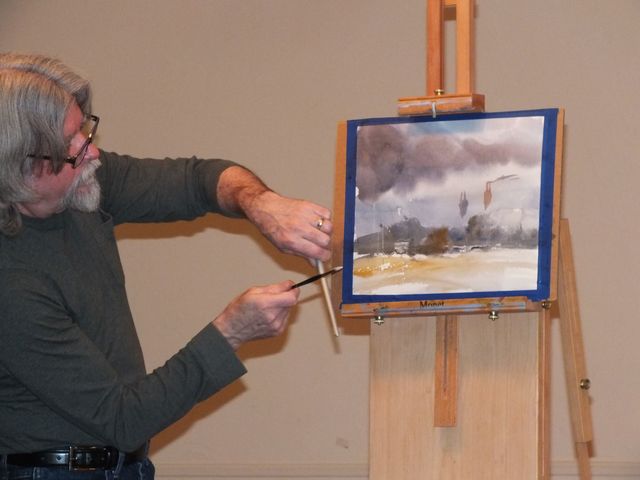 To add some texture, he spattered some paint.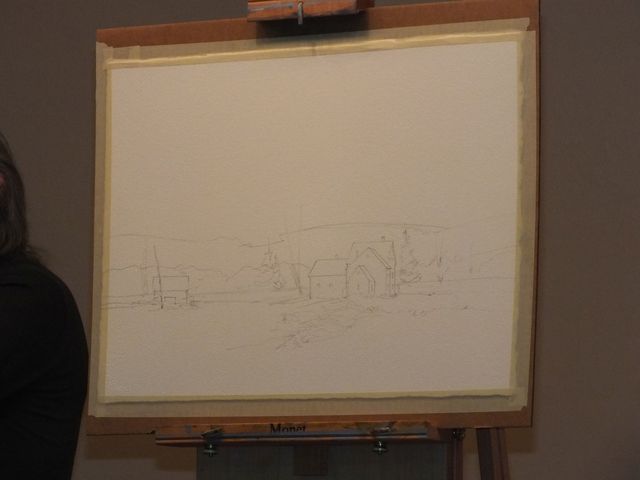 The third, and final, demonstration was done from this drawing.
This painting was done on 300 pound paper. The first two were on 140 pound.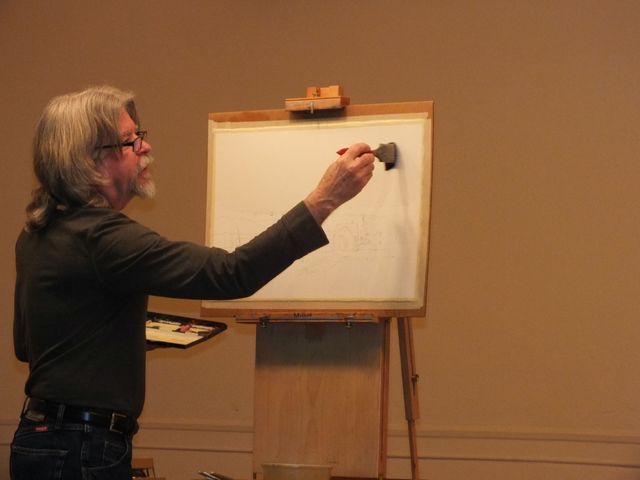 Using a large brush, he wet the sky.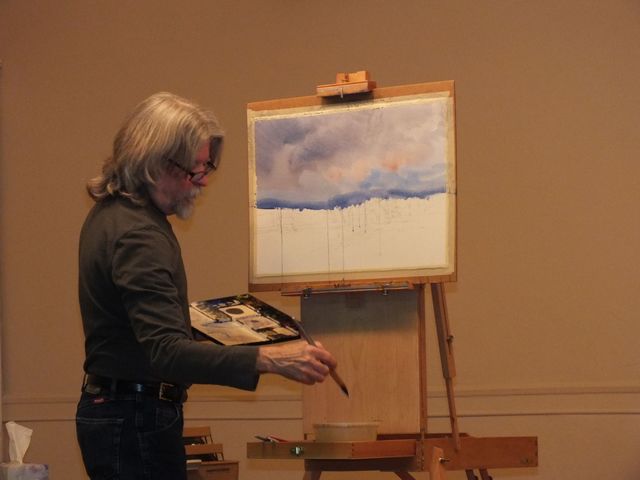 A dark sky was brushed in with some complementary colors.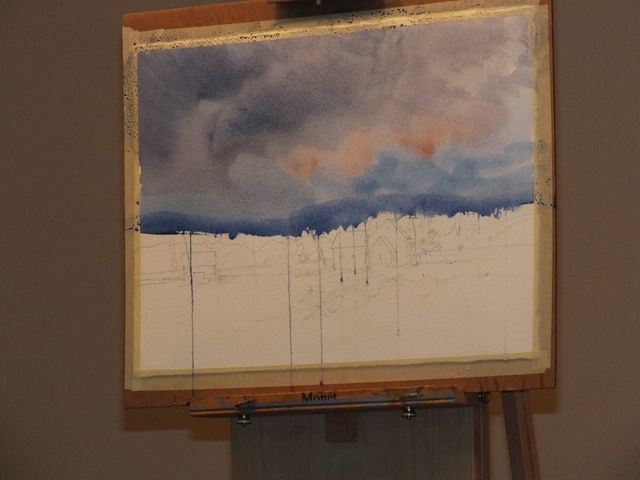 You can see from the drips how wet the paper is.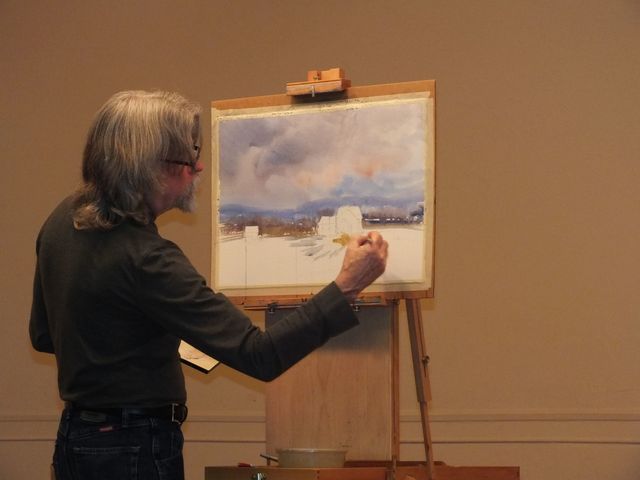 Working from back to front again, he put in the foliage.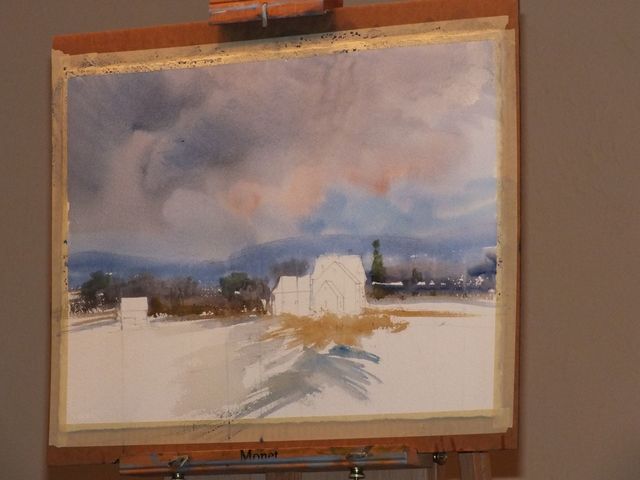 The buildings are still left to do.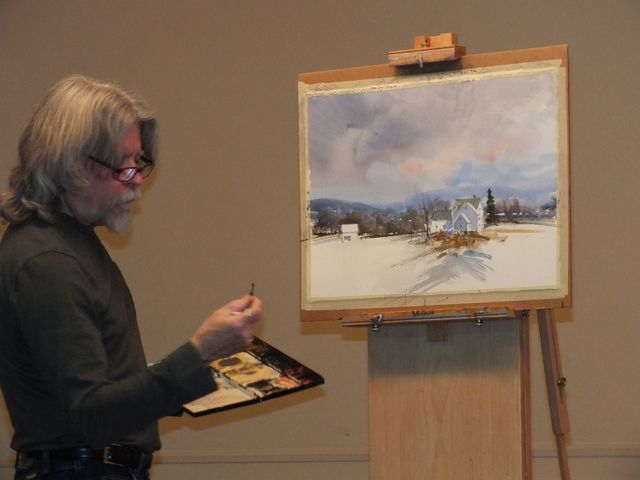 Don reads the size of the brush he is using.
I can't remember what the answer was.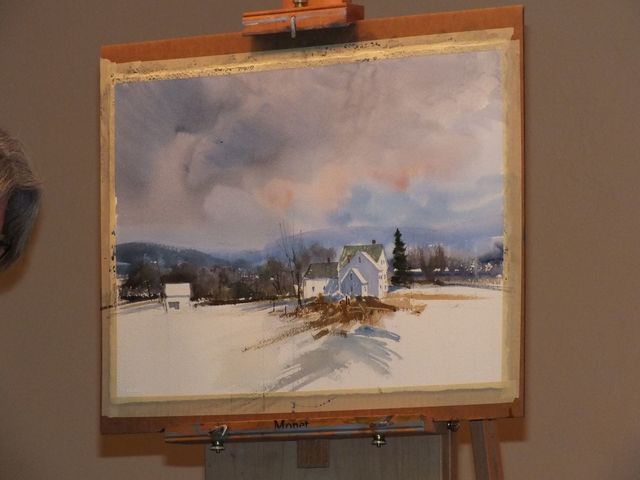 Some details of the buildings have been painted in.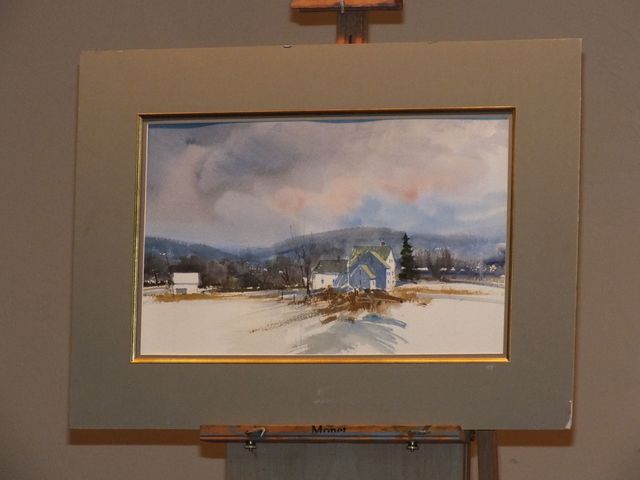 Here is the final painting in a mat.
You can see some more of Don's work at his web site, http://donouellette.com/
Don Ouellette's Bio
Don has realized a dream that started many years ago in a backyard shed. That backyard shed has given way to studio 533 and his works can be found in homes and collections across the U.S.
Don is a landscape painter working in oils and watercolors focused on rural New England. He holds memberships in several local art associations and societies including: Art League of Lowell, Lowell Art Association, Whistler House Museum of Art, Chelmsford Art Society and Western Avenue Studios Artists Association. Don has studied with many artists, among them, Carlton Plummer A.W.S.
Don now maintains a studio at the Western Avenue Studios in Lowell and has Open Studios the first Saturday of every month between noon and 5 P.M.Studio number 533 on the fifth floor.
---
Mission Statement
About Us
Our Program
Membership
Schedule
General Information
Archives
---
Home
Search
Acknowledgements and Links
Add Sidebar Menu
---
This web site and all of its content, text and images are Copyright © 2000 - Reading Art Association
All rights reserved.
Last updated October 30, 2016