Bud & Evelyn Knox Tribute - 2014
This year, 2014, marked the retirement from the RAA board of our long term members, Bud and Evelyn Knox. After many years of outstanding service to Reading Art Association, they have stepped down. A short tribute was presented to them by our other long term member, Leo Lambert. The full text of his presentation is included beneath the photograph.
---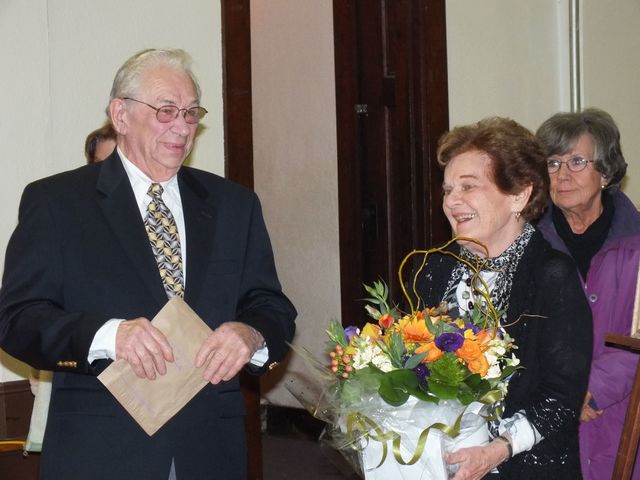 Leo Presents Flowers to Evelyn
Thirty years ago a young couple named Bud and Evelyn Knox joined a family of artists called the Reading Art Association. It didn't take long for them to become involved in various activities that make this organization work. And then some 20+ years ago, Evelyn accepted the position of co-chair with Grace and helped to co-ordinate every show for the next 20+ years. She gave up portions of her summers to help Grace design, produce and assemble the beautiful scenes on stage which brought much joy and praise from our member and guests. She had a 90%+ attendance record for the board and demo meetings. When the Church announced major increases to our rent plus adding fees for kitchen and storage use, Evelyn quickly approached the Church's administration and because of her insistence, she was able to convinced them to drop all proposed fees and keep our rent on the old schedule, where it still remains today, thus saving us a considerable sum of money. She has also established a very close relationship with Church personnel so that the facility will be open and available when we need it. Now at every show there is always a number of people who will have questions that need to be answered. The recurring and most common answer to these questions has always been "ask Evelyn".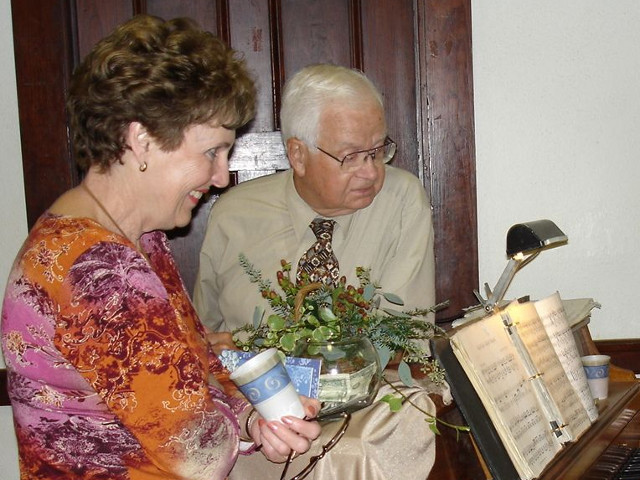 Grace and Bud
While Evelyn was making her contributions, Bud was not idly standing by. For 20+ years, when you entered your works of art in the Fall and Spring shows you saw Bud working at the entry table. And then, for the next 3 days you saw him working at the sales table for every show. In addition to this, he served as Treasurer for 14 years. While in this position he petitioned the Sate and IRS to convert our corporate status to a 501(c)(3) corporation. I was serving on the board at this time and witnessed the horrible ordeal that he had to go through to accomplish this. But because of his tenacity, patience and perseverance he finally won and made us the non-profit that we are today, saving us a good deal of money and providing us the advantage of a non-profit. When he stepped down as Treasurer, he accepted the position of Director and has served in that capacity to the present. I truly believe that the contribution these two people have made has greatly influenced the evolution of our organization.
Now everything must come to an end. Because of circumstances well beyond their control, they can no longer serve in these positions that they have held for so long. But the good new is that they will remain with us as honorary members.
And so Mesdames, Mademoiselles, mes amis, Ladies and Gentlemen please join me in thanking these two very special people and wishing them the very best.

Leo Lambert November 7, 2014
---
A response from Bud and Evelyn
Bud says:
"To all the members of the Reading Art Association and especially to Past President and current Treasurer and Membership Chair, Leo, for the many kind words of appreciation outlining our tenure with Reading Art. Please understand that those past 30 years have been enjoyable and a labor of love for the continuance of the association. Thank you again. We will miss you all."
Bud Knox
Evelyn says:
"Thank you so much for the lovely gesture of recognition you gave us Friday evening at the reception for the Autumn Show. Our 30-year experience with Reading Art Association was all good. It brought us wonderful friendships which we will always treasure. The many spring and fall shows I shared with Grace will always be a joy to me. FOR SURE, those stage productions strengthened my appreciation and admiration for my friend. We had great fun! And I would remiss if I did not call attention to the unfailing support for Reading Art by core members. Thank you, Leo, Lou, and Brian, and all the other people who came to help again and again. I cherish you all!"
Evelyn Knox
---
Mission Statement
About Us
Our Program
Membership
Schedule
General Information
Archives
---
Home
Search
Acknowledgements and Links
Add Sidebar Menu
---
This web site and all of its content, text and images are Copyright © 2000 - Reading Art Association
All rights reserved.
Last updated October 30, 2016