December 2013 Demonstration
Our demonstrator for December was Kathy Cooper. She presented a demonstration of floral painting in oil. The title of her presentation was "Floral in Oils".
The meeting was held in the Guild Hall, First Congregational Church (middle side door), Sanborn Street, Reading, Wednesday December 11th, 2013 at 7:30 p.m.
We have some photographs of the event in case you could not make it there in person. You can click on any of the images on this page to view a larger version of it. Then, use the Back button on your browser to return to this page.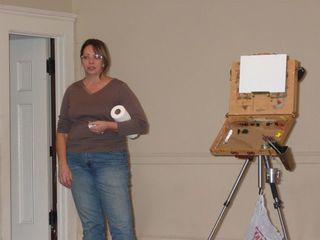 Our demonstrator for December was Kathy Cooper.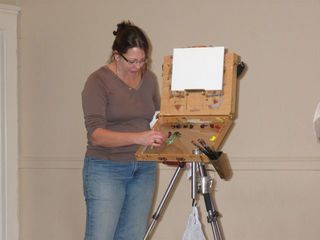 She showed us how she mixes a range of colors on the
palette by pulling down a tail of paint with the palette knife.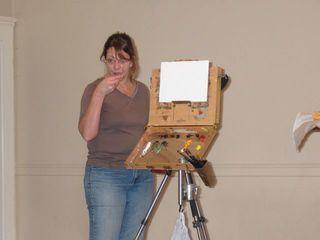 She explained how to make higher key colors without using
white by mixing in colors that have a higher value instead.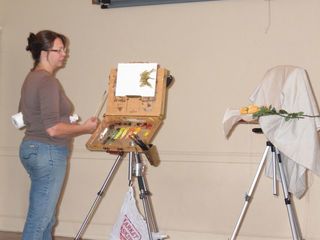 Once the colors had been laid out, Kathy began demonstrating how
to paint her subject matter, some roses she had brought with her.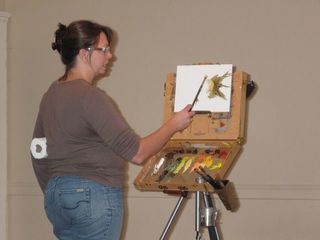 One of the first things she does is to place and establish the
center of attention, which she does with a bright, vibrant color.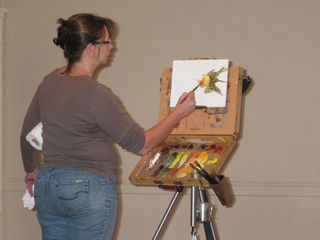 In this photo she adds some less saturated
color around the center of interest.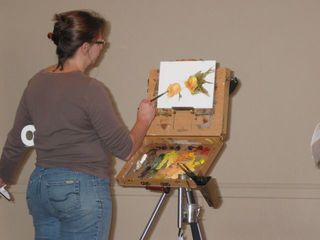 The second rose is done with slightly muted colors.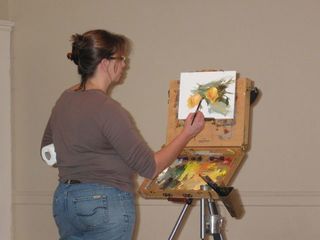 Working in the background pops the roses.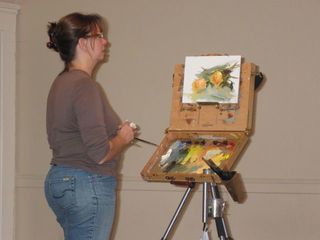 Kathy likes to work a reflection of the rose color into the background.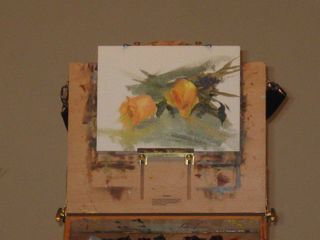 The painting after the demo.
Kathy Cooper's Bio
Kathy Cooper paints from life in her studio in Westford, MA, and en plein air around New England and across the USA. In her still life she is inspired by antiques and fresh flowers. She captures the essence of roses and peonies with a gentle and peaceful setting. Kathy was raised in Texas by parents who encouraged her artistic talents early on. Her career was in illustration, marketing and advertising, and publishing design, which eventually brought her to New England.
After 20 years in the field, kathy turned her focus back to fine arts and studied with well-known, established artists. She is the President/CEO of the American Impressionist Society and has been published in Southwest Art Magazine, Art of the West, American Art Collector, and Plein Air Magazine. She is drawn to the beauty of God's creations, especially roses, peonies and landscape. Her work is a delicate balance between energy and precision of the subject.
You can see more of Kathy's work at her web page, http://www.KathyCooperFineArt.com
---
Mission Statement
About Us
Our Program
Membership
Schedule
General Information
Archives
---
Home
Search
Acknowledgements and Links
Add Sidebar Menu
---
This web site and all of its content, text and images are Copyright © 2000 - Reading Art Association
All rights reserved.
Last updated October 30, 2016