Fall Show 2019
The Fall show is coming up. The show is scheduled for November 1st, 2nd and 3rd. Delivery of your artwork is Thursday, October 31st. The deadline for submission of your application form is October 11th, 2019.
Please note that you may now enter three main entries instead of only two as in the past.
The Fall Show is a members only show. You can exhibit your work in the show only if you are a member of Reading Art Association. So join now and get painting.
There are two files available on this page, the detailed information sheet and the entry form. If you are a member in good standing of RAA you have received these forms in the mail. However, if you have misplaced the forms or you are not yet a member of RAA, you can download them here and print them on your printer.
At the Fall Show we will have a drawing for a painting by Walter Osterberg.

There is a photograph of the painting on the Fall Show poster, below.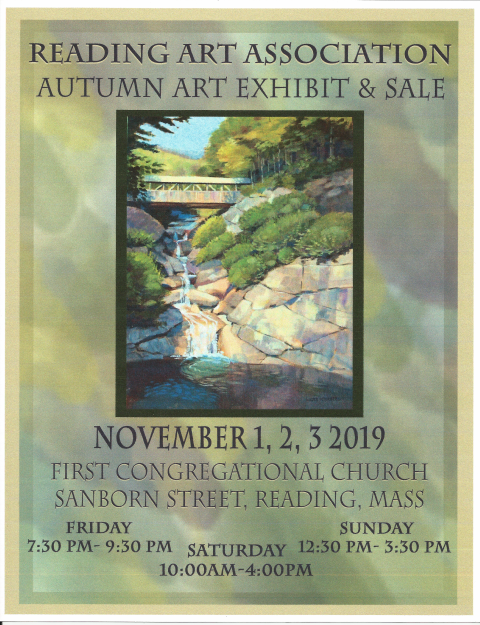 To print the PDF documents, click on the links above to display the documents. Then, click on the Acrobat Reader print button to print the file. Use your browser's "Back" button to get back to this page.
You can also download the pdf files onto your own computer by clicking on the PDF link with the right mouse button to display a menu, then choose "Save Target As..." or "Save Link As..." and choose a folder to store the file in.
While most browsers will allow you to display and print the PDF files directly from this web site, you may have to download and install the free Acrobat Reader from Adobe to view files stored on your computer. The reader can be obtained from Adobe.
Here are the bios of the judges
Karla Cook
"If you paint what you love, people will love what you paint." I believe that the inclusion of animals in our homes serves to enhance our humanity and allows us to appreciate the beauty of the world around us. For my entire life, I have been surrounded by a menagerie: Cats, dogs, hedgehogs, rabbits, birds, mice and fish have all at one time or another inhabited my heart and my home. I have found that using my love of animals with my love of painting makes for a winning combination. With each animal I paint, I attempt to bring that animal's personality through the painting to the viewer. My greatest success is seeing a smile flash across someone's face when they look at my paintings.
I live in Andover, MA with my husband, three sons, two Italian Greyhounds, a variety of foster bunnies, and Stuart the Wondercat. For years I had been a successful fiber artist, creating and teaching, knitting, spinning, felting, and quilting. Nothing quieted an insistent muse until I accepted a challenge by my oldest son and discovered painting.
Nella Lush
Nella works with intuition and experience and never following a formula, she brings together the alchemy of materials, classical forms and the appearance of centuries of aging in all of her paintings, whether it is an abstract, a fresco, a floral, a figurative or even her mixed media on paper.
She works in series and mainly with oils and uses cold wax as a medium often adding marble dust and pumice to create more texture and depth.
Nella is very active in the art communities and an avid volunteer of many organizations. She served for two terms as the President of the Massachusetts Chapter of the National Association of Women Artists, NYC.
She is a board member of the Rockport Art Association and Museum and the founder of the Experimental Group of RAA. The mission of the group is to foster, promote and encourage self expression by giving the opportunity to artists to come together, to explore and share ideas towards the creative freedom.
---
Mission Statement
About Us
Our Program
Membership
Schedule
General Information
Archives
---
Home
Search
Acknowledgements and Links
Add Sidebar Menu
---
This web site and all of its content, text and images are Copyright © 2000 - Reading Art Association
All rights reserved.
Last updated October 15, 2019