Fall Show 2022
The Fall Show was held on November 11 and 12. While the RAA is still rebooting from the Covid shutdowns, and we are not back to our pre-pandemic levels, the show was bigger and better than the previous two shows. Hope you didn't miss it, but if you did, here are some photos so you can see what happ.

But before taking a look at the photos, here are the award winning entries.
Fall Show 2022 Award Winners
| | | |
| --- | --- | --- |
| Best of Show | Bruce Welsh - "Winter Sunrise, Charlestown, MA" | Oil |
| First Place | Audrey DiPillo - "Along the Coast of Maine" | Watercolor |
| Second Place | Jeannette Corbett - "After the Storm" | Oil |
| Third Place | William Hathaway - "Twilight" | Oil |
| Award of Excellence | Rick Corbett - "Emanuele" | Graphite Pencil |
| Award of Excellence | Lynne Cassinari - "Safe Harbor" | Oil |
| Mary Saija Award | Susan McFarlane - "Peek-a-Jewel" | Mixed Media |
| Nathalie Nordstrand Award | Brian Kimerer - "Birch Clark Island Maine" | Acrylic |
| Popular Award | Rick Corbett - "Emanuele" | Graphite Pencil |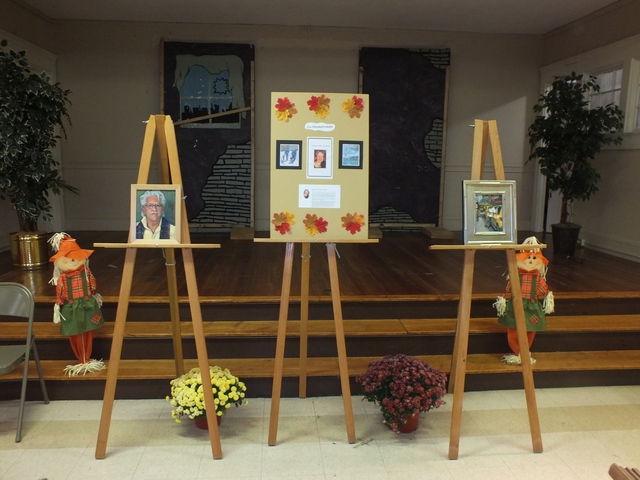 Rosie set up a special memorial for Ginger Greenblatt.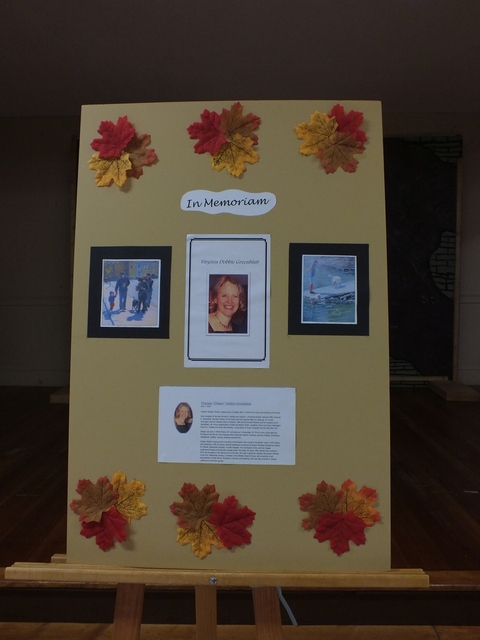 There was a central panel with information about Ginger.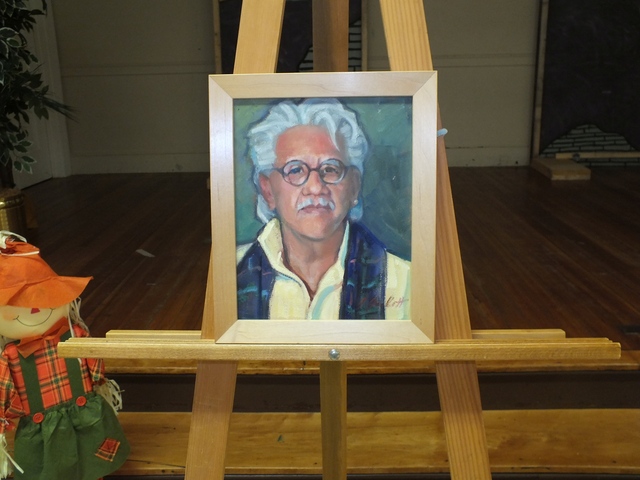 A portrait painted by Ginger.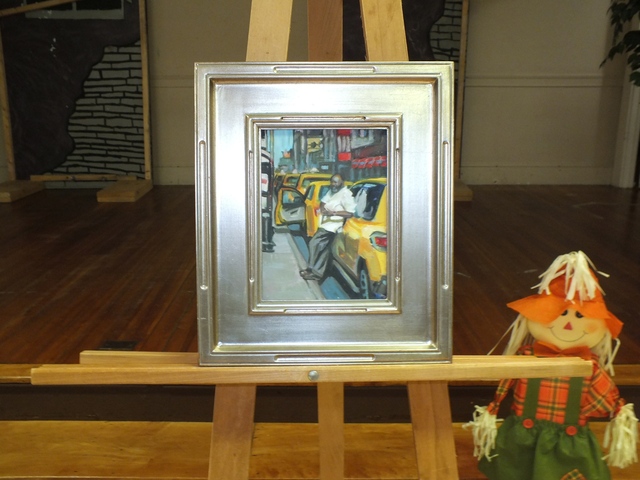 Another painting done by Ginger.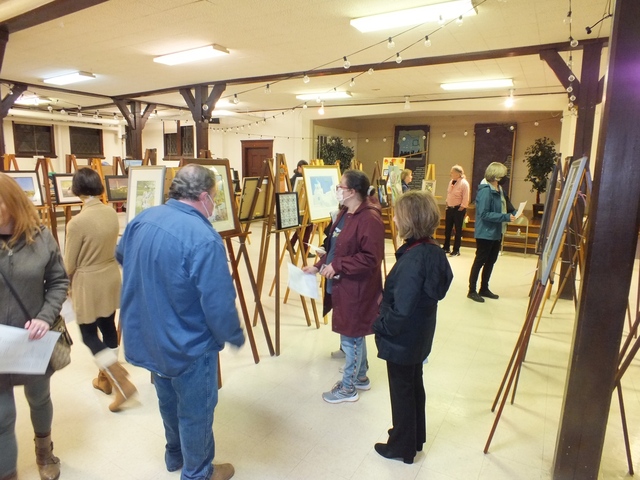 We had a decent turnout for Friday's reception in spite of the rain.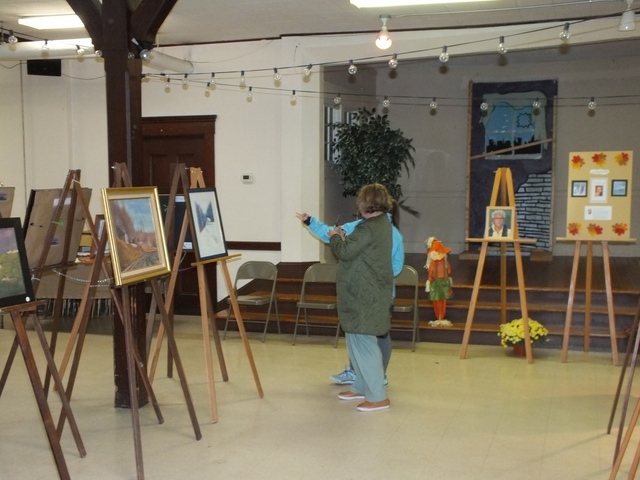 Art lovers discussing some of the art.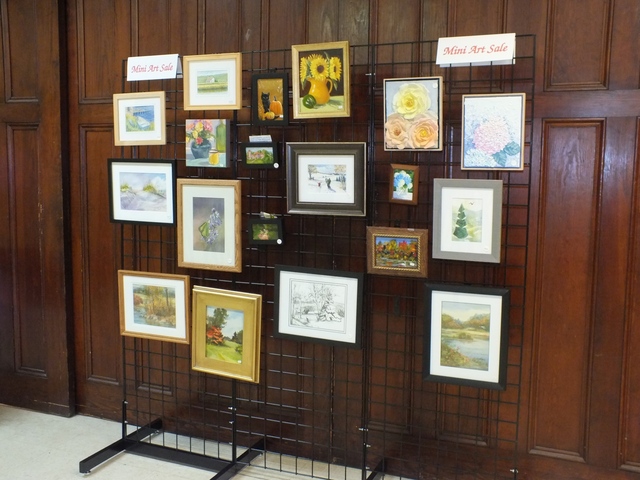 We had a good turnout for the mini art sale.
There was a brief ceremony to present the awards to the award winners. Here are photos of some of the award winners; not all the winners were in attendance.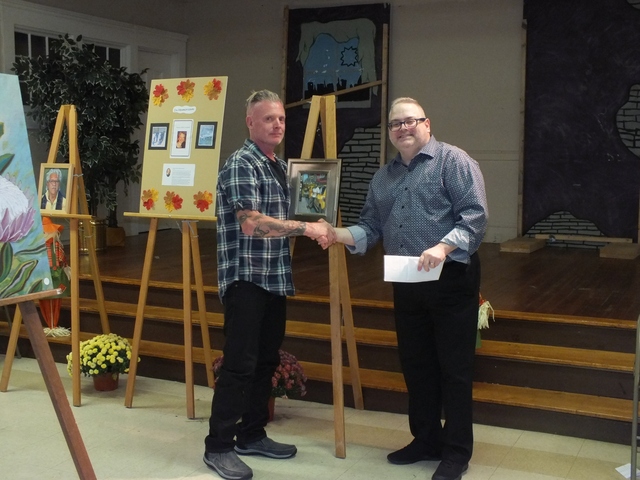 William received the Third Place ribbon.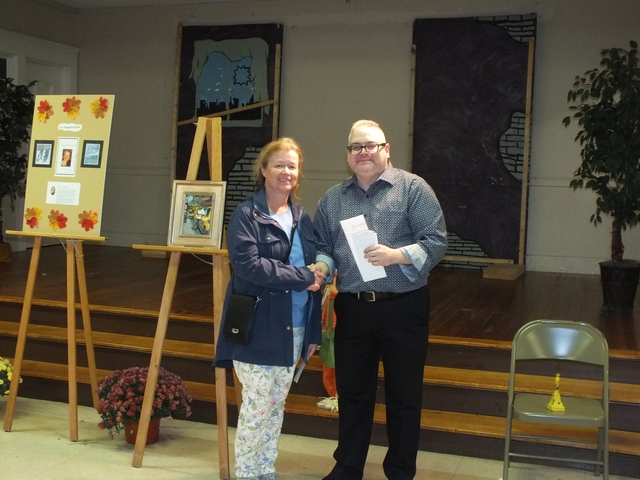 Lynne received an Award of Excellence.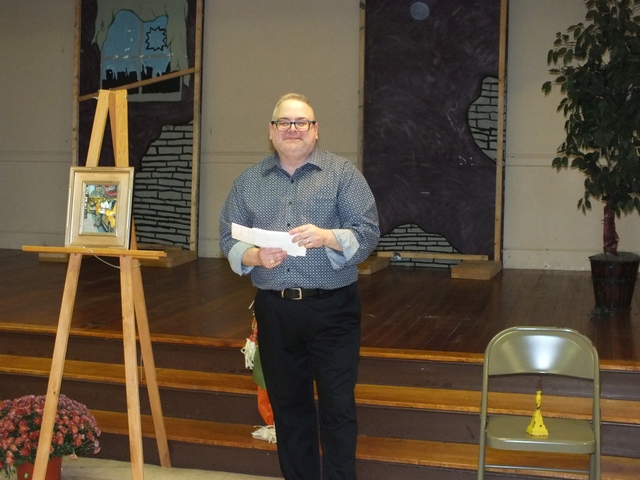 Rick received an Award of Excellence and the Popular Award as well.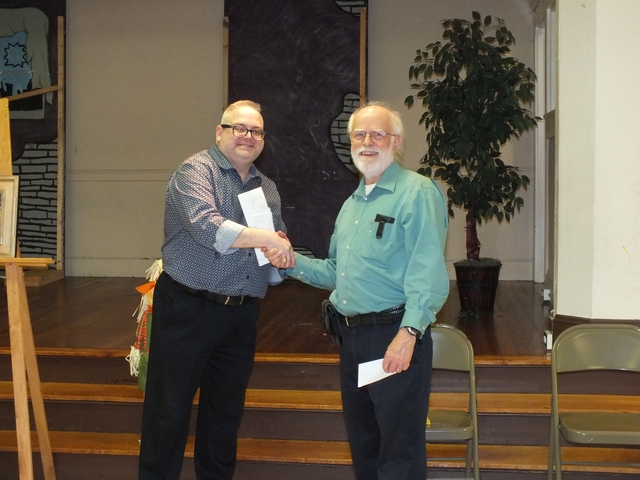 Brian received the Nathalie Nordstrand Award.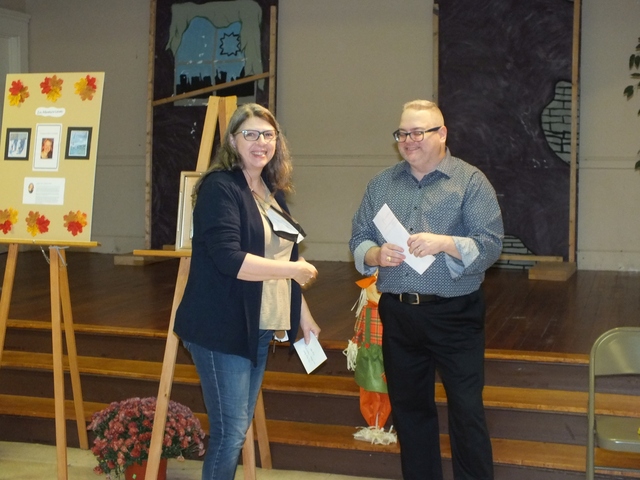 Susan received the Mary Saija Award.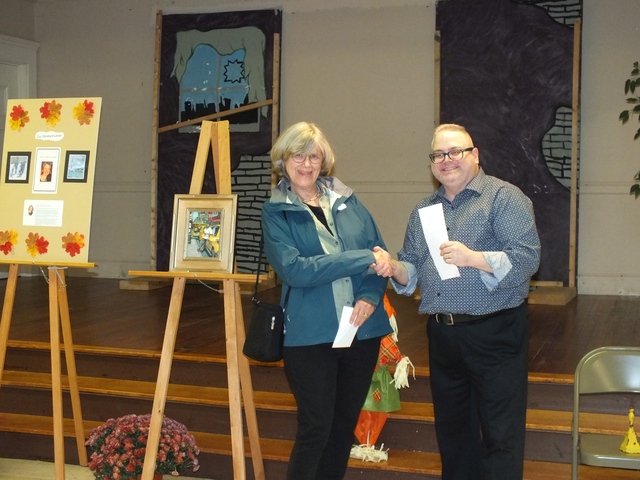 Audrey received the First Prize award.
Here are the bios of the judges
Barry Berman
I'm just a guy who walks among you with a camera. The lens is my tool to find beauty, tell stories, spark thought, and inspire you to act. You'll see me in the woods, on the beaches, in the mountains and in the city. Whether capturing nature's splendor, or intimate moments in public spaces, everything I see, you too can see with eyes and hearts wide open. No tricks, just presence. What's next? What's happening outside the frame? Are you moved? These are the central questions I hope to bring with my art.
Dianne Panarelli Miller
If anyone could be referred to as a renaissance woman, it would be appropriate to describe Dianne Panarelli Miller as such. Yet the word "renaissance" literally translates to "rebirth," and that does not accurately describe Miller, who has steadily and unerringly followed a path of artistic exploration from a very young age. After a failed attempt to learn the piano due to a lack of both passion and talent, Miller impressed the first in a life of tutors with her visual artistic abilities. A scholarship to Boston University when she was 15 years old was the first stop in her lifelong pursuit of learning. After high school she studied at Boston's Vesper George School of Art, where she was "taught by real artists, not teachers who went to school to teach art," Miller explains.
Her relationship with two teachers from Vesper George, Robert Cormier and Robert Douglas Hunter, led to an opportunity to study at their newly founded R.H. Ives Gammel Atelier. Miller credits the intensive eight-hour per day discipline of the Atelier with empowering her with the classic building blocks of accomplished painters. "All of my life, I have serendipitously found the right place to be taught as an artist," she says. "It was at the Atelier that I really discovered what I wanted to do, and I met the right people to lead me down this path."
Mary Taggart
Mary was raised in Wakefield, attending Wakefield public schools. She then went on to receive her bachelor of Fine Arts degree at the Massachusetts College of Art, graduating with honors in Art Education. She taught art at Masconomet Regional High School and in the Methuen public schools before launching a mural business. She opened the studio in 2009, where she has been happily painting and teaching ever since.
Her art style is best described as "direct observational painting with emphasis on simplification and the relationship of adjacent tone color." Mary began her study of art as a small child, with local artist Nancy Gambone. Mary received her Bachelor of Fine Arts from Massachusetts College of Art and became a traveling art teacher and then a high school art teacher.
"I eventually opened my 'TaggArt Studio' in Wakefield, where I do my painting primarily in oils, and I also teach painting and drawing to both children and adults. I have studied with many painters such as Ellen Rolli, Beth Ellis, Susan Lichtman, and, most recently, with George Nick, a prominent Boston painter and teacher. I also returned to Mass Art in 2011 to study with Catherine Kehoe."
"My work has been shown in the Beth Ellis Gallery in Ogunquit; The Danforth Museum in Framingham; and in many local exhibits. My paintings are also hanging in many private collections."
Mary says she believes art is her true nature. When painting, she is happy and so alive--totally connected to her true self! She is looking forward to sharing her art with you in February.
---
Mission Statement
About Us
Our Program
Membership
Schedule
General Information
Archives
---
Home
Search
Acknowledgements and Links
Add Sidebar Menu
---
This web site and all of its content, text and images are Copyright © 2000 - Reading Art Association
All rights reserved.
Last updated November 15, 2022