February 2012 Demonstration
Our demonstrators for February were Marian Dioguardi and Will Kirkpatrick. They did simultaneous Oil Still Life Demonstrations.
The meeting was held in the Guild Hall, First Congregational Church (middle side door), Sanborn Street, Reading, Wednesday February 8th, 2012 at 7:30 p.m.
This demonstration was something totally different. We had two demonstrators who did simultaneous demonstrations of two different techniques while painting the same still life setup. Marian Dioguardi did an oil painting using a palette knife, while Will Kirkpatrick did an oil painting used brushes and his "wipe-away" technique.
We have some photographs of the event in case you could not make it there in person. You can click on any of the images on this page to view a larger version of it. Then, use the Back button on your browser to return to this page.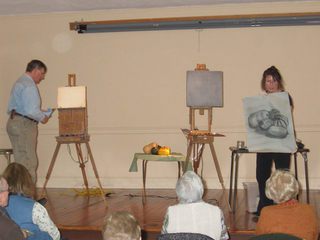 Here is the basic setup; two easels with the subject in the middle.
Marian showed us a sketch she did of the arrangement before starting.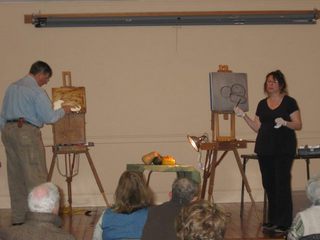 At this stage, Will has covered his canvas with a wet coat of paint.
He covers the canvas with a middle value and wipes away the light areas.
Marian has started sketching the setup on her toned board.
She makes a careful drawing and then paints it with a palette knife.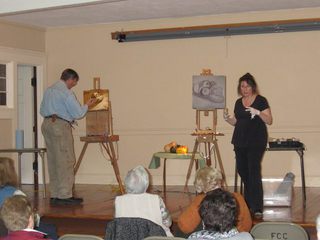 Will is wiping out the high key areas with a dry brush.
Marian has a mostly complete drawing on the board.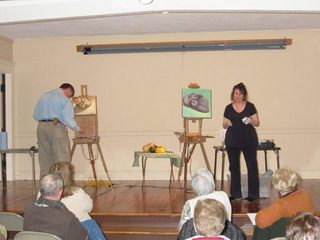 Will is adding the dark areas.
Marian has painted the background.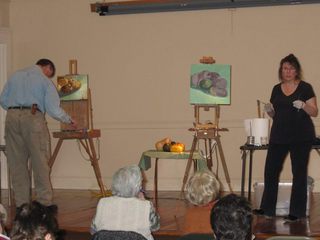 More local color has been added and the paintings refined.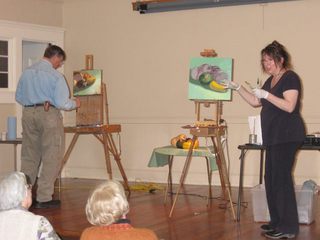 Both paintings are close to done in this photo.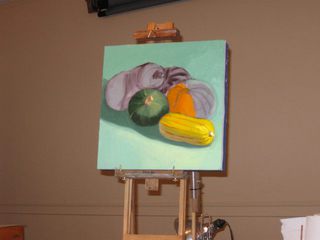 Marian's painting.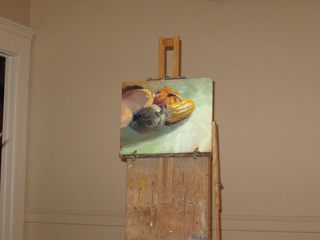 Will's painting.
About Our Demonstrators
Marian Dioguardi was born and raised in the Italian-American neighborhood of urban East Boston. She pursued her childhood ambition, art, only after a more traditional career in education gave way to more colorful careers, including undercover investigations and gem-stone buying.
While working full time as the operation and manufacturing manager for the Gemscale producer Dendritics Inc., Marian attended art classes at Massachusetts College of Art and the School of the Museum of Fine Arts, studying under Barnet Rubenstein. Five years of independent study under Boston-based painter Ed Stitt further advanced her skills and techniques as her personal style developed. Staying true to her urban roots, Marian's studio is now in Boston's South End.
She is recognized for paintings of simple objects, such as cups and laundry lines depicted in brave, bold and intensified colors. Her current body of work is a celebration of dignified, humble lives and familiar places, which has brought her local and international attention.
Marian's paintings showcased in two solo exhibitions in 2008: Rose Gallery Fine Art in Hudson, NY, and the Baak Gallery in Cambridge. Her work has been included in numerous group shows, such as at the Danforth Museum's Community of Artists (2010). She has received several awards, including the Jean Koch Award for Painting (2009) and the Nancy T. Baldwin Award Drawing (2008) from the Concord Art Association. Her painting, Little Pink, was purchased by the Dana Farber Cancer Institute's permanent art collection. Marian is a contributing critic to the semiannual Master Drawing review at the Harvard Graduate School of Design. Her signature laundry line paintings of Venice and Burano were featured in the Italian art journal, Arte In, September 2008 article titled Magica Marian (Magical Marian).
And tonight Marian has invited her friend Will Kirkpatrick to demonstrate with her! We will have two demonstrators, both oil painters, producing the same subject. But their demonstrations will show that artists have different approaches to painting, all viable. No single artist has all the answers.
For example, Will starts with a "wipe-away." And he premixes his paints before he starts painting. He paints with brushes and finishes his paintings in "one go."
Marian, on the other hand, is spontaneous about colors, so she doesn't premix. She paints with a palette knife, and she paints in stages, so she takes longer to finish her paintings.
Marian Dioguardi is represented by Gallery Seven, Maynard, MA; Water Street Gallery, Douglas, MI; Bluestone Gallery, Philadelphia, PA; and Gallery 333, Falmouth, MA.
---
Mission Statement
About Us
Our Program
Membership
Schedule
General Information
Archives
---
Home
Search
Acknowledgements and Links
Add Sidebar Menu
---
This web site and all of its content, text and images are Copyright © 2000 - Reading Art Association
All rights reserved.
Last updated October 30, 2016