February 2014 Demonstration
Our demonstrator for February was Karen Nastuk. She presented a demonstration in watercolor of a harbor scene.
The meeting was held in the Guild Hall, First Congregational Church (middle side door), Sanborn Street, Reading, Wednesday February 12th, 2014 at 7:30 p.m.
We have some photographs of the event in case you could not make it there in person. You can click on any of the images on this page to view a larger version of it. Then, use the Back button on your browser to return to this page.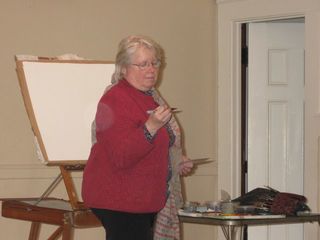 Karen uses a mechanical pencil for her drawings.
She wads up the rubber eraser and puts it on the back of
the pencil so that she will not lose it and have it ready at hand.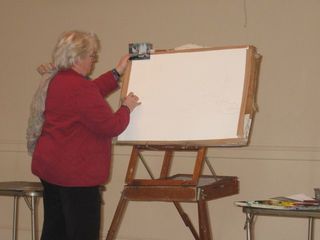 She started out sketching the design on the paper.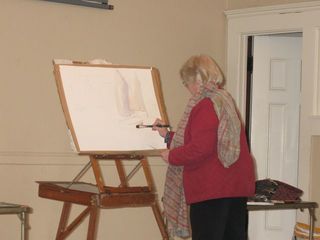 Once the sketch was done, she started putting in the sails.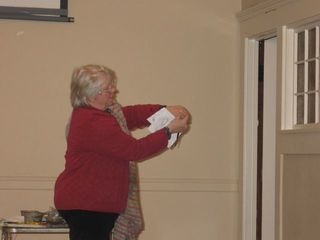 When drawing figures, the hands can be difficult.
Karen took a brief break to explain how to draw hands.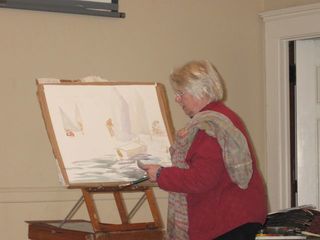 Back to the painting, she put in the water in the foreground.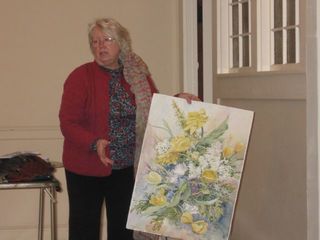 There was another brief break to show some previous works.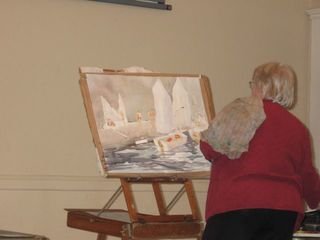 Some more of the background went in.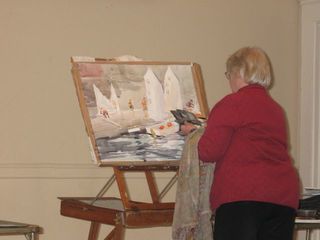 And then some finishing touches.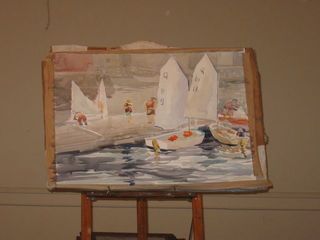 The finished painting.
Karen Nastuk's Bio
With a Bachelor of Arts in Fine Arts, Karen Nastuk moved into ad agency creative jobs, writing and art directing. "Married with kids, I kept our life story by drawing notes in journals. I soon could draw anything, even from memory. Watercolors are my best medium because they are liberating and natural, although I have loved murals because they transform a space inexpensively, and they outlast wallpapers. I'm an out-of-the box thinker, and I love to paint what people dream of - a favorite spot; favorite things set like a still life; an idea for a home addition; grandparents playing canasta."
Karen teaches Watercolor Painting to all ages on Wednesdays in Danvers, at her home on Thursdays, and in Topsfield in October. If you would like information about where and when, you may call Karen at 978 774 6175.
Mark February 12, 2014, on your calendar; you won't want to miss this fascinating demonstration. Invite some friends to join you. Refreshments will be served, and we look forward to seeing you. As you know, there is no guest fee, but a small, voluntary contribution is always gratefully accepted.
---
Mission Statement
About Us
Our Program
Membership
Schedule
General Information
Archives
---
Home
Search
Acknowledgements and Links
Add Sidebar Menu
---
This web site and all of its content, text and images are Copyright © 2000 - Reading Art Association
All rights reserved.
Last updated October 30, 2016