February 2015 Demonstration
Our demonstrator for February was Catherine Weber. She presented a demonstration in Encaustic Painting. Encaustic painting uses melted wax as a medium instead of oil or water.
The meeting was held in the Guild Hall, First Congregational Church (middle side door), Sanborn Street, Reading, Wednesday February 11th, 2015 at 7:30 p.m.
We have some photographs of the event in case you could not make it there in person. You can click on any of the images on this page to view a larger version of it. Then, use the Back button on your browser to return to this page.
Catherine treated us to a very interesting demonstration on how she paints using encaustic medium. The encaustic medium is purified bee's wax, which is pure white. Bee's wax melts at around 200 degrees F. She mixes the wax with Damar resin at a ratio of about five to one. The resin makes the wax harder. More resin means harder wax.
Encaustic painting is one of the oldest painting mediums. It has been used for thousands of years.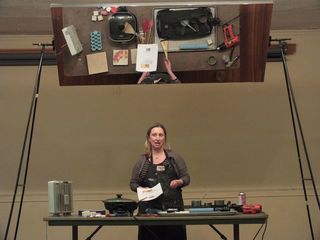 Here is Catherine's setup. We put up the mirror since she works flat.
The skillet on the left side holds her clear ground medium.
The pancake griddle on the right holds her pigmented paint.
Catherine showed us how the paint is supplied.
It is blocks of wax, some with pigment and some plain white
She sometimes makes her own paint mixing powdered pigment in plain wax.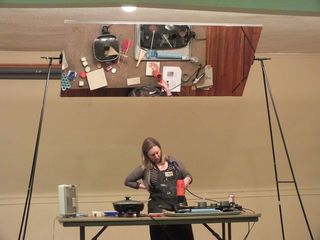 The medium is set by cooling rather than drying.
So she uses a heat gun to re-melt the wax in order to change things.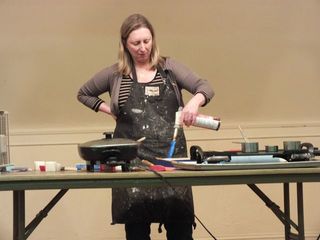 Her other tool for melting the wax is a torch.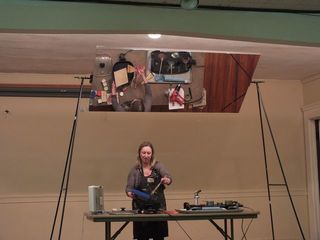 In this photo, Catherine is laying down a clear ground of wax
on the panel she will paint on. She puts down several layers of wax.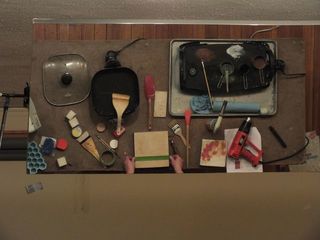 She demonstrated a couple of ways to make straight lines.
She put down some tape to mask off space for the straight line.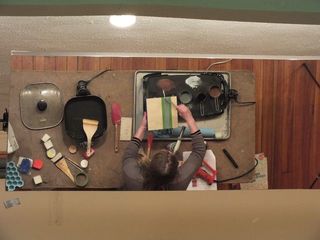 After two strips of tape have been placed, she paints over them.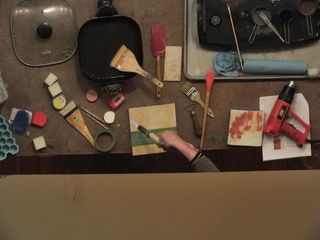 She fuses the wax using the torch.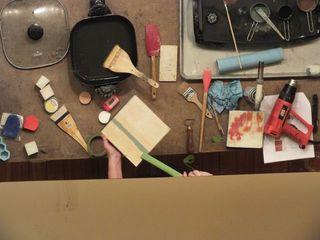 Peeling off the tape reveals the line.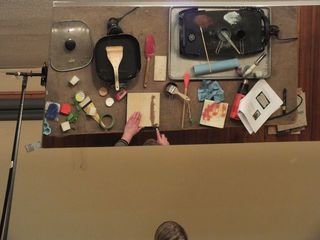 Another way of making a line is to inscribe it in the ground wax.
After inscribing a line into the wax with a sharp tool, she painted
over it with some colored wax. Then she scraped off most of that wax.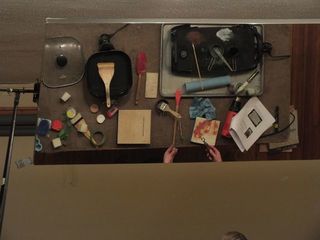 Scraping away the surface wax reveals the inscribed line in the ground.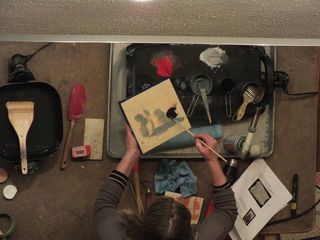 Regular painting is done with bristle brushes (natural bristles only!)
using the pancake griddle as a palette. At this point, it is like any other painting.
You can see some of Catherine's work at her web site, catherinemweber.com/
Catherine Weber's Bio
Catherine Weber reported that her experience as a seamstress, sewing her own clothing since age 6, has instilled in her a love of color, texture, and construction. Her work is a departure from the strict order and precision required to make garments; a rebellion that is freeing. She works with encaustic medium and paint, photography, silk, Japanese papers, and objects from nature to make harmony of the many colors and textures. She says that what began as chaos finds order in the end.
Art making and creative writing have been part of her life as long as she can remember. She has studied many media and continues to be a voracious learner. Catherine is a member of New England Wax, International Encaustic Artists, and the Women's Caucus of Art as well as the president and founder of a digital marketing firm, Weber Media Partners, in Southborough, Massachusetts.
Catherine has earned a BA in Communications form Emerson College and an MA in Critical and Creative Thinking from the University of Massachusetts Boston and has a studio located in Southborough.
---
Mission Statement
About Us
Our Program
Membership
Schedule
General Information
Archives
---
Home
Search
Acknowledgements and Links
Add Sidebar Menu
---
This web site and all of its content, text and images are Copyright © 2000 - Reading Art Association
All rights reserved.
Last updated October 30, 2016