February 2018 Demonstration
Our demonstrator was Lisa Regopoulos, who did a pastel landscape.
The meeting was held in the Guild Hall, First Congregational Church (middle side door), Sanborn Street, Reading, Wednesday February 21st, 2018 at 7:30 p.m.
We have some photographs of the event in case you could not make it there in person.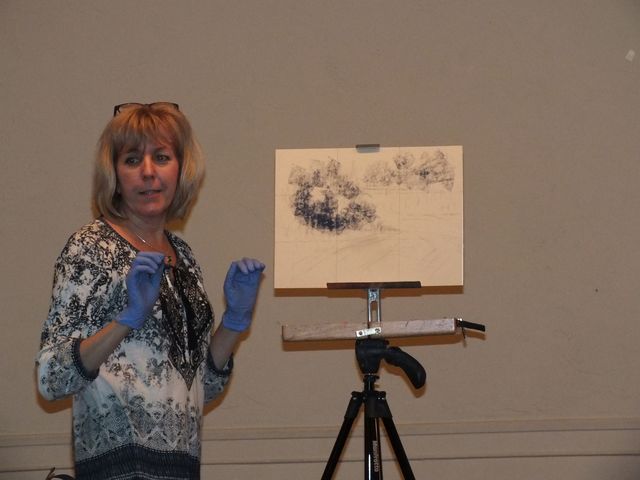 Lisa did her demonstration using soft pastels on UART Pastel Paper®
That is a high quality paper that is sanded to give it extra tooth.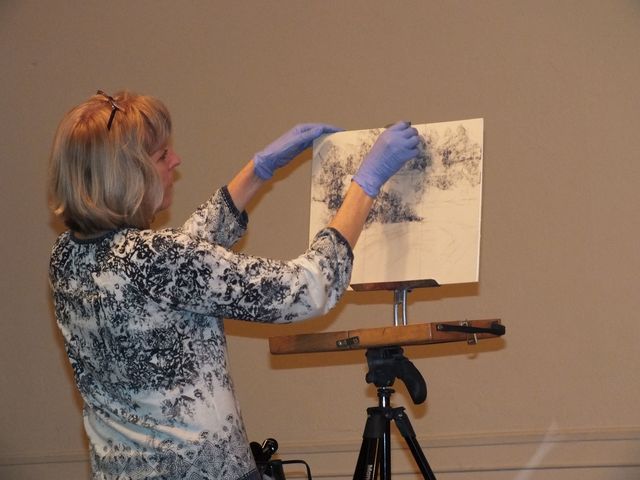 She blocked in the basic shapes of the painting.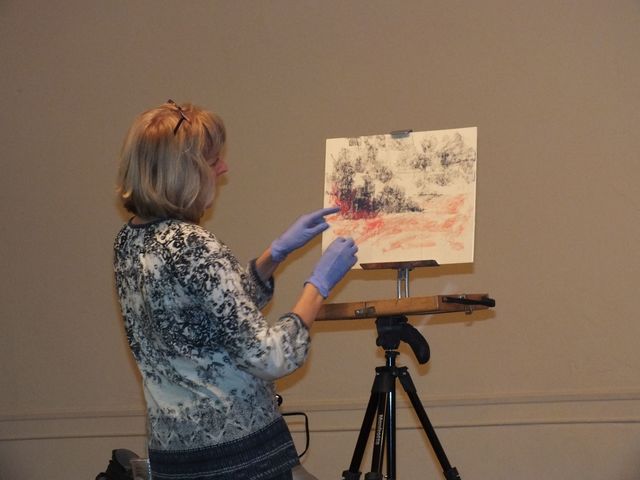 She is pointing out the red in the foliage.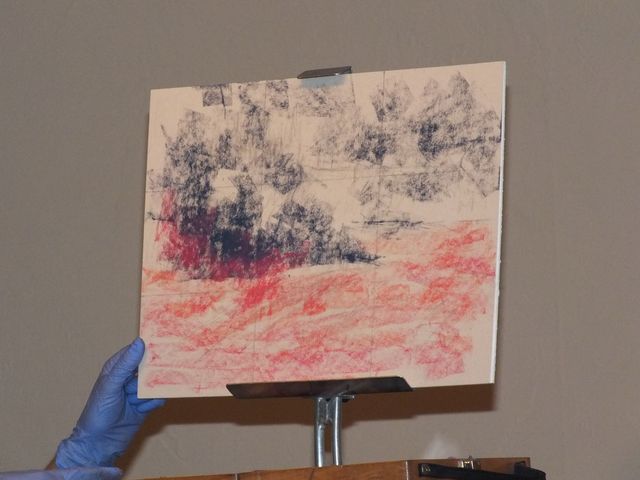 Here are the basic shapes that make up the painting.
You can see the lines that were drawn on the paper
to divide the surface into thirds.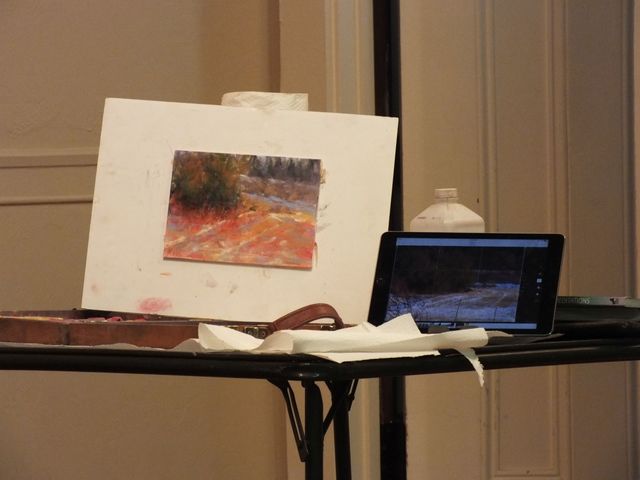 Her reference materials were another painting of this scene
and a photograph of the scene displayed on her tablet computer.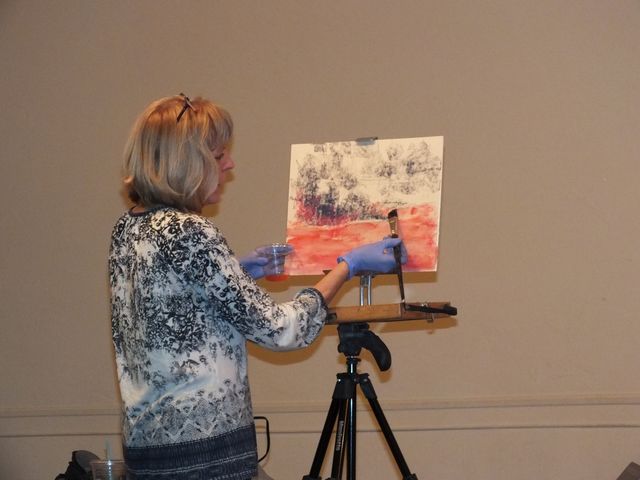 Once the shapes have been put down, Lisa washes the
entire surface with 91% alcohol. She uses 91% instead of the more
common 71% alcohol because it dries faster with less water in it.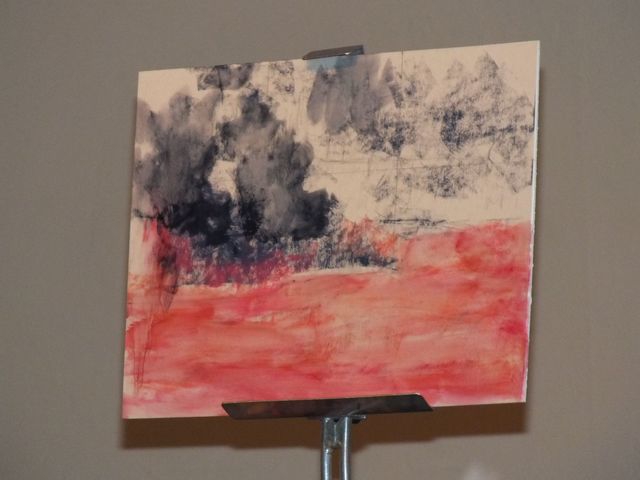 Here is the painting after applying the alcohol.
The alcohol turns the pastels into a wash.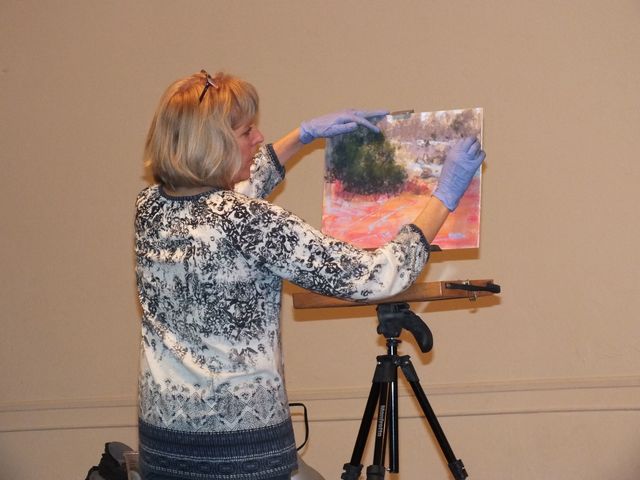 Once the alcohol has dried, Lisa applies more pastel over the wash.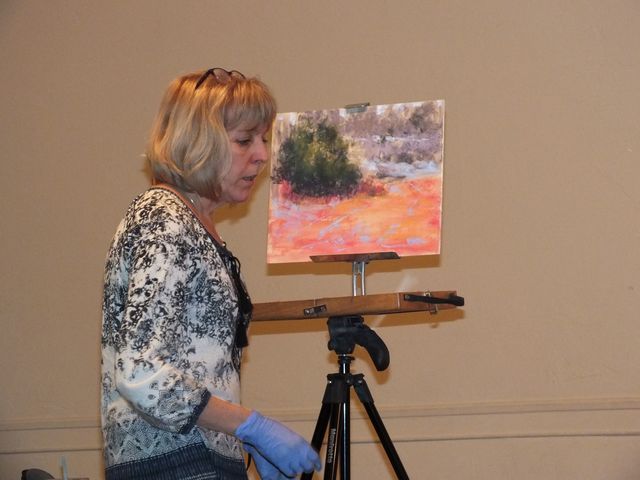 She works the entire painting at once, covering all the space.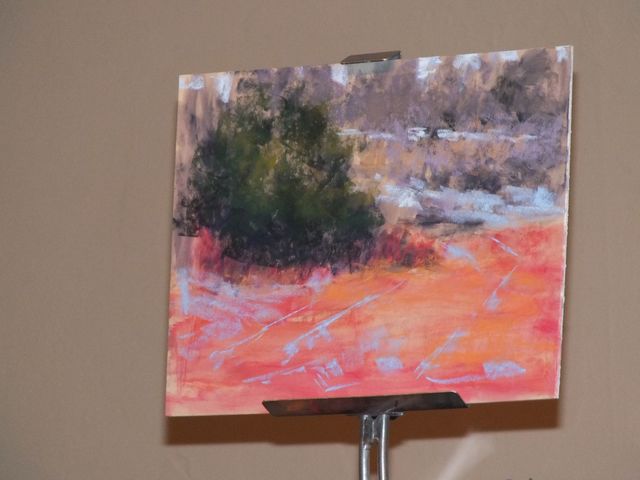 Here you can see the contrasting colors, warm and cool
that she has used in the foreground and the background.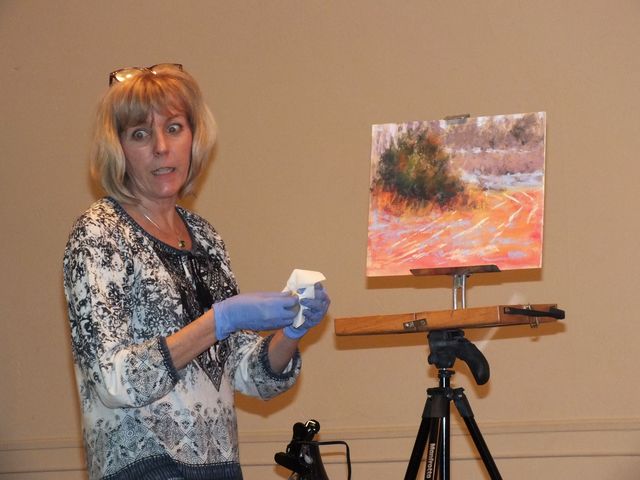 The painting progresses, adding warm details to the trees.
The Red in the trees make them come alive.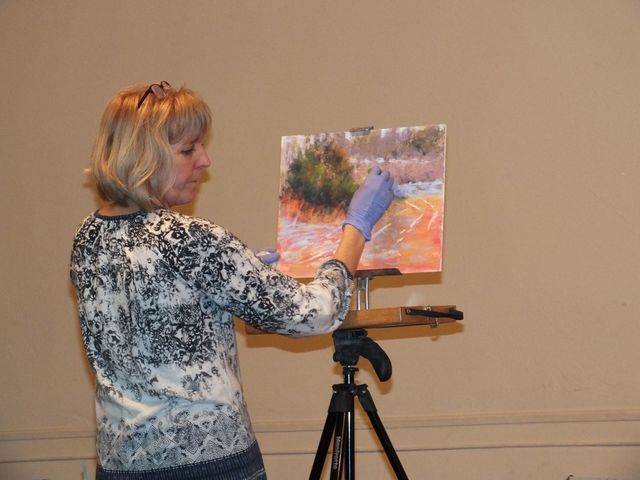 Adding details to the background.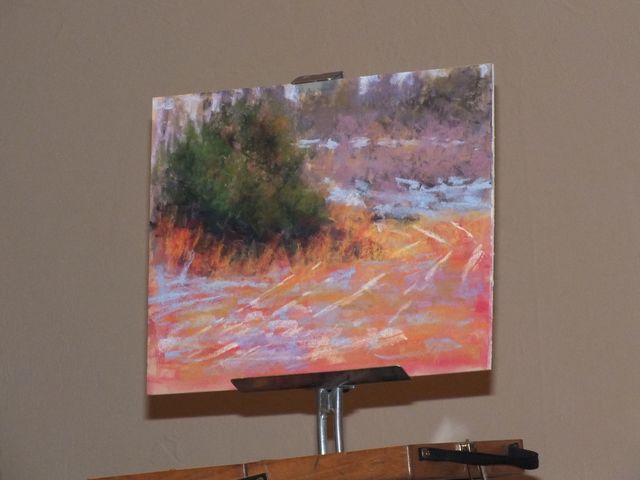 Lisa uses larger strokes in the foreground and smaller strokes in the background.
Lisa answers some questions from the audience.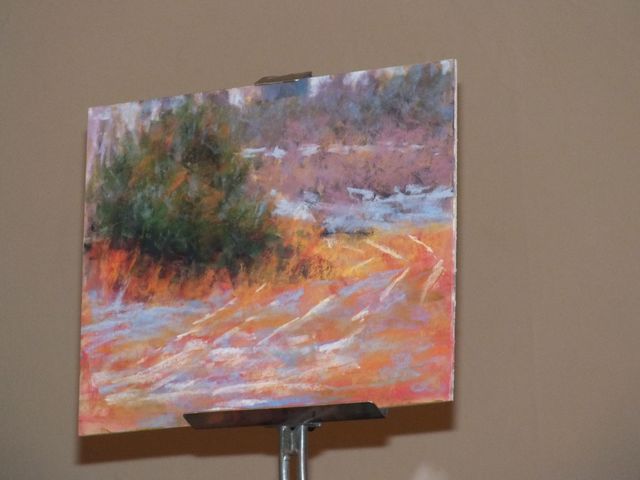 The finished painting.
You can see some of Lisa's work and more of her history at her web site, http://lisaregopoulos.com/
Lisa Regopoulos' Bio
Massachusetts artist Lisa Regopoulos captures the beauty of the natural world with her award winning pastel paintings featuring landscapes, seascapes and night scenes. Lisa's paintings are inspired by simply exploring the outside world and her enthusiasm for painting en plein air. Her pastel paintings have won many awards in juried national shows and international exhibitions for pastels only. Lisa's work is held by private and corporate collectors throughout the United States and the Fruitlands Museum private collection.
---
Mission Statement
About Us
Our Program
Membership
Schedule
General Information
Archives
---
Home
Search
Acknowledgements and Links
Add Sidebar Menu
Message Board
---
This web site and all of its content, text and images are Copyright © 2000 - Reading Art Association
All rights reserved.
Last updated March 2, 2018