January 2012 Demonstration
Our demonstrator for January was Robin Frisella. She presented a step-by-step Still Life demonstration in pastel.
The meeting was held in the Guild Hall, First Congregational Church (middle side door), Sanborn Street, Reading, Wednesday January 11th, 2012 at 7:30 p.m.
We have some photographs of the event in case you could not make it there in person. You can click on any of the images on this page to view a larger version of it. Then, use the Back button on your browser to return to this page.
Robin works with both hard and soft pastels. She works on sandpaper to get enough tooth to take up a lot of pastel.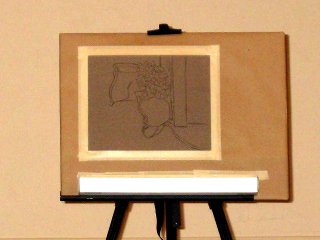 Robin started with a sketch on the sandpaper. You may notice that the
drawing is on its side, with the top of the pitcher pointing to the left.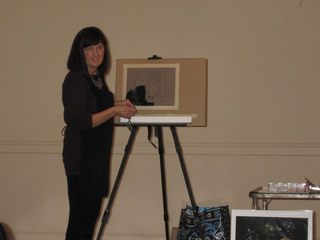 She blocks in the negative shapes of the painting
first by putting in a very dark background.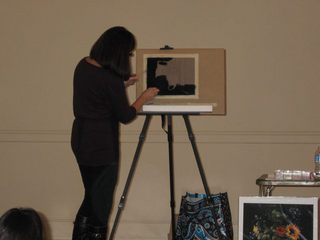 In this photo the background is nearly finished.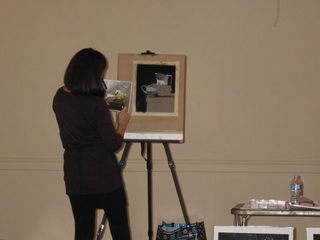 She has turned the paper upright to work on the pitchers.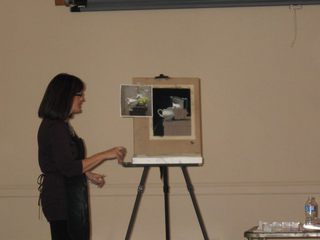 There is more refinement in the pitchers.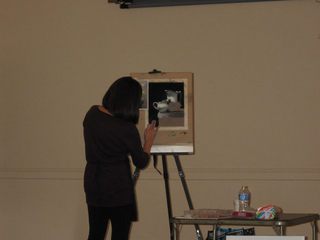 She blends the background into the foreground with her fingers
in order to create lost and found edges around the objects.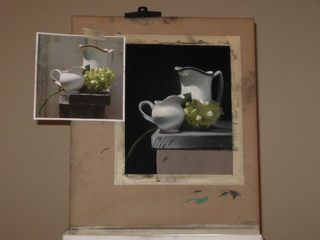 Here is the finished painting.
The background looks like velvet up close.
You can see some more of Robin's work at her web site, www.robinfrisella.com/
Robin Frisella's Bio
Robin commented, "From the moment I picked up my first pastel, it felt like second nature to me. I am fascinated with the way light is represented, and I focus on capturing it in my paintings. Whether working on a portrait or a still life, I apply layer after layer of soft and hard pastels on Wallis sandpaper to achieve tones, lights and texture. I feel that this method gives my work a realistic quality that goes beyond a photograph."
Primarily self-taught with the exception of classes under the direction of Portrait Artist Sue Zylak, Robin creates each scene with an arrangement of selective objects, adding fabric, flowers, and fruit to portray a timeless elegance. Robin's goal from the beginning has been to visibly move people and evoke nostalgic reflections or remembrances personal to themselves. Seeing how her work moves the viewer is what inspires Robin to paint each day. Her hope is that she can inspire others in the same way she was inspired to discover her gift for painting.
Robin's work has garnered numerous national and regional awards. She has been elected a signature member of the Pastel Society of America and a juried member of The Copley Society of Boston. Robin's work has recently been published in the Best of America Pastel Artists, The American Artist Magazine, New Hampshire Magazine, and The American Art Collector.
Robin Frisella is represented by the Walsingham Gallery in Newburyport; Maison de l'Art in Nashua; The Gallery in Punta Gorda, Fl; and The Copley Society of Boston. In 2006 Robin opened Frisella Fine Art Studio in Candia, NH, where she has an ongoing exhibit and teaches two classes a week.
---
Mission Statement
About Us
Our Program
Membership
Schedule
General Information
Archives
---
Home
Search
Acknowledgements and Links
Add Sidebar Menu
---
This web site and all of its content, text and images are Copyright © 2000 - Reading Art Association
All rights reserved.
Last updated October 30, 2016