January 2019 Demonstration
Our demonstrator was Karla Cook, who did a Pastel Pet Portrait demonstration.
The meeting was held in the Guild Hall, First Congregational Church (middle side door), Sanborn Street, Reading, Wednesday January 9th, 2019 at 7:30 p.m.
We have some photographs of the event in case you could not make it there in person.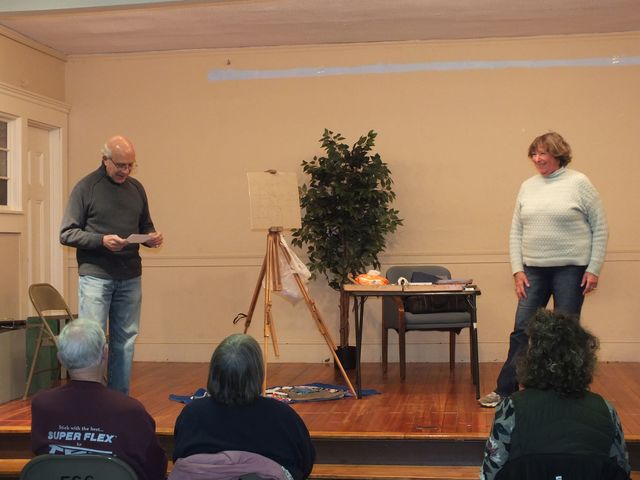 Lou introduced Karla to the audience.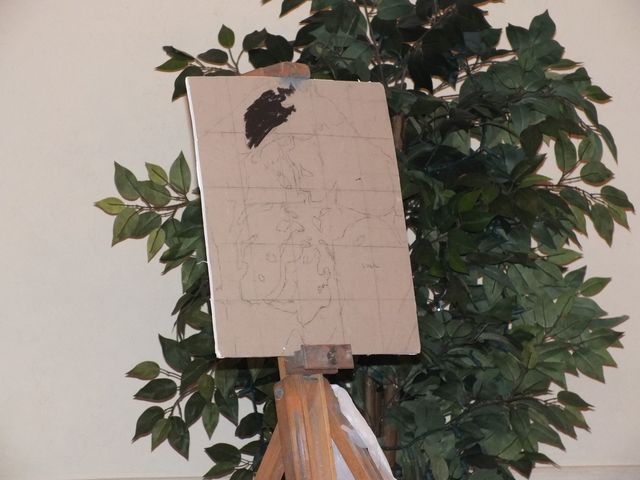 Karla started out on a toned paper with a basic drawing.
She works from photographs on her tablet computer.
It is necessary to work from photographs with pet portraits
because the animals will not sit and pose for the drawings.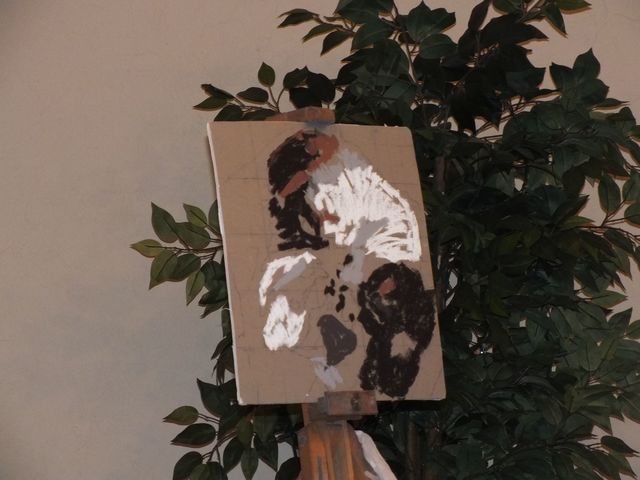 She puts in the basic shapes and large masses of color.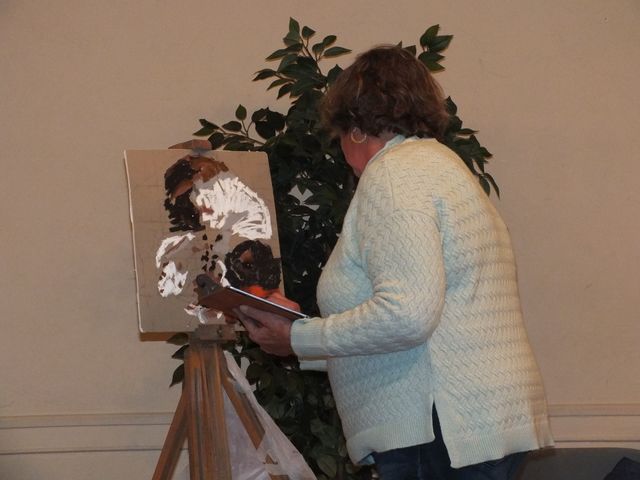 Working on the entire painting, she refines the shapes.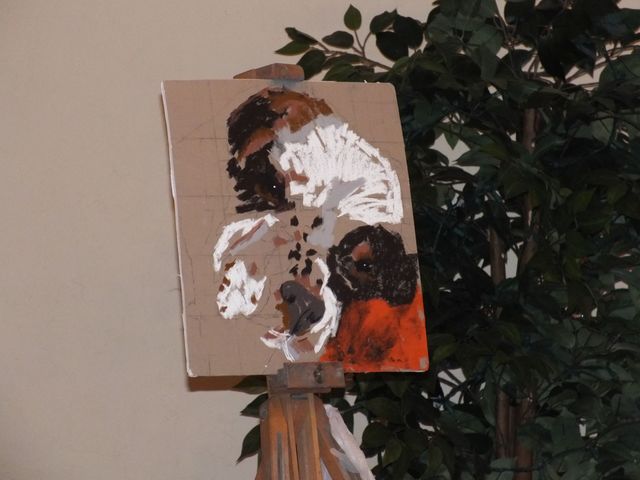 The dog's face is starting to form on the paper.
Working on the nose.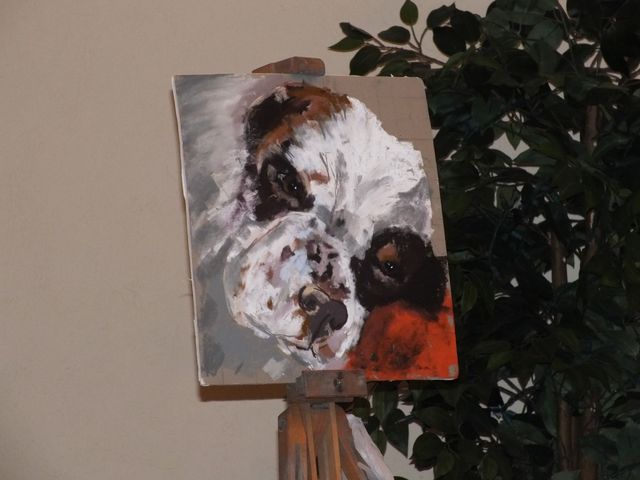 Highlights have been added to the eyes.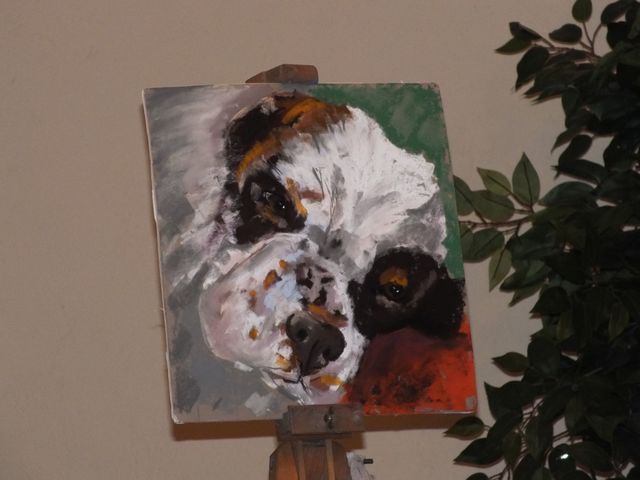 Additional refinement of the face has been done
and some background has been added.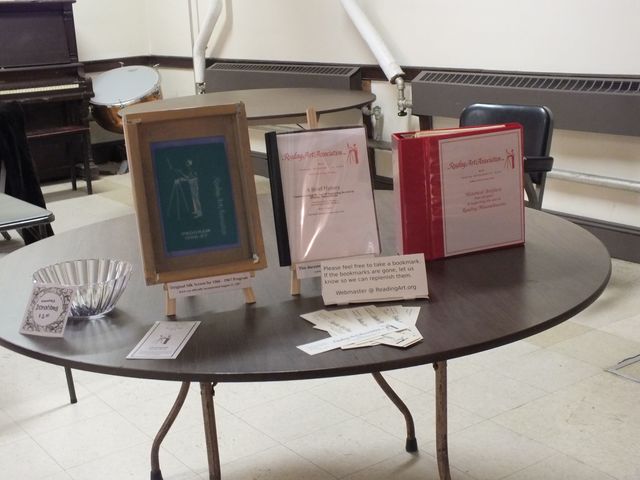 In celebration of the 60th anniversary season for RAA
we set up a table with some historical information and artifacts.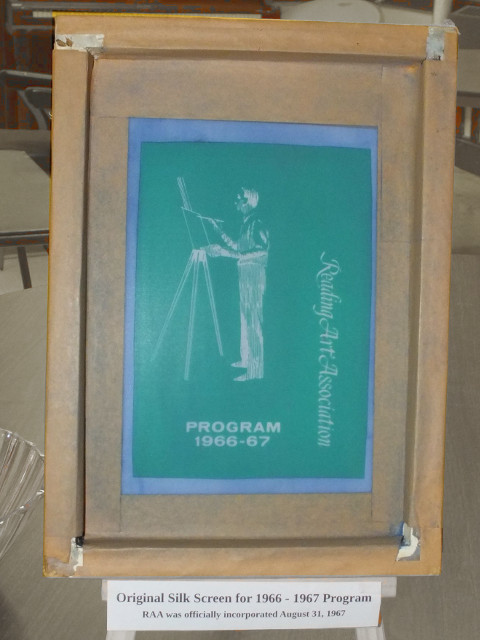 This is the original silkscreen that they used to print the program
for the 1966 - 1967 season. RAA was officially incorporated as the
"Reading Art Association" in 1967.
You can see some of Karla's work at her web site, http://karlakcook.com/
Karla Cook's Bio
"If you paint what you love, people will love what you paint."
I believe that the inclusion of animals in our homes serves to enhance our humanity and allows us to appreciate the beauty of the world around us. For my entire life, I have been surrounded by a menagerie: Cats, dogs, hedgehogs, rabbits, birds, mice and fish have all at one time or another inhabited my heart and my home. I have found that using my love of animals with my love of painting makes for a winning combination. With each animal I paint, I attempt to bring that animal's personality through the painting to the viewer. My greatest success is seeing a smile flash across someone's face when they look at my paintings. I live in Andover, MA with my husband, three sons, two Italian Greyhounds, a variety of foster bunnies, and Stuart the Wondercat.
For years I had been a successful fiber artist, creating and teaching, knitting, spinning, felting, and quilting. Nothing quieted an insistent muse until I accepted a challenge by my oldest son and discovered painting.
---
Mission Statement
About Us
Our Program
Membership
Schedule
General Information
Archives
---
Home
Search
Acknowledgements and Links
Add Sidebar Menu
Message Board
---
This web site and all of its content, text and images are Copyright © 2000 - Reading Art Association
All rights reserved.
Last updated January 11, 2019