March 2013 Demonstration
Our demonstrator for March was Nella Lush. She presented a demonstration of abstract painting in oil. The title of her presentation was "Intuitive Use of Color, Shapes, and Texture".
The meeting was held in the Guild Hall, First Congregational Church (middle side door), Sanborn Street, Reading, Wednesday March 13th, 2013 at 7:30 p.m.
We have some photographs of the event in case you could not make it there in person. You can click on any of the images on this page to view a larger version of it. Then, use the Back button on your browser to return to this page.
Nella does pure abstract work. She has no plan when she starts. She puts down the paint that speaks to her, and the painting just comes out.
In addition to the paint she used a soft wax and marble dust to develop textures.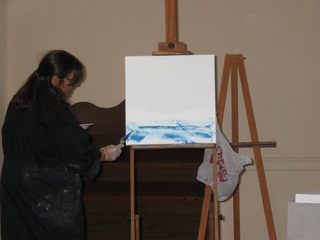 Nella started out with blue paint and wax.
She is using a pallette knife in this photo.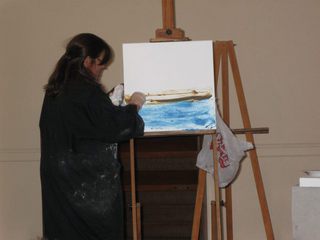 Then she mixed in some brown and put it
on using a small roller.
Then, she used her hands to put more paint on.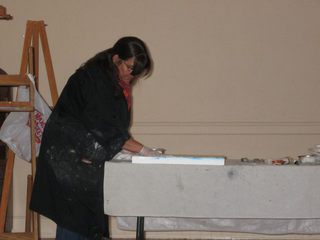 With the painting flat on the table, she rubbed
some marble dust into the paint.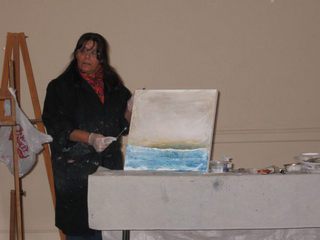 At this point, the painting looks like a seascape.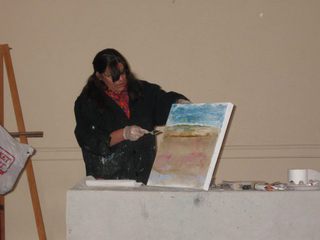 More paint with the palette knife.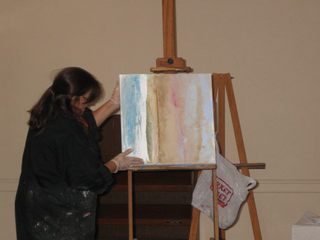 To get a fresh view of the painting, Nella turned it on its side.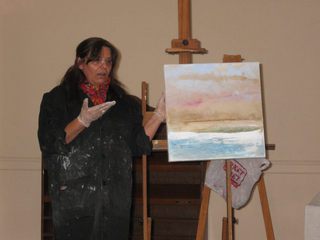 This is as far as she took it. What it might
represent is left to the interpretation of the viewer,
but it does resemble a seascape.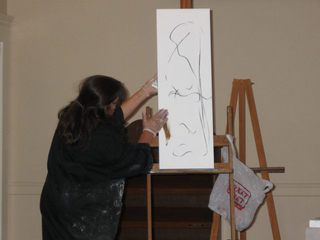 Nella then started a second painting on a
canvas that was 12" by 36" She put a random
scribble on it as a starting point.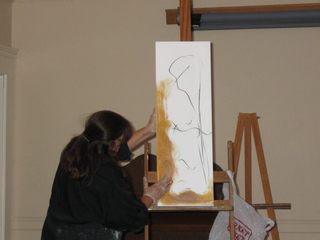 Then, some brown paint went on using her hands.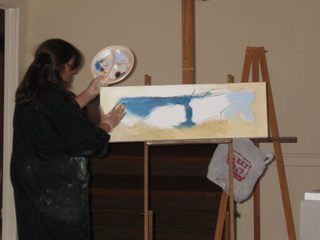 Turned on its side, it gets some blue.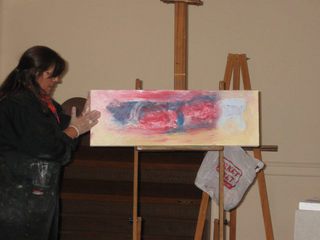 Some bright red goes on at this point.
When turned up on end it looks like a Geisha
in a bright red and blue kimono.
You can see more of Nella's work at her web site, www.nellasartgallery.com/
Nella Lush's Bio
Picasso said, "Art cannot be taught, Art is found." These words ring true to Nella Lush, our guest artist in March. Nella grew up in southern Italy in the region of Puglia, between the ubiquitous olive groves and the Adriatic Sea. For several years in her twenties she lived in the Basque region of Spain, near Bilbao on the Atlantic coast, and later in the City of Tarragona near Barcelona on the Spanish Mediterranean coast.
Nella says that art influences all peoples of southern Europe. They grow up with Art, live amongst living examples of Art, breath Art. Through the years her art continues to change as her emotional perceptions change. She said her art is more and more a reflection of her emotions of the moment and has become less contrived and more in tune with her inner self.
While living in spain, Nella painted marine landscapes and vessel portraitures, but the work was not fulfilling for her. She eventually realized that her emotional perceptions were the subjects that needed to be conveyed to the canvas! Executing her first truly emotional canvas was a revelation; she was free to place colors and shapes as she pleased! She said, "I had the freedom to brush out, splash, scrape and rub to my heart's content. I truly became free, and hours at my easel seemed like minutes. I could not and cannot paint enough! I lost myself in the quest of expressing what I felt. I truly have found my Art!"
---
Mission Statement
About Us
Our Program
Membership
Schedule
General Information
Archives
---
Home
Search
Acknowledgements and Links
Add Sidebar Menu
---
This web site and all of its content, text and images are Copyright © 2000 - Reading Art Association
All rights reserved.
Last updated October 30, 2016