March 2013 Demonstration
Our demonstrator for March was Jeanne Smith. She presented a seascape demonstration in pastel.
The meeting was held in the Guild Hall, First Congregational Church (middle side door), Sanborn Street, Reading, Wednesday March 12th, 2014 at 7:30 p.m.
We have some photographs of the event in case you could not make it there in person. You can click on any of the images on this page to view a larger version of it. Then, use the Back button on your browser to return to this page.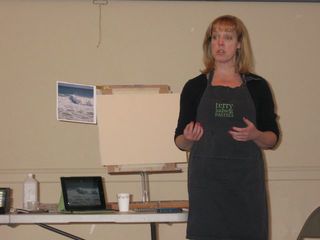 Jeanne started with a blank sheet of paper and explanations
about how she goes about designing and making a painting.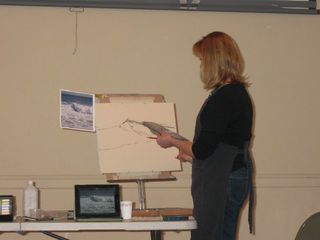 She did a quick drawing using vine charcoal.
She likes vine charcoal because it does not creep into the painting.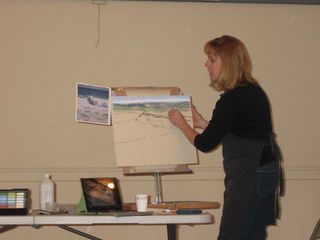 Then, she quickly put in the background, starting with the sky.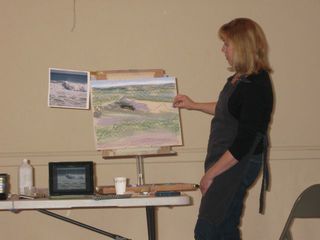 Jeanne is almost done with the under painting.
She used the color of the water for the foreground.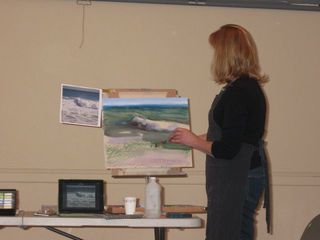 When the under painting is done she wets it with alcohol.
The alcohol smooths out the painting and sets it to the paper.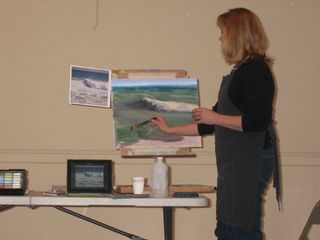 You can see in this photo how the under painting has changed.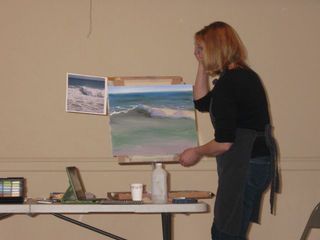 Jeanne has begun putting in some of the foam in the water.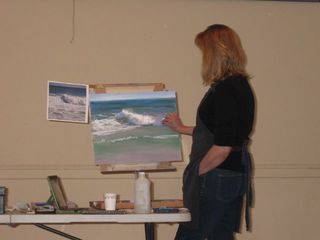 She uses warm, high value pastels for the foam on the wave.
She is not using white, but high value warm colors.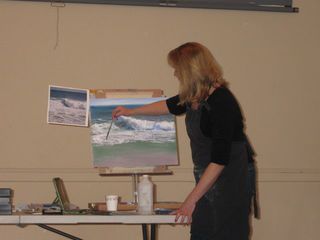 A small painting brush makes a good eraser.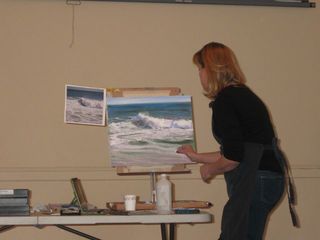 The foam in the foreground goes over the water color.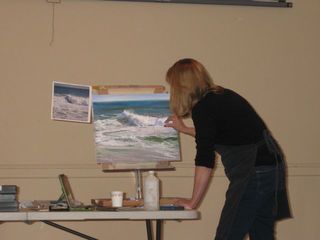 Finally, the details go in.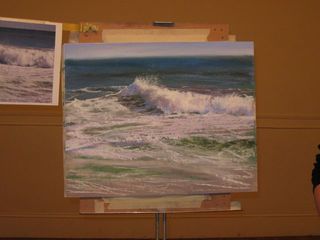 The completed painting.
Jeanne Rosier Smith Bio
Jeanne Smith, an award-winning Sudbury artist, studied art at Georgetown University, the New Jersey Center for Visual Art, and the DuCret School of Art in New Jersey. After earning her Ph.D. and spending 10 years teaching college English, she began painting professionally when her youngest child started school in 2004.
Since first touching pastels 12 years ago, Jeanne rarely paints in any other medium. She had fallen in love with the direct touch and velvety richness of pastels. She is known for her active, dramatic wave paintings, her opulent still lifes, and her expressive portraits. She spent a year in Nice, France, in a dorm room with a sea view and began a lifelong love of the water - one she is currently exploring in her wave series. She returns to the Cape and islands year round and is fascinated with the challenge and potential of painting crashing waves with dry pastel.
Jeanne is a signature member of the Pastel Society of America, the Connecticut Pastel Society, the Pastel Painters Society of Cape Cod, and is a juried artist member of the Copley Society, the Salmagundi Club, and Academic Arists. She has exhibited at the Massachusetts State House, Boston's Sympony Hall, the Guild of Boston Artists, and nationally at the Pastel Society of America, the Catherine Lorillard Wolfe Arts Club, and American Artist Professional League show among others. Jeanne Rosier Smith is a popular demonstrator and teaches as well. Her Sudbury pastel studio offers weekly classes and weekend workshops.
You can see more of Jeanne's art at her web page, jeannesmithart.com
---
Mission Statement
About Us
Our Program
Membership
Schedule
General Information
Archives
---
Home
Search
Acknowledgements and Links
Add Sidebar Menu
---
This web site and all of its content, text and images are Copyright © 2000 - Reading Art Association
All rights reserved.
Last updated October 30, 2016