March 2018 Demonstration
Finally, after two delays for blizzards, we had our March demonstration. The demo was originally scheduled for the 14th, but we actually had it on March 28.... and it was worth the wait.
Our demonstrator was Frank Constantino, who did a watercolor architecture demonstration.
The meeting was held in the Guild Hall, First Congregational Church (middle side door), Sanborn Street, Reading, Wednesday March 28st, 2018 at 7:30 p.m.
We have some photographs of the event in case you could not make it there in person.
UPDATE - 2018/04/03
To see how the final painting turned out, click HERE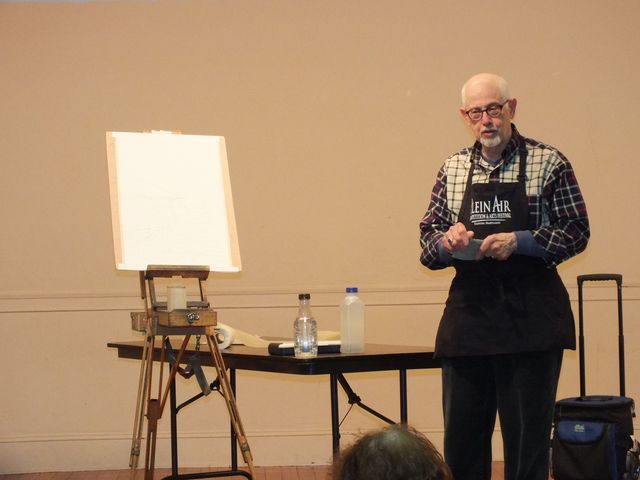 Frank did a watercolor of a shack on the waterfront.
He used cold pressed paper for the demo, even
though he often uses hot pressed paper for his renderings.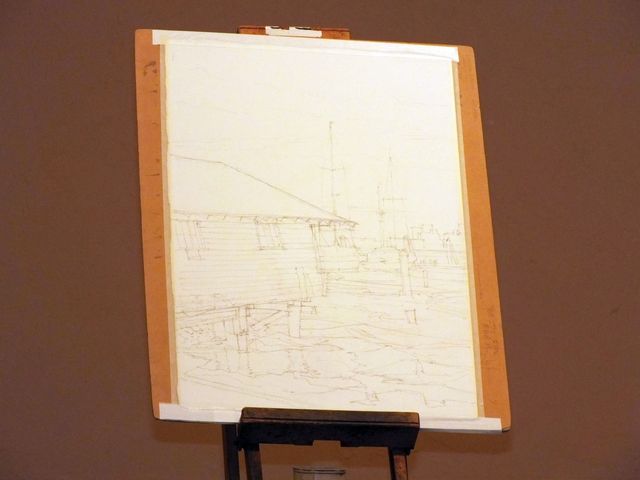 This is the drawing that he started from.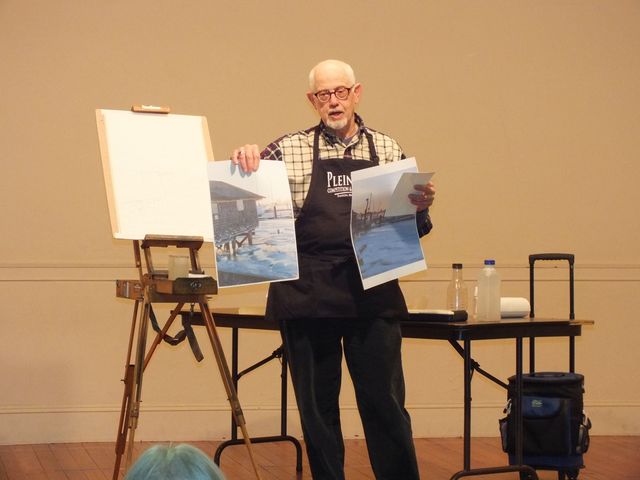 His source material was two photographs of different scenes.
He took the shack from the photograph on the left side.
He took the sky from the photograph on the right side.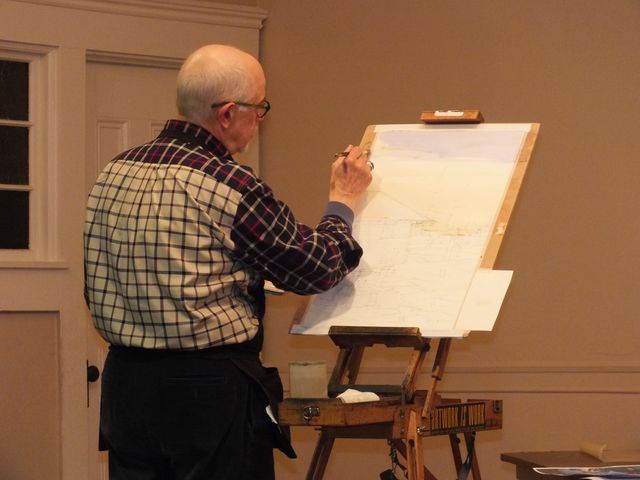 He started with a high key rendering of the sky.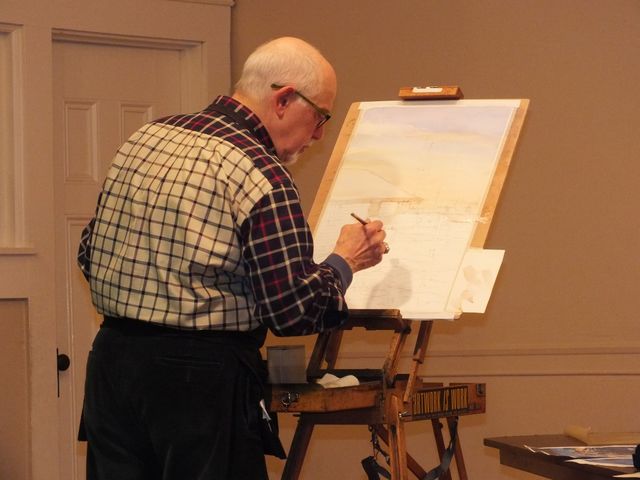 He carried those colors down into the middle ground and the shack....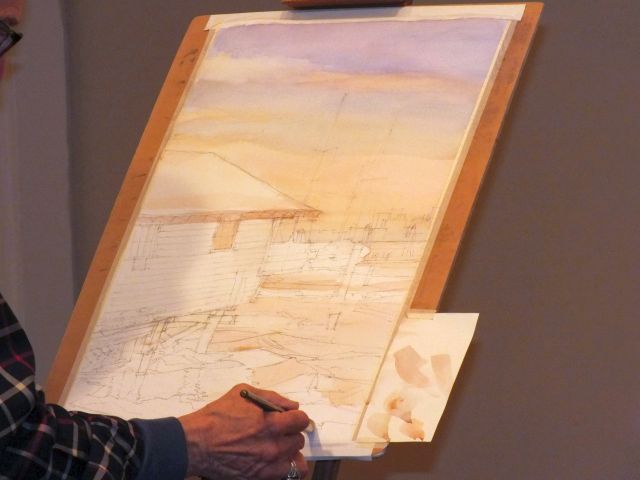 ... and all the way into the foreground.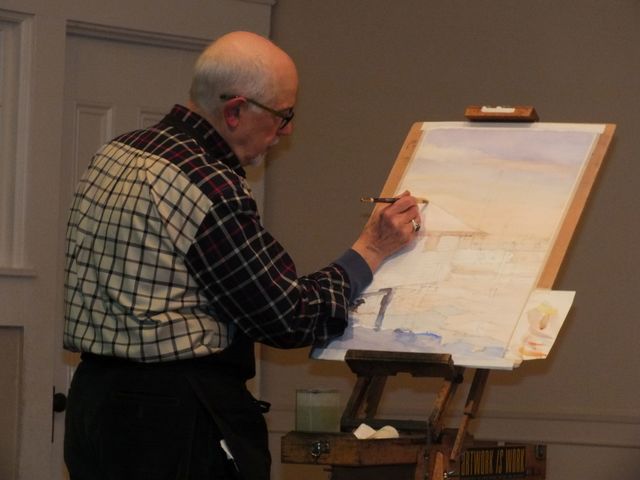 After that, he started with the roof on the shack.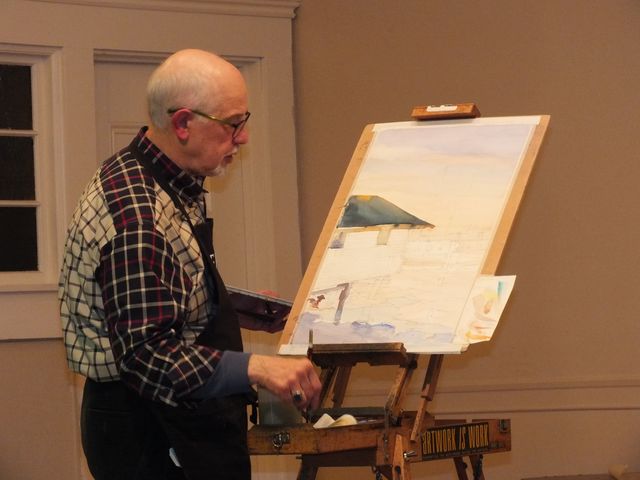 You can see some darker colors in the near foreground.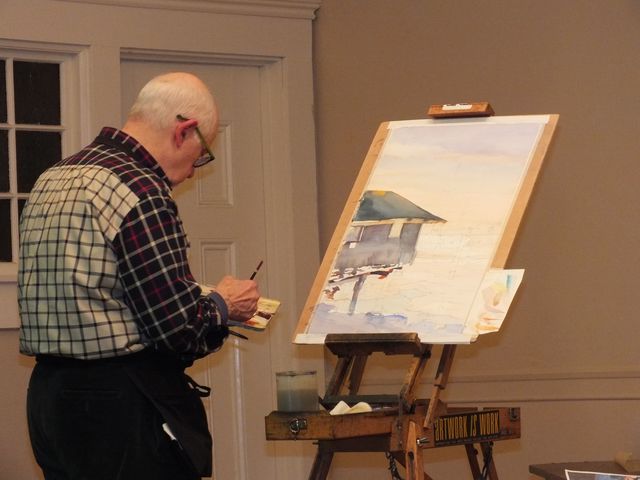 He put a wash over the side of the shack and
continued down into the pilings and the ice.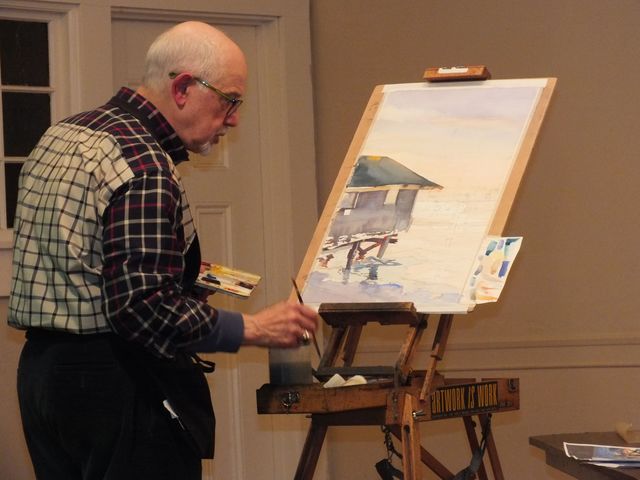 Here we have further refinement of the foreground.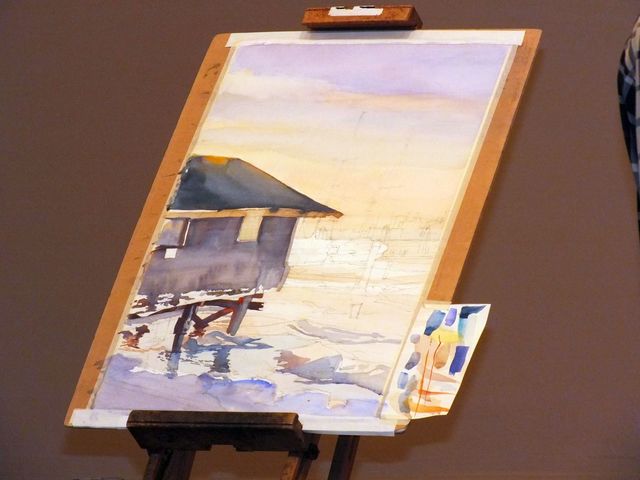 This is as far as he got with the demo.
You can see the beginnings of a good painting in it.
Frank sent a photo of the finished painting. It turned out rather nice. 2018/04/03
You can see some of Frank's work at his web site, http://fmcostantino.com/
Frank Constantino's Bio
As an architectural illustrator for over forty-five years, Frank has provided a national clientele of distinguished architects with striking & award-winning illustrations of projects around the world. During these professional years, he has also developed his watercolor painting to an accomplished level, and capture urban scenes, landscapes, homes, and portraits in a plein air, or a direct, alla prima, colorist style.
Frank has been a long-standing signature member of the New England Watercolor Society (N.E.W.S.) Boston, and elected member of the Salmagundi Club of New York, as well as exhibiting member and supporter of local Art Associations, and regularly participates in national plein air events. His work is also represented in select galleries, and many collectors around the country have acquired or commissioned distinctive watercolors.
---
Mission Statement
About Us
Our Program
Membership
Schedule
General Information
Archives
---
Home
Search
Acknowledgements and Links
Add Sidebar Menu
Message Board
---
This web site and all of its content, text and images are Copyright © 2000 - Reading Art Association
All rights reserved.
Last updated April 3, 2018