March 2019 Demonstration
Our demonstrator was Jeff Hayes, who did an Oil Contemporary Still Life demonstration.
The meeting was held in the Guild Hall, First Congregational Church (middle side door), Sanborn Street, Reading, Wednesday March 13th, 2019 at 7:30 p.m.
We have some photographs of the event in case you could not make it there in person.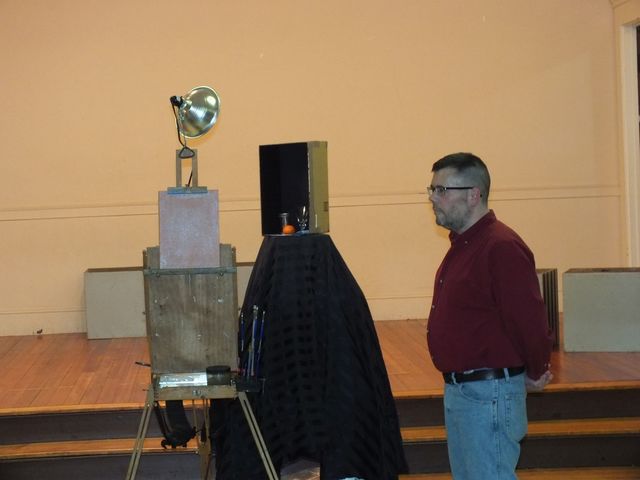 Jeff showed us how he paints a still life.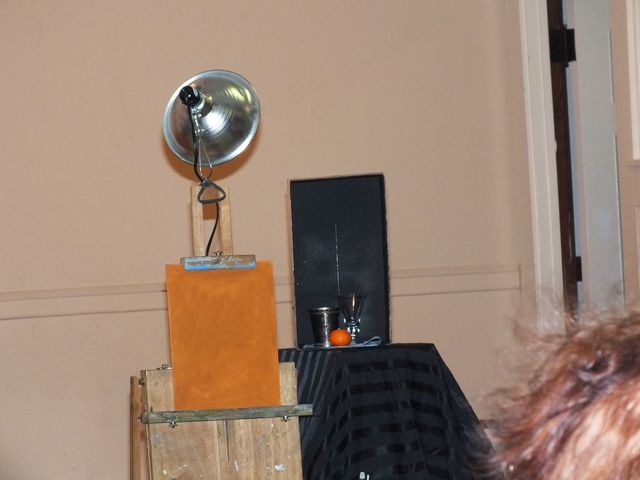 He brought a small setup and put it in a shadow box.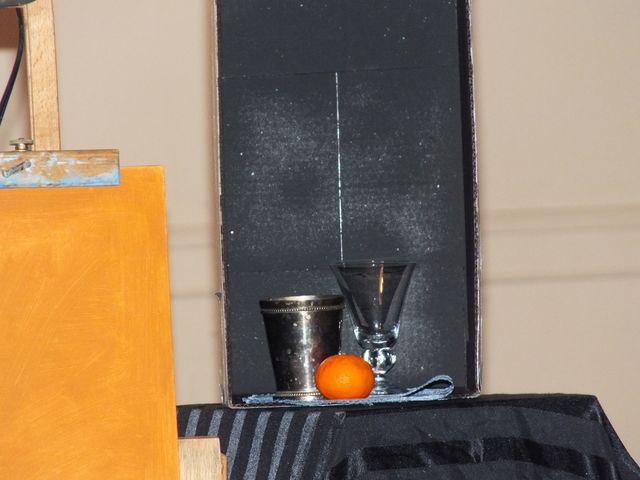 Here is the arrangement that he painted.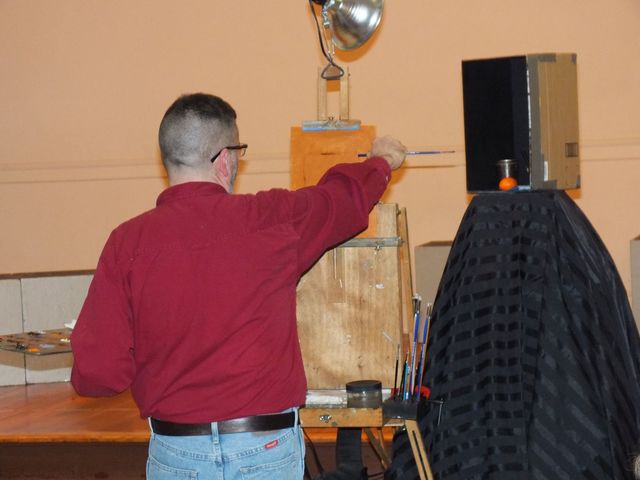 Jeff uses traditional techniques for observing the proportions.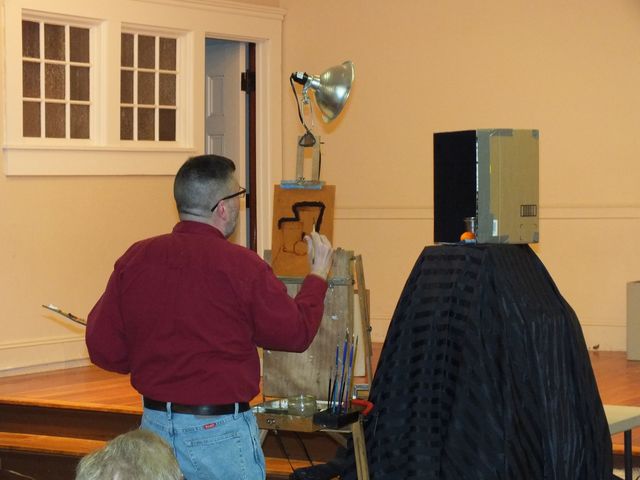 He started with the background.
He does use black for the dark colors.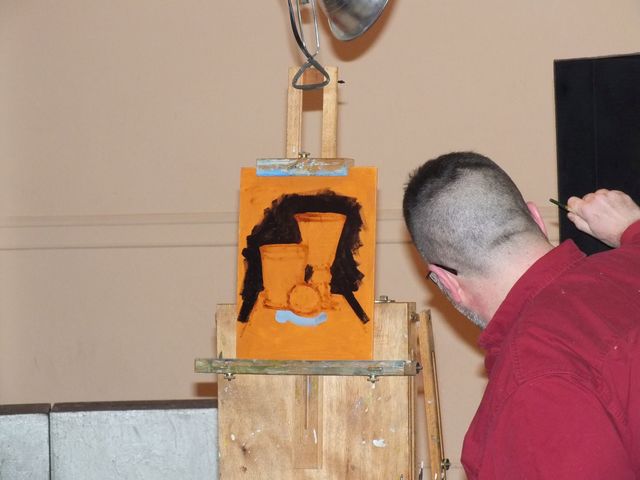 In this photo he is pointing at a color shape on one of the objects.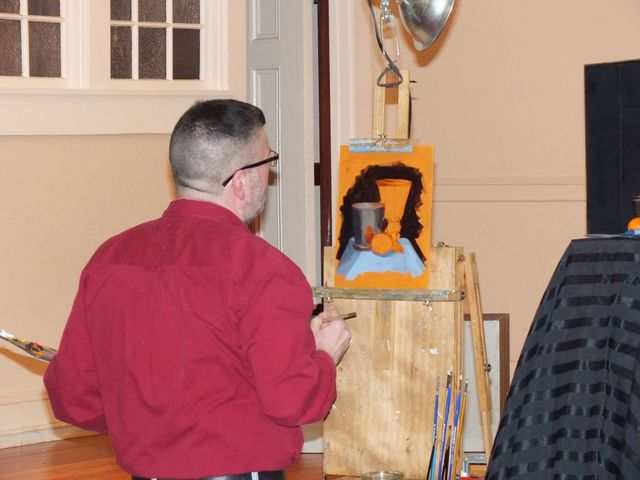 Continuing to refine the colors and shapes that he sees.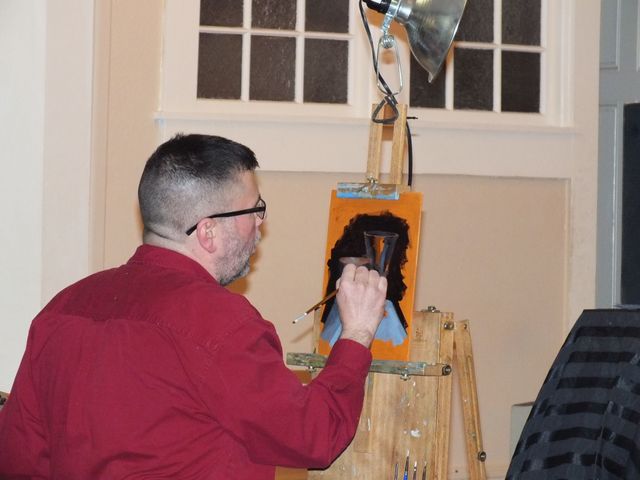 Jeff told us what colors and shapes he was seeing as he painted,
and he often stopped to point at and describe what he was seeing.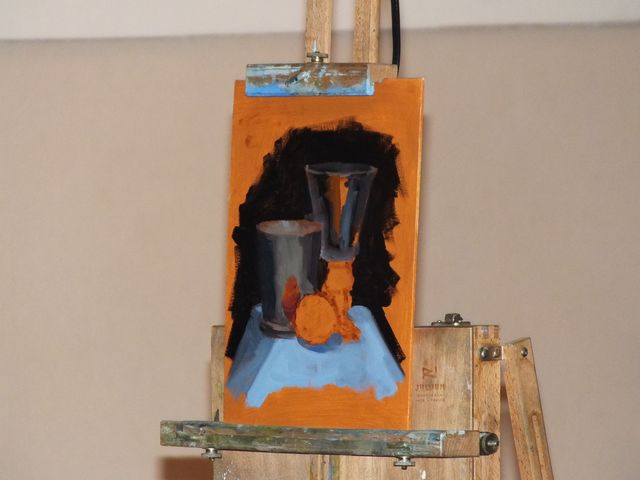 Here is the painting so far.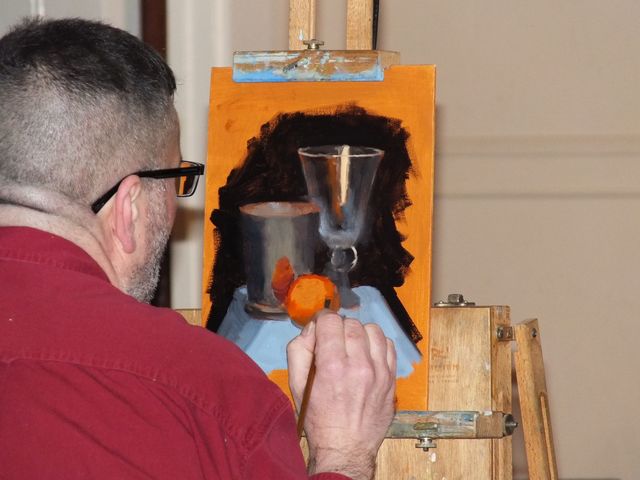 The trick to his type of painting is to try for accuracy in
shapes, colors, and values right from the beginning.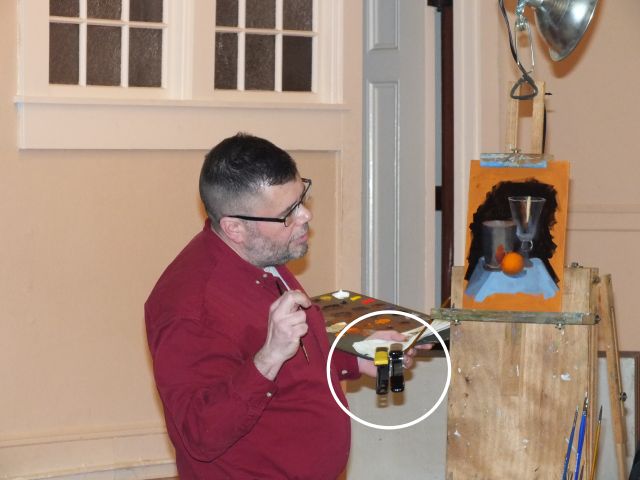 He holds his pallet in his hand, and to avoid fatigue he clips
a couple of clamps on the far end of the pallet (circled in white).
That balances the weight on his hand and makes it easier to hold.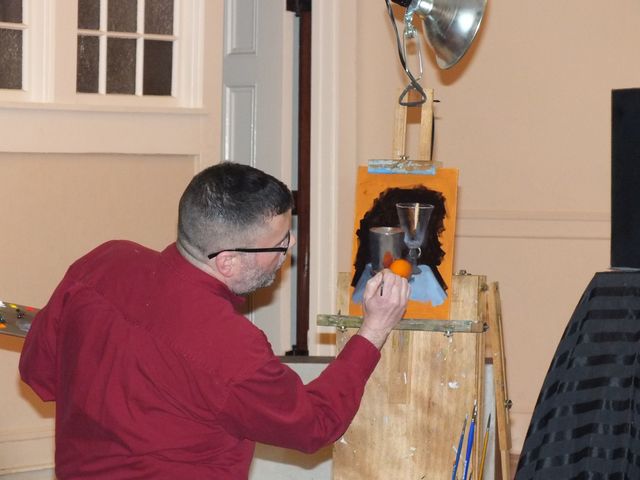 He continues to refine the painting.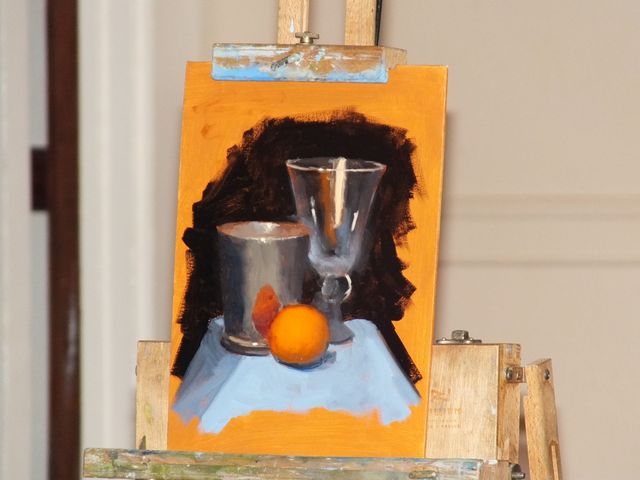 You can see that a painting is emerging.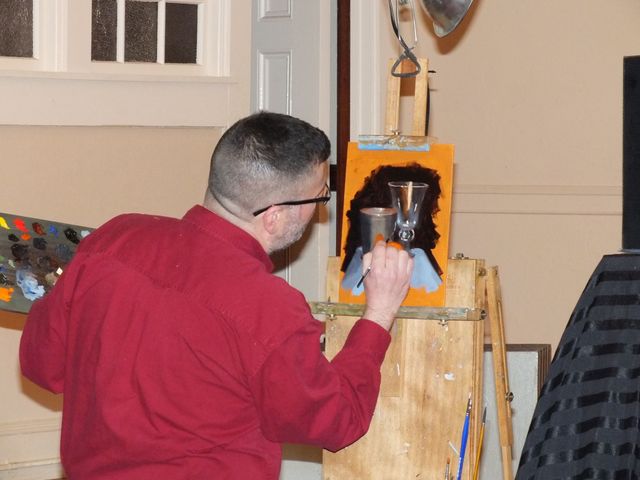 The color saturation on the orange is highest where the light
directly hits it. He desaturates the color as he paints the sides that fall away.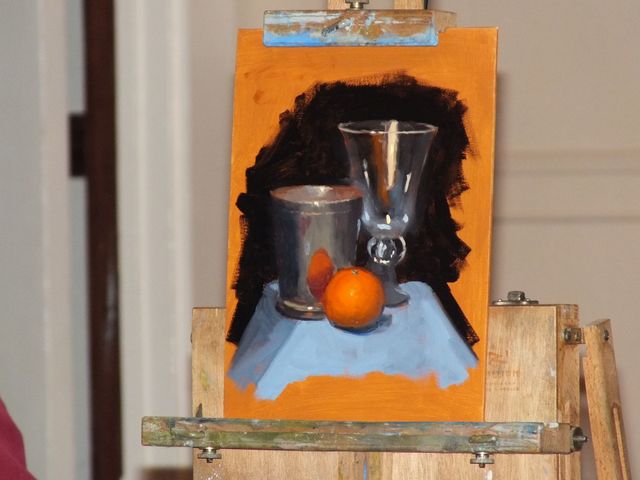 This is how far he took the painting.
It isn't finished, but it is well on its way to being a nice painting.
You can see more of Jeff's work at his web site, https://www.jeffhayes.com/
Jeff Hayes' Bio
Jeffrey Hayes creates vibrant, glowing still life paintings in the classical tradition. His works are painstakingly crafted to the highest standard, using time tested methods and the finest materials available.
His path to finding his calling as an artist was indirect. A lengthy education in music led to a more practical career as a computer programmer. For his 30th birthday, he decided to indulge his lifelong curiosity about art by purchasing a simple oil painting kit. A 10 year period of intensive learning and practice followed. This culminated with the decision to leave his successful technology career and devote his life to painting.
He lives and works in a beautiful small New England town. From his busy studio, he produces a steady stream of new works and commissions that delight his loyal and growing base of collectors. Over the years, these collectors have acquired approximately 800 of his paintings.
---
Mission Statement
About Us
Our Program
Membership
Schedule
General Information
Archives
---
Home
Search
Acknowledgements and Links
Add Sidebar Menu
Message Board
---
This web site and all of its content, text and images are Copyright © 2000 - Reading Art Association
All rights reserved.
Last updated March 21, 2019