March 2020 Demonstration
Our demonstrator was Raymond J. Gilbert, who did an Abstract Symbolism demonstration.
The meeting was held in the Guild Hall, First Congregational Church (middle side door), Sanborn Street, Reading, Wednesday March 11th, 2020 at 7:30 p.m.
We have some photographs of the event in case you could not make it there in person.
Ray Gilbert paints mostly in the abstract. He showed us some of his techniques to create abstract art, keeping a visual balance in the piece.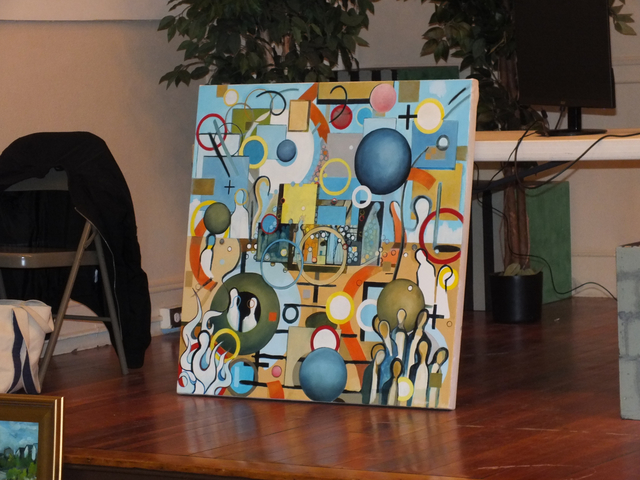 Ray brought some examples of his art.
Here is one of them.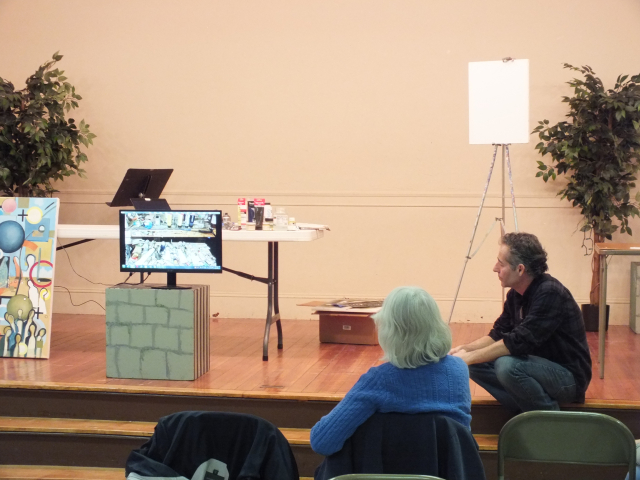 Ray set up a very brief presentation of the
process he follows when creating abstract art.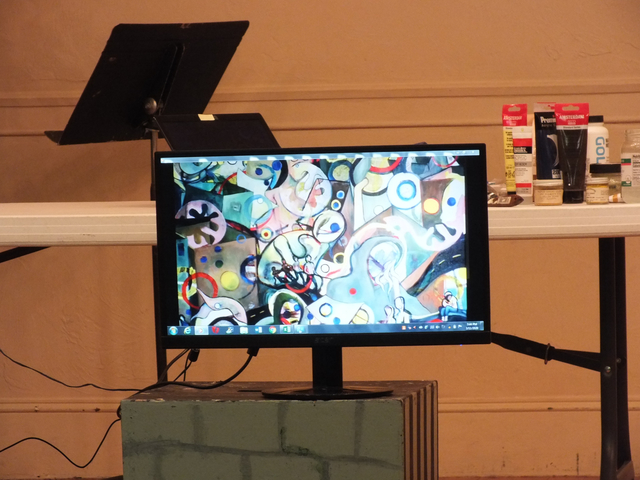 A closer view of the monitor.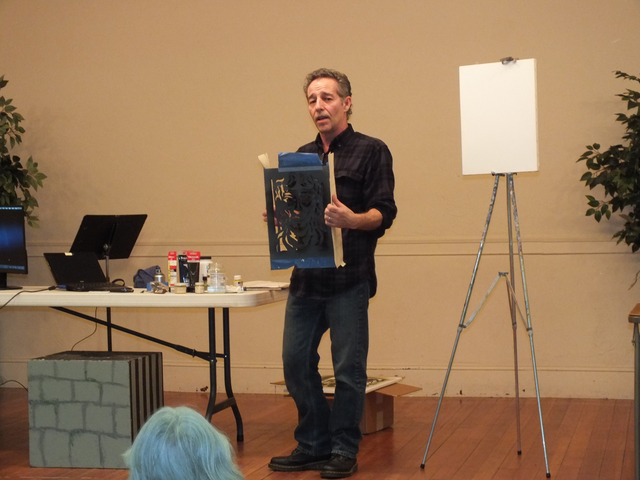 He started this piece with a stencil.
You can see the stencil spray painted on the canvas.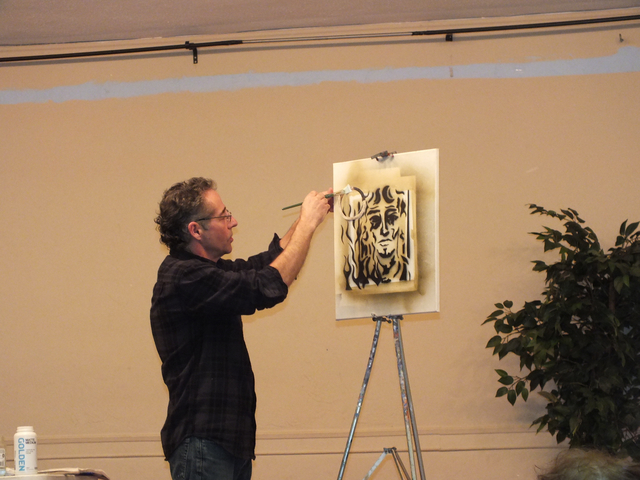 Ray cut out some circles from various items and glued
them to the painting using matte acrylic medium.
This circle was cut from newsprint.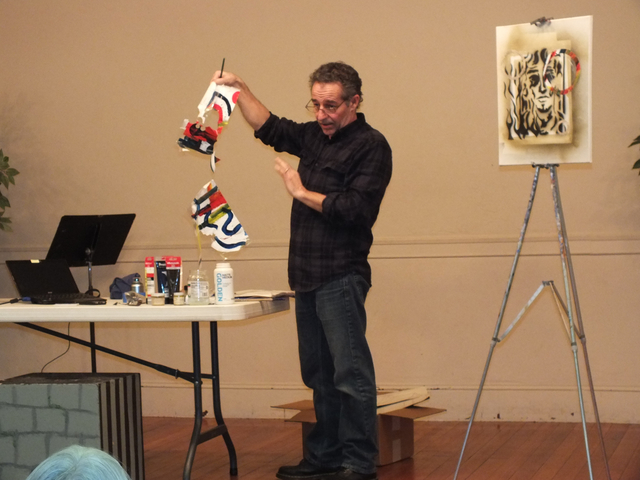 He also cut circles from a painted plastic sheet.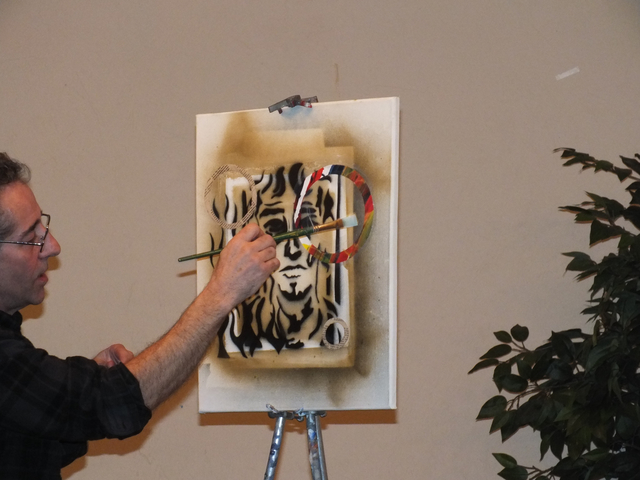 He is gluing the plastic circle to the painting.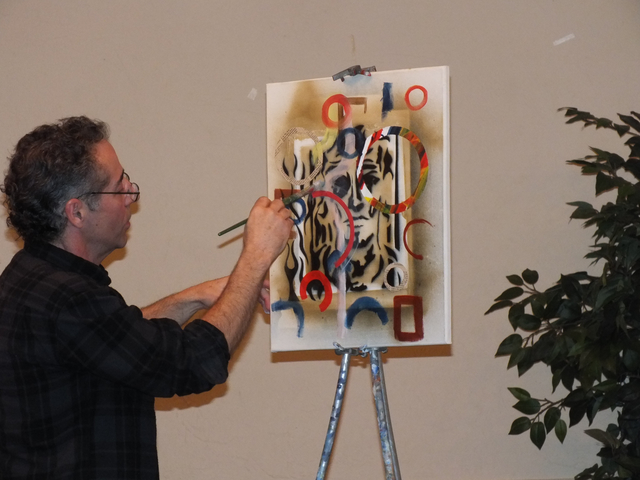 Ray continued to apply various shapes to the painting.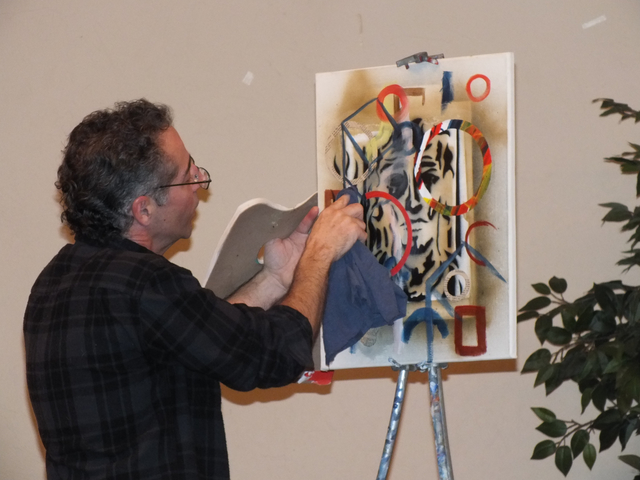 He smudged the acrylic paint using a rag while the paint was still wet.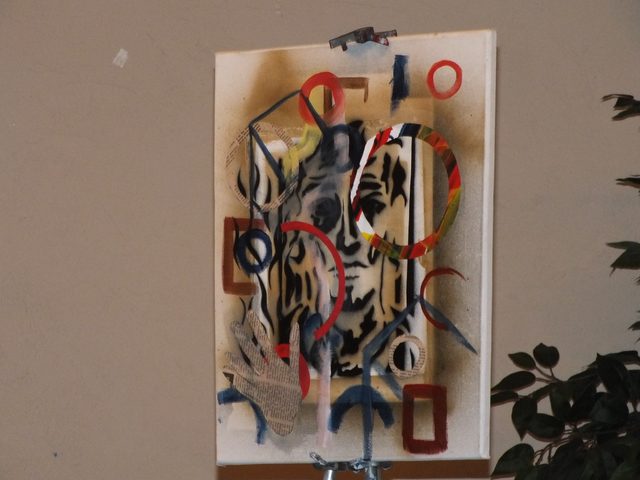 The state of the painting part way through the demo.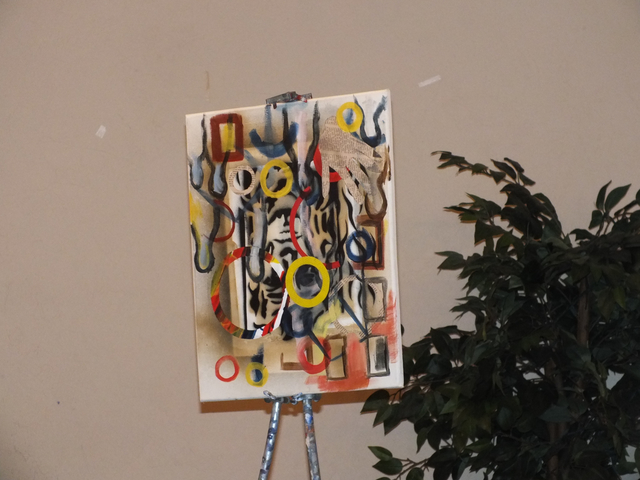 Before continuing, he turned the canvas upside down.
Doing that provides a fresh view of the painting.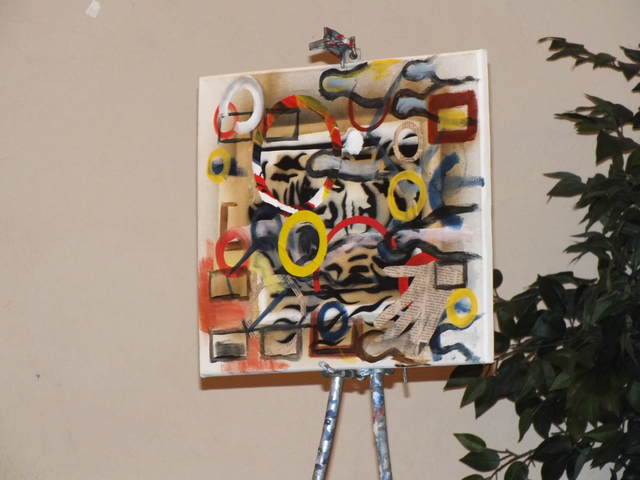 A little further on, he turned the canvas 90 degrees.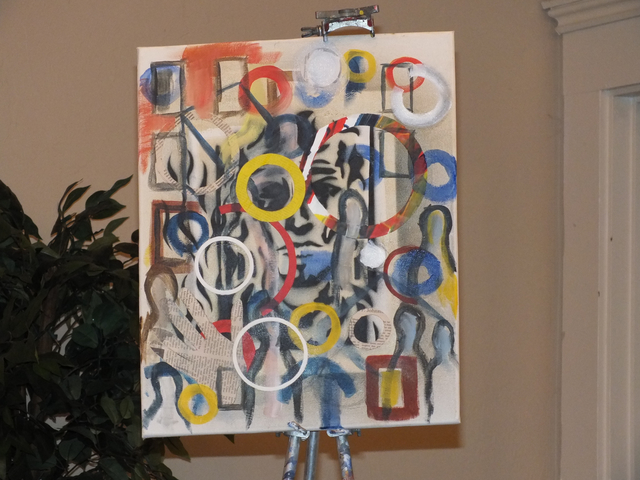 This is as far as he got during the demonstration.
While not complete, you can see the flavor of his art in it.
You can see some of Ray's work at his web site, http://www.raygilbert.com/
Raymond J. Gilbert's Bio
Raymond J. Gilbert (born 1966) American artist born in Lynn, Massachusetts. Graduate of Boston School of the Museum of Fine Arts and Tufts University (BFA 1993). Working in multiple mixed mediums. Drawing much from western art traditions and contemporary movements he creates current engaging painting which challenge the viewer to contemplate. His creative process generally starts like a De Kooning painting, throwing sweeping lines and pulling out abstract forms which begin to materialize into a basic composition (which may or may not have a preconceived agenda). Pulling in image and working out details with active sketchbooks and cell phone images. A work is deemed finished when a coherent balance between color, space and form has been accomplished. (Theme being that which develops / evolves as its build.)
Gilbert has won awards in painting and printmaking, his works can be found in private collection in North America, Canada, Europe and South Africa.
"An internal response to an external image is in my opinion one of the highest achievements of visual art, it is something that stays with you, it transcends borders or language it is global... for all people. It is this desire to speak beyond cultures to that common thread that links us all which continues to drive my work to whatever end it finds."
---
Mission Statement
About Us
Our Program
Membership
Schedule
General Information
Archives
---
Home
Search
Acknowledgements and Links
Add Sidebar Menu
Message Board
---
This web site and all of its content, text and images are Copyright © 2000 - Reading Art Association
All rights reserved.
Last updated March 15, 2020