Notices & News
Here are the latest notices of current happenings around the area. Check back here often, as the contents will change quickly.


---
Bud Knox has Passed away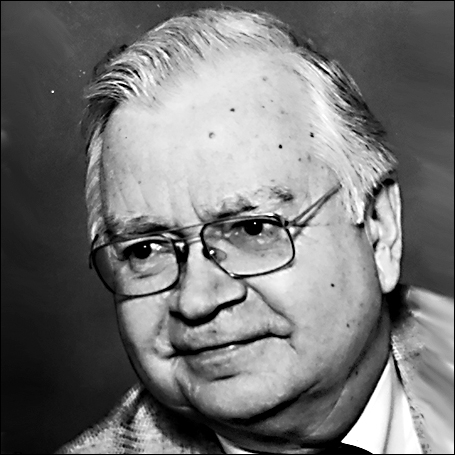 We have sad news to report that Bud Knox, our good friend and long time member of RAA, has died. Bud was very active in the RAA for many years. He and Evelyn were involved in everything from running the shows to running the business. He will be missed.
You can read Bud's obituary at the following link, Bud Knox Obituary
---
Fred Peters has Passed away
We have sad news to report that Fred Peters, one of the few remaining Reading Art Association charter members, has died. Fred was active in the RAA to the end. I spent some wonderful time chatting with him at the Fall Show in November. He will be sorely missed.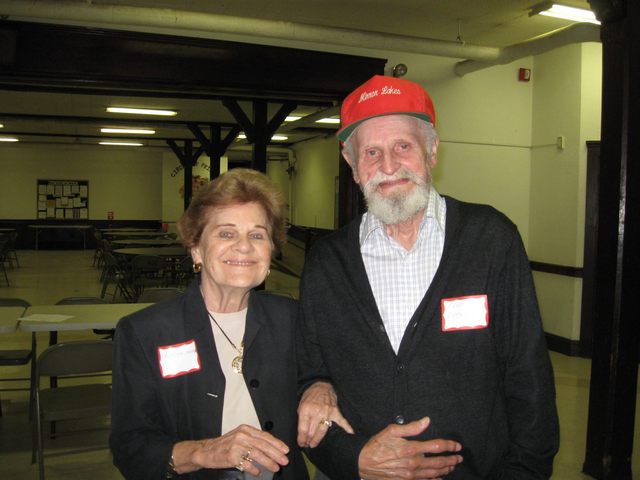 Evelyn Knox and Fred Peters
---
Cheryl Flatley paintings at the Pleasant Street Center
The Pleasant Street Center in Reading, also known as the Senior Center, is now showing paintings by Cheryl Flatley as well as Grace Cherwek and Brian Kimerer. Two rooms and the stairwell to the second floor have paintings hanging. There are about 20 paintings hanging in this exhibit. Stop by and take a look. Here are some teasers.

Cheryl Flatley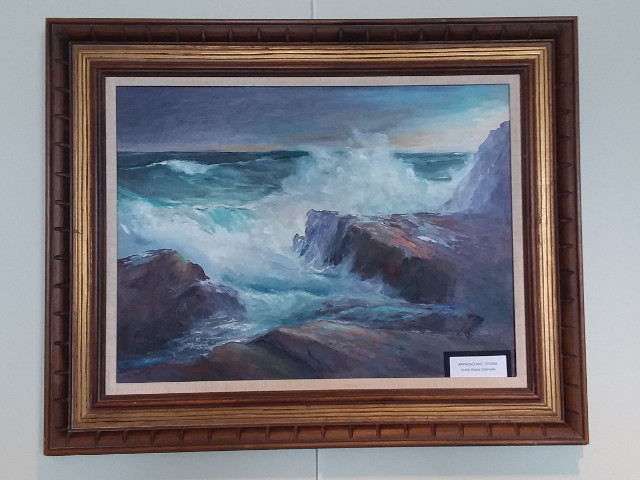 Approaching Storm - Grace Cherwek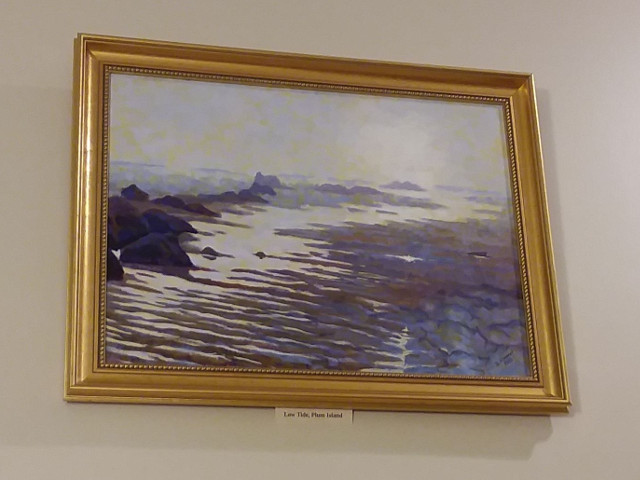 Low Tide Plumb Island - Brian Kimerer
---
Reading Art Association Dues in a Nutshell
Here is a brief FAQ about the Reading Art Association dues.
How Can I Find Out When My Dues are Due?
Look at the address label on the most recent mailing from RAA. At the bottom of the label is your dues due date.
Why Should I Pay My Dues?
Because the RAA exhibits are now both Members Only shows. You must be a member in good standing in order to exhibit. That means that your dues must be paid in full. Also, it helps keep RAA going.
How much are the RAA Dues?
| | |
| --- | --- |
| Student | $10.00 |
| Associate | $15.00 |
| Artist | $25.00 |
| Sponsor/Patron | $35.00 |
How Do I Pay My Dues?
Download a form from our Membership page, print it out, fill it in, and mail it along with your check to:
Reading Art Association
P.O. Box 114
Reading, MA 01867
Are RAA Dues A Bargain?
Definitely! RAA Dues have not gone up in 35 years. What other institution can say that? Also, Reading Art Association is a 501(c)(3) non-profit corporation, so your dues are tax deductible.
Where Does the Money Go?
The dues are used to pay the rent for the space in the church that we use for the demonstrations and the shows. They also go to pay the demonstrators for our monthly demonstrations, the publication and mailing of the Mixed Media newsletter, refreshments at the demos and shows, and countless other small expenses that we incur.... including sending reminders to recalcitrant members who are in arrears for their dues.
Other Than Paying Dues, How Else Can I Help RAA?
Keep scrolling down and read about joining the RAA board. The RAA board runs RAA and is always in need of members to fill positions. It is a lot of fun, and a great organization to be part of.
What Kind of Fun?
Check out our writeup about Setting Up the Fall Show in 2016.
---
Note to All RAA Members
To All Members of RAA,
Reading Art Association is a great organization filled with lots of tradition and history. Next year is our 60th year, our Diamond Anniversary. Not many organizations can say that they have lasted 60 years and together, we will continue to grow and prosper.
We are going to have a beautiful and successful Spring Show, combined with the Reading Garden Club. This should be a wonderful show and we hope to see members there.
There are some openings on the board that need to be filled. The openings are: Mixed Media, Judging which involves getting judges for the 2 shows, and we can always use more people to help out with hospitality. There also may be some Executive Board positions.
In order to continue with this great organization, we need all the help we can get from our members. We want to continue the traditions that have made Reading Art the prestigious organization that it is and in order to do that we need everyone's help. If you are interested in a board position, speak to a board member at the Spring Show or e-mail Rosemary Palmer, rosiep1@comcast.net, or Rick Corbett, rickycorbett@gmail.com.
Here is to another 60 years!
You can also contact RAA through your webmaster at webmaster@readingart.org.
---
The RAA Gallery Software has been upgraded
I have enhanced the software in the RAA Gallery to show thumbnail photos of the paintings in a scrollable window at the bottom of the screen. You can now find and select a work that you are interested in, click on the thumbnail, and go directly to the image. You can still start at the beginning by clicking on the box with the RAA logo in it. Stepping through the images still works the same way it did, click on the left side of the image to go back, and click on the right side of the image to go forward.
Check it out here --- The Gallery.

Your Webmaster
---
Brian Kimerer at the RPL
Brian Kimerer is currently showing his paintings at the Reading Public Library. The exhibit is called "Magnificent Trees" and will be on display for July and August in the Innovation Studio. All the paintings in the exhibit are paintings of trees, some of them significant Reading icons. Drop by and take a look.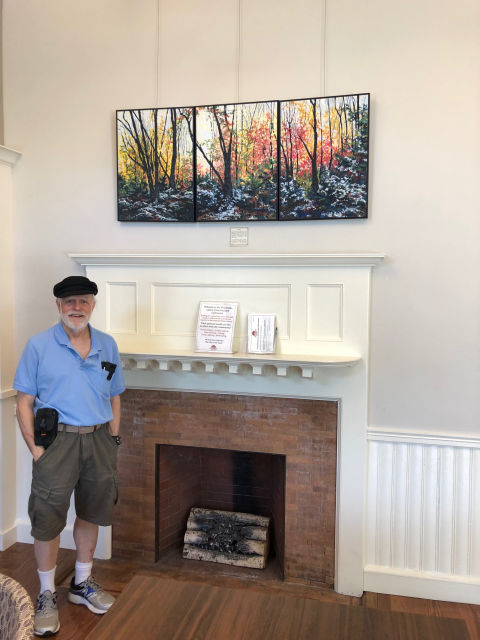 Brian with his painting called "Glass"
---
Jeannette Corbett
The painting at the Whitelam Bookstore has been swapped again. Jeannette Corbett is back with another painting. The title of the painting is "Summer Racing Saratoga". The painting is on display through the month of August, 2019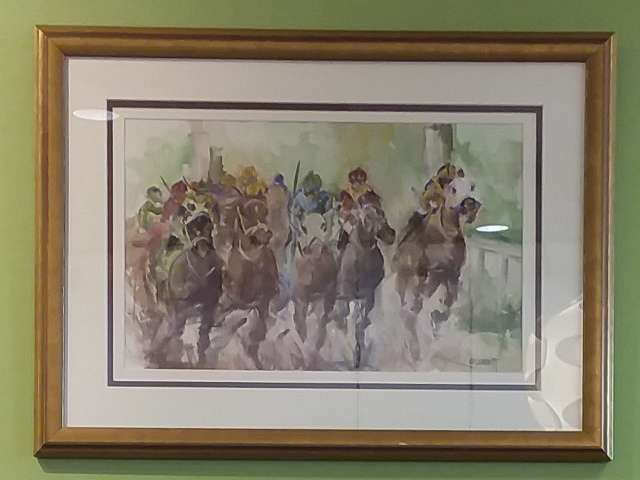 Summer Racing Saratoga

Over the Fireplace
Susan McFarlane
We have taken down, but not forgotten the watercolor floral by Susan McFarlane. The title of the painting is "Bloomers". The painting was on display through the month of July, 2019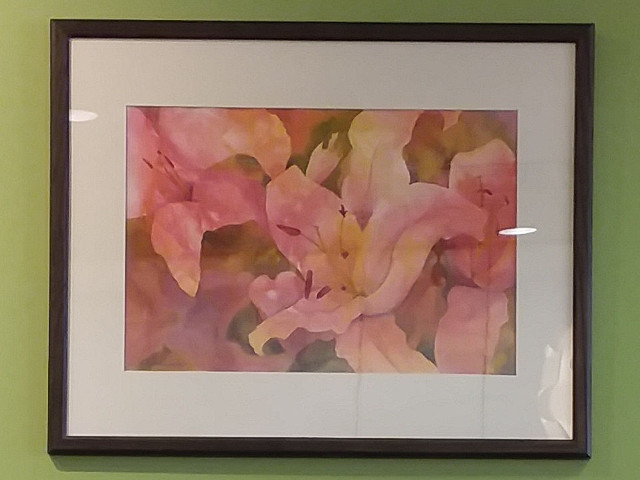 Bloomers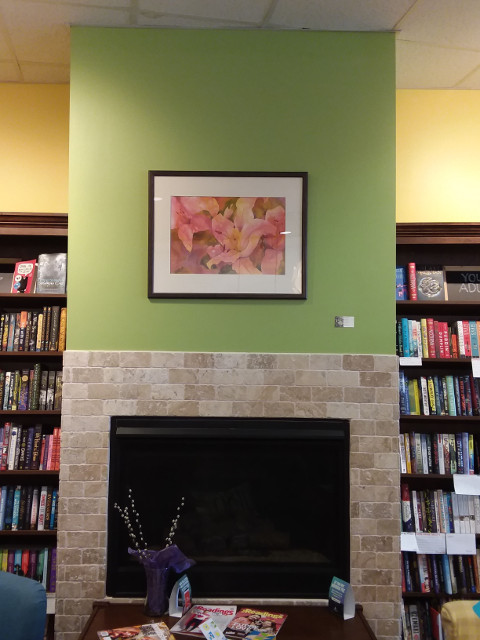 Over the Fireplace
Maeve Bradley
Maeve Bradley had a painting on display through the month of June. The title of the painting is "Graves Lighthouse".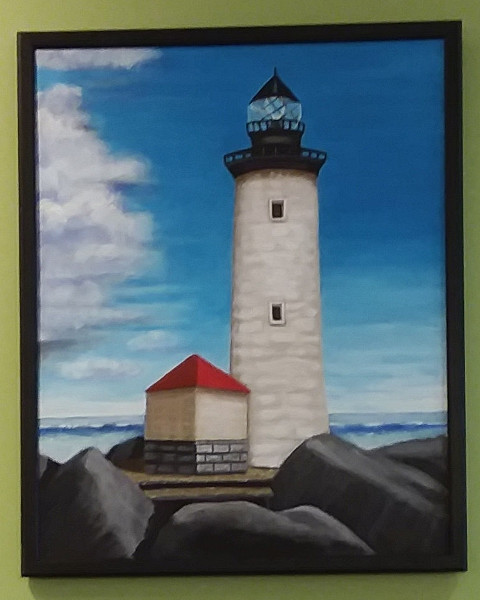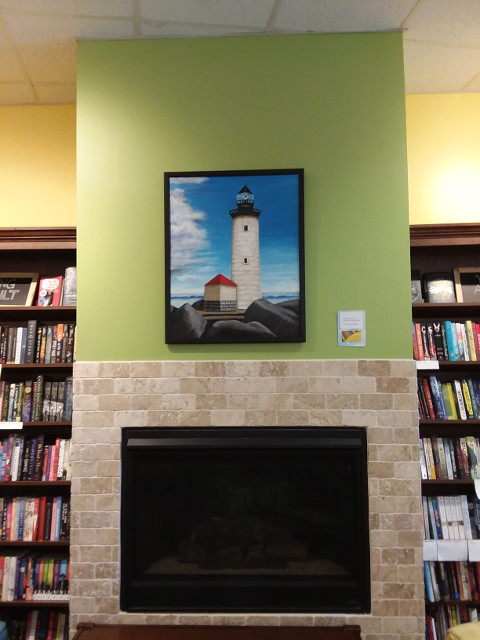 Over the Fireplace
Mary Kelly
The painting at the Whitelam Bookstore through the month of May was a watercolor by Mary Kelly.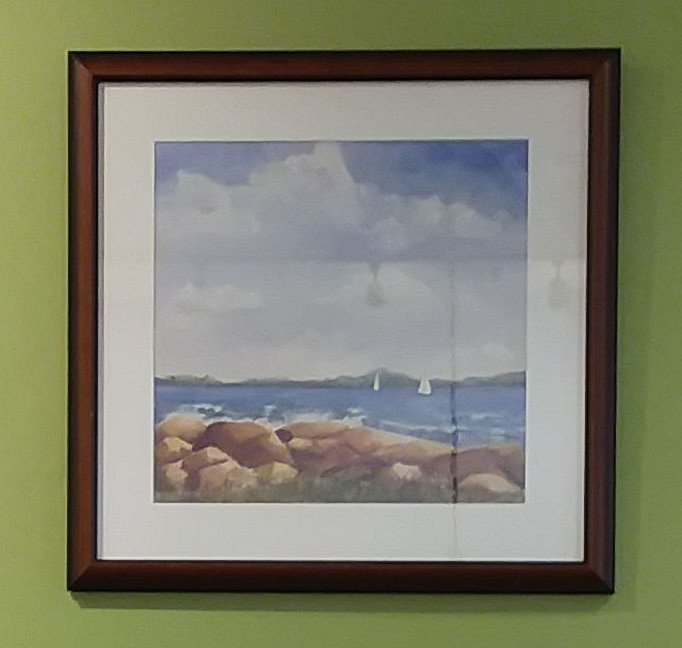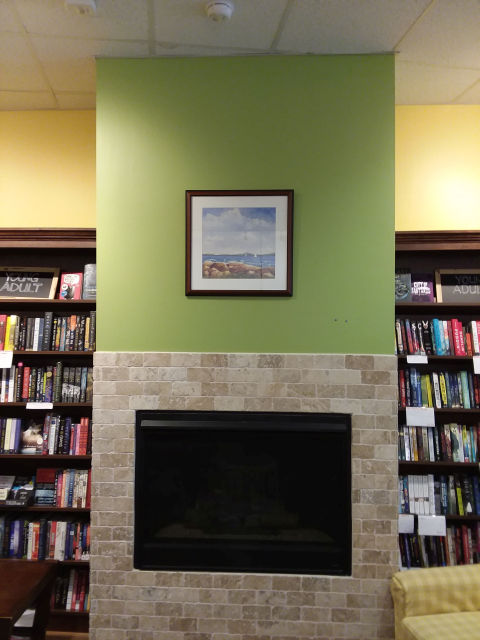 Over the Fireplace
Lynne Cassinari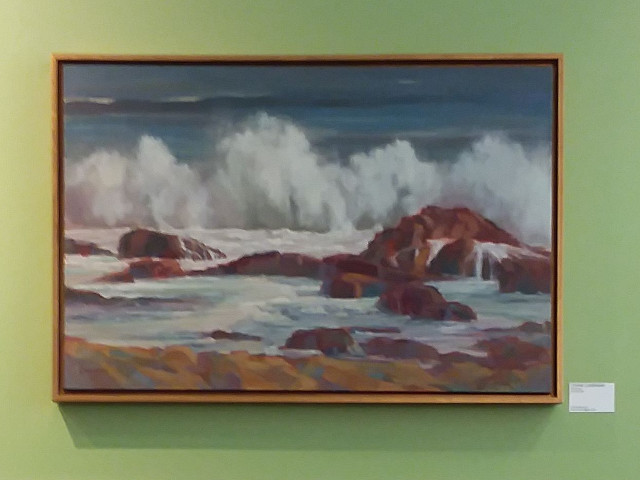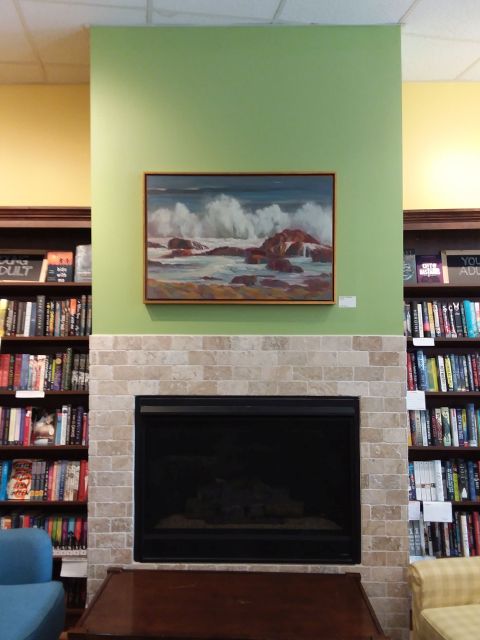 Over the Fireplace
Louise Conti
The painting at the Whitelam Bookstore has been swapped out. Look for a new painting each month at the book store.
Some photos of Louise's painting: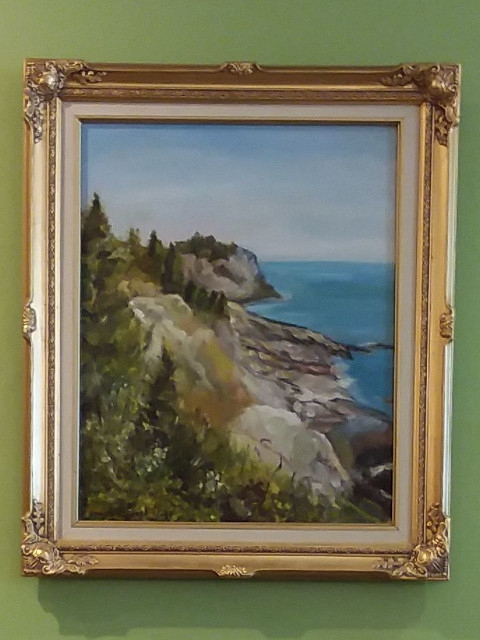 Monhegan Island, ME.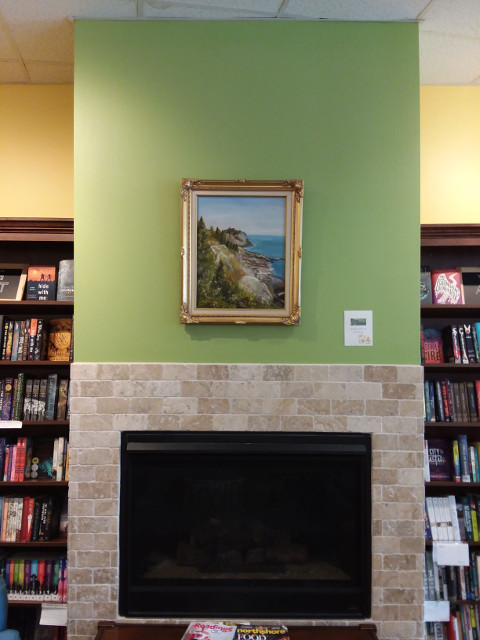 Over the Fireplace
Carol Galayda
Carol's painting "Morning Solitude" was on display through the month of February, 2019. Thank you to Carol for sharing her art with us.
Some photos of the painting:

Morning Solitude.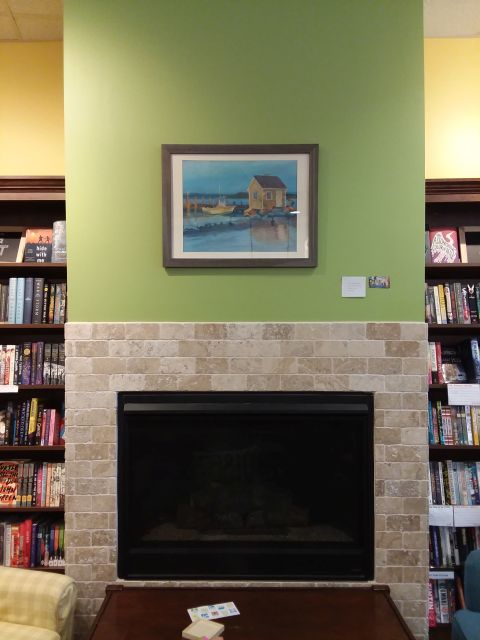 Over the Fireplace
Grace Cherwek
Grace's painting, "Breaking Wave" has been taken down, but not forgotten. The painting was on display through the month of January, 2019.
Some photos of the painting: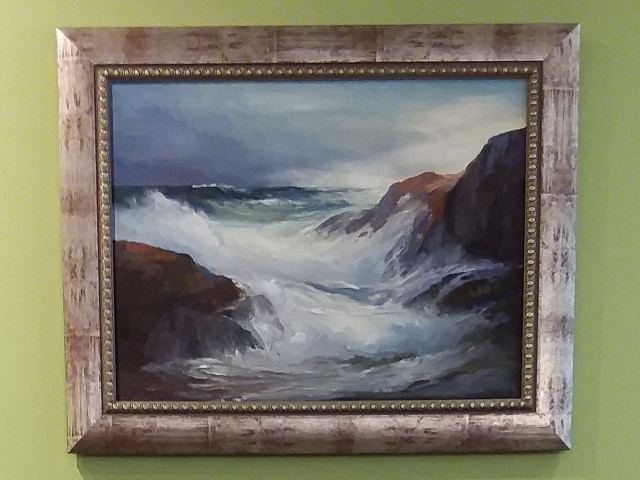 Breaking Wave.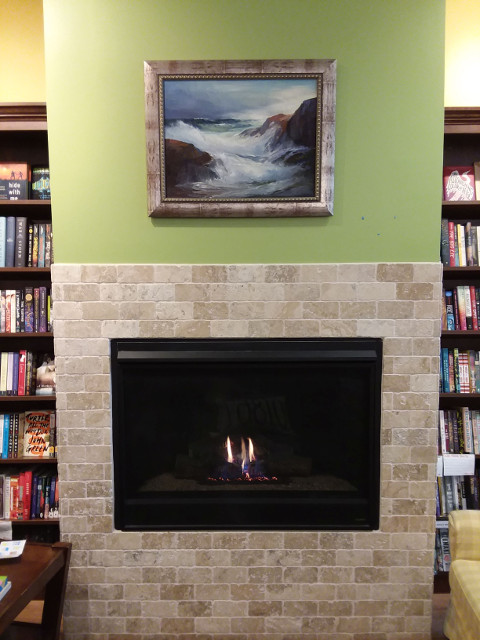 Over the Fireplace
Ruth Kelloway
Previously at the bookstore was "Secretary" Bird by Ruth Kelloway
"Secretary" Bird by Ruth Kelloway

Sagittarius serpentarius, a native of the African Savanna, has a hooked beak that is all raptor.
He was dubbed the secretary bird because his feathers resemble a quill pen.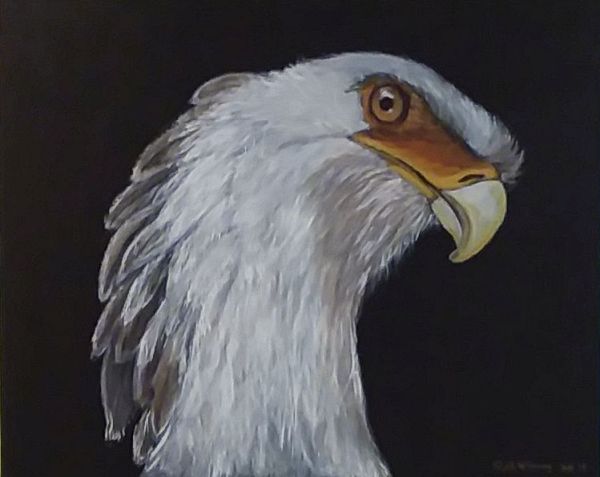 Here's looking at you.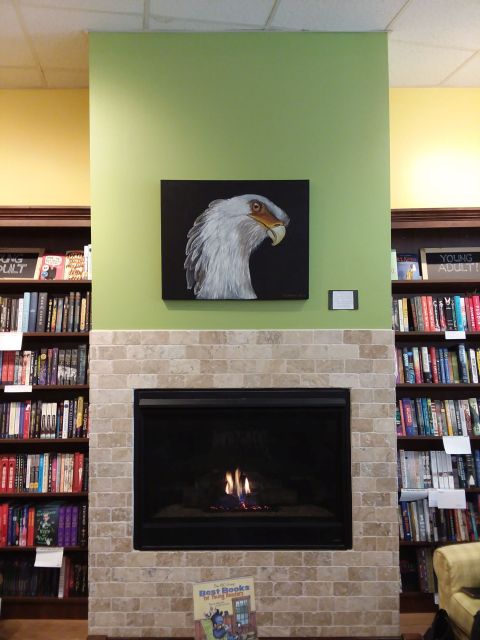 Over the fireplace.
Jeannette Corbett
Jeannette Corbett had a painting on display at the new book store as well. The title of the painting is "Red Hot Tango Dancer". The painting was on display through the months of September and October. See the bookstore on facebook, https://www.facebook.com/whitelambooks
Are you curious about the painting? Here it is.

Red Hot Tango Dancer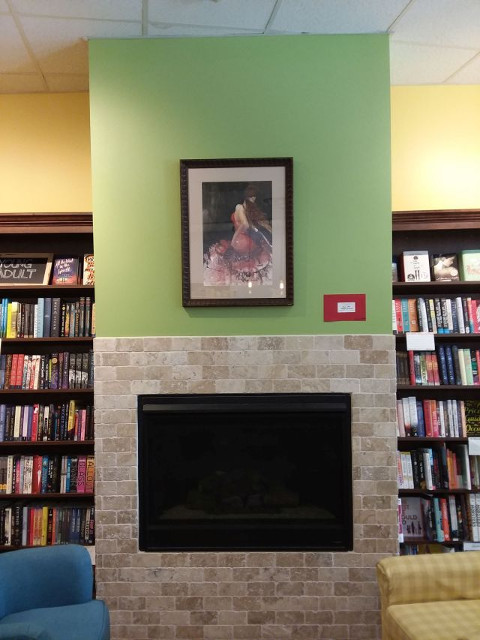 Over the Fireplace
Nancy Smethurst
Nancy Smethurst had a painting on display at the new book store in Reading, Whitelam Books through the months of July and August.
Are you curious about the painting? Here it is.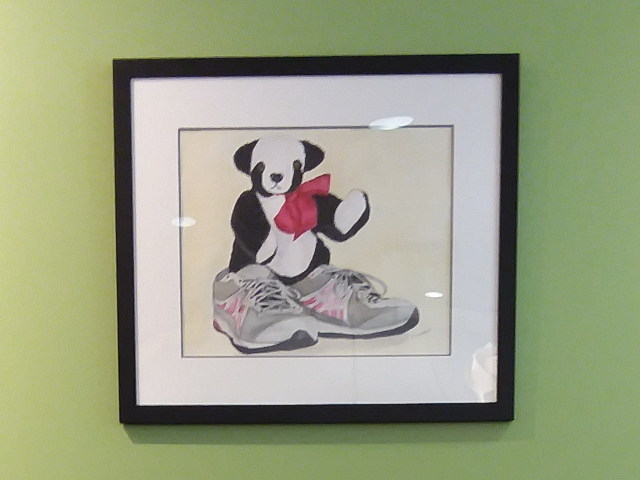 If the Shoe Fits...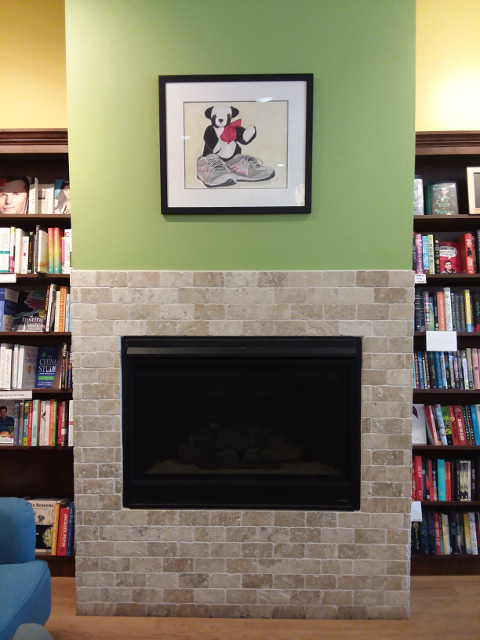 Over the Fireplace
---
Tewksbury Community of Artists Bi-Monthly Exhibit
The Tewksbury Community of Artists (TCA) presents a bi-monthly exhibit at the Tewksbury Library with a different theme for each show.
You can find out more about the TCA and download the forms at their web site http://www.tewksburycommunityofartists.com/. Below is the complete schedule for 2019.
Themes for the Tewksbury Library bi-Monthly Art Shows 2019
Please note the change in the schedule. Each show will be set up for 2 months. There will be 6 shows this year.
January through February - Black & White
Show Setup: Jan. 8th - Pickup Date: Mar. 5th
All work must be black, white and/or gray in various shades- figurative, landscapes, still life, architectural, etc., created in pen and ink, graphite, paint or photography. _Preferably, frames should be black, white, gray, silver, or brush me tal.
March through April - Furry and Feathered Friends
Show Setup: Mar. 5th - Pickup Date: May 1st
Animals and birds of all kinds portrayed in play, sleep, in action, eating, dancing, as animals and birds do, real or imaginative in any medium.
May through June - Flower Power
Show Setup: May 1st - Pickup Date: July 2nd
Flowers have the ability to bring joy and comfort in life - close ups, fields, portraits, bouquets of flowers. Created with paint, collage, colored pencil, makers, cray-pas, crayons, pastels, photography.
July through August Shadow - Play
Show Setup: July 2nd - Pickup Date: Sept 10th

Shadows are fun, dramatic, contrasting, dark, playful, The Shadow knows, me and my shadow, abstracts. Let your imagination go into the shadow.
September through October - Up Close
Show Setup: Sept. 10th - Pickup Date: Nov. 5th
Through a magnifier, binoculars, zooming in, here is your opportunity to get in close and intimate and observe more with any medium.
November. through December - Heavenly Encounter
Show Setup: Nov. 5th - Pickup Date: Jan. 7th
The Christmas season is a season of Heaven's encounter with humanity. Angels, shepherds and sheep, magi, gifts, starlight, a pregnant woman, a protective man, and a babe in a manger. All media accepted.
Anyone wanting to take part may get in touch with Val at valeriejeannesart@gmail.com and she will send you the information. More information and application forms are available at the web site.
tewksburycommunityofartists.com
---
Haverhill Art Market
The Haverhill Art Market is looking for artists to show at their marketplace. I have posted their message below. For more information contact Justin Gordon

justingordon at comcast dot net
Here is their message:
---
Hi Reading Art Association,
My name is Justin Gordon and I'm writing for the Haverhill Art Market. I'm hoping to interest your club members in our monthly, fine art, marketplace.
We're a non-profit group who's mission is to provide an inexpensive, indoor, market where fine artists and fine artisans can sell their work. We're a juried market and we assure a standard that is not crafts. With a space fee of only $35 we offer a 10 foot space in a 'gallery opening' setting complete with coffee, munchies, and a pleasant atmosphere. We've been operating since May of 2015 and our vendors have consistently been pleased, even on a slow day when it was near zero degrees out. Typical selling points have been between $20 and $400.
We would like to enhance our market with more fine artists that wish to sell their work. We're at 90 Washington Street, Haverhill, next to 'The Tap' restaurant. Here's our contact info for applications and information:
www.facebook.com/HaverhillArtMarket
www.HaverhillArtMarket.blogspot.com
Thank you,
Justin Gordon
www.ElwinDesigns.com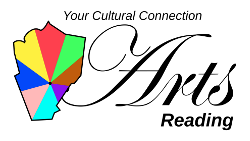 ---
Arts Reading
There is a new cultural umbrella organization in Reading, Arts Reading. This is a group of concerned Reading citizens who represent various cultural groups in Reading. The goal of the group is to carry out the recommendations from the Cultural District Exploratory Study from Fine Point Associates, dated November 2014. In 2014, a study was completed that did a survey of the cultural resources in Reading with an eye to the possibility of creating a Cultural District in our town. The study presents some ideas about how to enhance the cultural aspects of Reading, and in response, we have created the steering committee called "Arts Reading" to implement some of those ideas. You can view the complete study by clicking on the link below:
Reading Culture Report FinePoint.pdf
Arts Reading has its own web site, www.ArtsReading.org. Take a look to see what other cultural events are happening in Reading.
---
Learn Acrylics - Painting At The Wilmington Arts Center
The Wilmington Arts Council announces the continuation of our new acrylic painting class. Many artists have changed over to acrylic painting from oils and watercolor. Acrylic paint is water soluble, dries faster than oils and watercolor and can be over-painted. Steve Greco, a professional acrylic painter, will be teaching the two and a half hour class at the Wilmington Arts Center on Monday mornings-from 9:30 to 12 noon. The arts center has lots of room, and a wonderful blend of artificial and natural lighting. The cost of each class is $15, payable monthly. For more information and to sign up, call Jean Chang at 978 886-9224.
Jane Crane, 30 McDonald Road, Wilmington, MA 978 658 9798
---
New Web Site Feature, Snippets
Sometimes there is news in the arts that might be relevant to our membership, but it is of a very short term nature. Here today; gone tomorrow. I thought it would be good to post some of those now and then. Since they will be brief entries, I have called the spot "Snippets".
I needed a place to put the dynamic news in a way that is more timely than the events that are posted in the Latest News box on the front page. So I have created a news feed space of sorts next to the Latest News box. In the new space I hope to put more dynamic news from Reading and her surrounding communities. It will come and go more frequently than the event links, so check back often.
The Latest News box that you are familiar with will still be there. Simply click on the links in that box to see the event photos, download show information, etc. This is an experiment to keep the RAA membership better informed of what is going on in a more timely fashion.
Same great information; new format. Let me know what you think.

Brian
webmaster@readingart.org
---
News from Greater Haverhill Arts Association
http://www.haverhillartassociation.org/
Workshop
Workshop is held the second and fourth Saturdays at the First Church in Bradford Ma.From 9 am to 12 noon. Contribution is $5.00 (not mandatory) Instructors are Mark Hayden, Joan Rademacher, and Dena Carbone. For information call Dena at 603-382-1083
---
Creative Arts Figure Drawing
NEW CLASS - - - Life Drawing Intro
Life Drawing Studio
Artists draw from a nude model, starting with short gesture poses and moving on to more lengthy poses. The instructor will answer questions and moderate with input from the artists. Basic materials included for those who are just starting out. Feel free to bring additional tools or media of your choice.
Beverages and snacks are provided! Upcoming Dates: March 21, April 11, May 16, June 13. No meetings in July + August. We begin again in September. 7:00 PM - 9:30 PM, $20 per evening
Pre-registration is required. Call the CA office at 781-942-9600 or email director@weteachcreativearts.org to receive online registration link.
Watercolor for Adults
Watercolor techniques (color mixing, loading the brush, applying the paint, water vs. pigment, etc.) will be explored with small size studies, working up to a completed piece ready for framing.
8 Tuesdays,starts April 2, 6:30 PM - 8:0 PM, $175
Drawing and Watercolor for Adults
Students will work on drawing fundamentals (materials, perspective, composition) for the first 30 minutes. Watercolor techniques (color mixing, loading the brush, applying the paint, water vs. pigment, etc.) will be explored with small size studies, working up to a completed piece ready for framing.
8 Fridays, starts April 5, 12:30 PM - 2:30 PM, $190
This is just a brief summary of the classes. Please contact Mary Gould for the details.
Thank you!
~ Mary Rees Gould
Program Director, Creative Arts
www.weteachcreativearts.org
25 Woburn Street
Reading, MA 01867
781-942-9600

Location of Entrances

Entrance 1: Nearest to 32 Lowell St/Rt. 129 parking lot shared with the back of Reading Town Hall.

Entrance 2: Nearest to 48 Sanborn St. with street parking.
There is more information at their web site, https://www.weteachcreativearts.org/
Thank you!
---
Mission Statement
About Us
Our Program
Membership
Schedule
General Information
Archives
---
Home
Search
Acknowledgements and Links
Add Sidebar Menu
---
This web site and all of its content, text and images are Copyright © 2000 - Reading Art Association
All rights reserved.
Last updated August 1, 2019