October 2012 Demonstration
Our demonstrator for October was Arnie Casavant. He presented an oil landscape demonstration.
The meeting was held in the Guild Hall, First Congregational Church (middle side door), Sanborn Street, Reading, Wednesday October 10th, 2012 at 7:30 p.m.
We have some photographs of the event in case you could not make it there in person. You can click on any of the images on this page to view a larger version of it. Then, use the Back button on your browser to return to this page.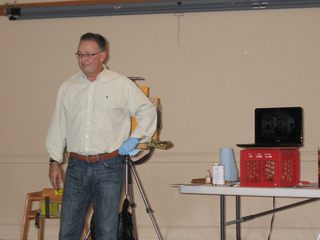 Arnie was a teacher for most of his career, so this
was an entertaining talk as well as a painting demo.
Arnie paints with water miscible oils. The linseed oil in the paints has beem chemically modified to make them soluble in water. The paints are available from various makers, including Windsor Newton and Holbein.
Even though the paint can be thinned with water, he uses odorless mineral spirits instead. He says that they are wetter than water.
He uses a "triadic color scheme", for example he uses
Red Orange
Yellow Green
Blue
To those colors he adds a "mother color", which is a color that he mixes into all of the other colors on the pallette. The mother color holds the painting together and unites it.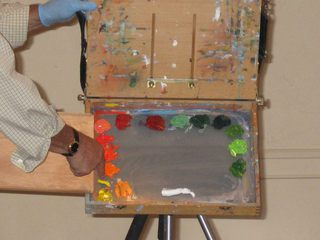 Here is Arnie's pallette for the demonstration.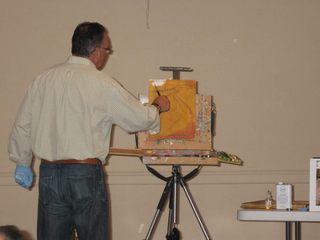 He put in a high key sky.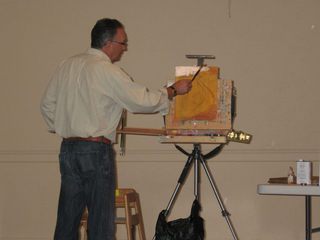 Then he made it luminous by adding his favorite color, "Luminous Orange".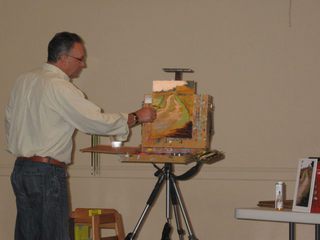 Adding more colors.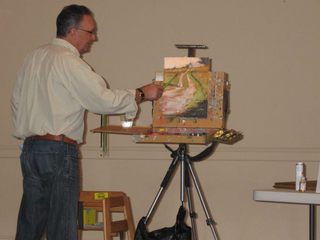 The building in the background has been put in.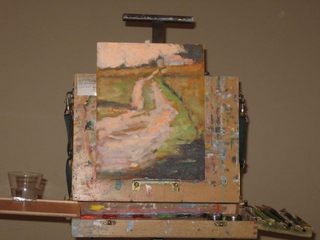 This is the final painting.
Arnie Casavant's Bio
"Chasing the light" best describes Arnie Casavant's plein air paintings. "The natural elements and my paints combine to reward me with lasting memories." Casavant prefers to paint on location in oils, either early morning or late in the day as the sun interacts dramatically with the subject matter. Someone recently summed up his painting approach with, "Light is the bringer of beauty." He developed a passion for painting and a fondness for traveling to paint on location.
Arnie attended UMass Dartmouth on the GI Bill. He served as an art instructor at Oliver Ames High School in Easton, MA, for 27 years, the last several years as chairperson of the art department. For the past seven years he has been a presenter in the Graduate Institute in Education at Northeastern University in Boston. He teaches landscape and abstract painting in Boston and on Cape Cod and has exhibited his work at myriad locations, including a recent show at the Pearl Street Gallery and the Gallery at Spencer Lofts, both in Chelsea; the Footlight Club in Boston; and the Yellow Barn Gallery in Glen Echo, MD. He was a partner in Gallery 31 in Orleans on Cape Cod in 2010.
Arnie Casavant studied under accomplished landscape painters David Lussier of Woodstock, CT; William St. George of Boston; and extensively on location on Elbow Cay in the Bahamas; Tilghman Island, MD; Monterey, CA; and Tenants Harbor, ME, where he worked with Yellow Barn Gallery Director and frequent visitor to Elbow Cay Walt Bartman of Fredrick, MD. Starting in January 2013, he will be represented by the Hummingbird Cottage Gallery in Hope Town, Elbow Cay. His work can be viewed on "First Fridays" at Studio 402A in the S.o.W.a. art district of Boston and at the Weston Public Library in November and December 2012.
---
Mission Statement
About Us
Our Program
Membership
Schedule
General Information
Archives
---
Home
Search
Acknowledgements and Links
Add Sidebar Menu
---
This web site and all of its content, text and images are Copyright © 2000 - Reading Art Association
All rights reserved.
Last updated October 30, 2016