October 2013 Demonstration
Our demonstrator for October was Mary Taggart. She presented a demonstration called "An Observational Painting Demonstration", in which she demonstrated her direct observational painting style.
The meeting was held in the Guild Hall, First Congregational Church (middle side door), Sanborn Street, Reading, Wednesday October 9th, 2013 at 7:30 p.m.
We have some photographs of the event in case you could not make it there in person. You can click on any of the images on this page to view a larger version of it. Then, use the Back button on your browser to return to this page.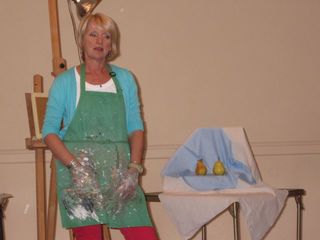 Mary demonstrated her painting technique with a small still life setup.
Mary does not paint from photographs, preferring actual setups.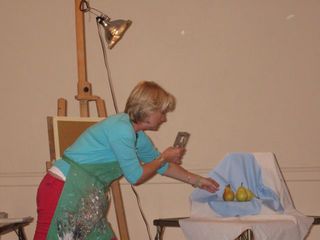 She uses a viewfinder to compose the still life.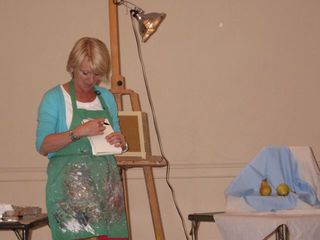 Then she does a thumbnail sketch to capture the composition.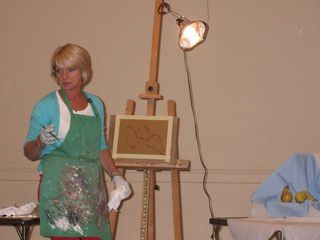 Mary draws the setup directly on the Carton Board
that she uses for a painting surface.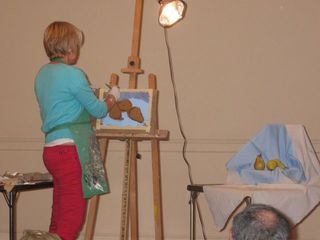 The background goes in first to provide the context
for the values of the objects in the foreground.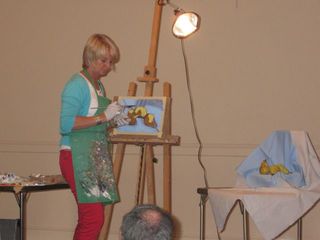 After the background is in, Mary starts painting the pears.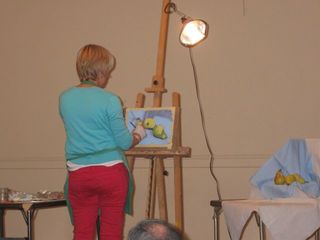 Refining the foreground objects.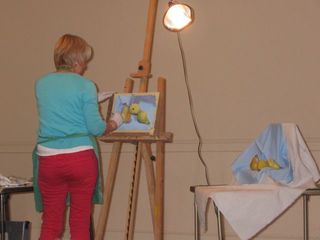 Almost done.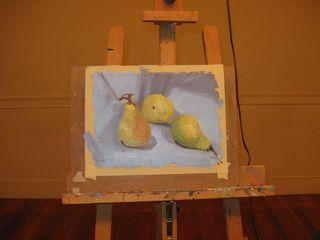 Here is the final painting.
You can see more of Mary's work at her web page, http://www.taggartstudio.com.
Mary Taggart's Bio
Mary Taggart's art style is best described as "direct observational painting with emphasis on simplification and the relationship of adjacent tone color." Mary began her study of art as a small child, with local artist Nancy Gambone. Mary received her Bachelor of Fine Arts from Massachusetts College of Art and became a traveling art teacher and then a high school art teacher.
"I eventually opened my 'TaggArt Studio' in Wakefield, where I do my painting primarily in oils, and I also teach painting and drawing to both children and adults. I have studied with many painters such as Ellen Rolli, Beth Ellis, Susan Lichtman, and, most recently, with George Nick, a prominent Boston painter and teacher. I also returned to Mass Art in 2011 to study with Catherine Kehoe."
"My work has been shown in the Beth Ellis Gallery in Ogunquit; The Danforth Museum in Framingham; and in many local exhibits. My paintings are also hanging in many private collections."
Mary says she believes art is her true nature. When painting, she is happy and so alive--totally connected to her true self! She is looking forward to sharing her art with you in October.
---
Mission Statement
About Us
Our Program
Membership
Schedule
General Information
Archives
---
Home
Search
Acknowledgements and Links
Add Sidebar Menu
---
This web site and all of its content, text and images are Copyright © 2000 - Reading Art Association
All rights reserved.
Last updated October 30, 2016