October 2014 Demonstrationn
Our demonstrator for October was Jeff Fioravanti. He presented a demonstration of a pastel landscape.
The meeting was held in the Guild Hall, First Congregational Church (middle side door), Sanborn Street, Reading, Wednesday October 8th, 2014 at 7:30 p.m.
We have some photographs of the event in case you could not make it there in person. You can click on any of the images on this page to view a larger version of it. Then, use the Back button on your browser to return to this page.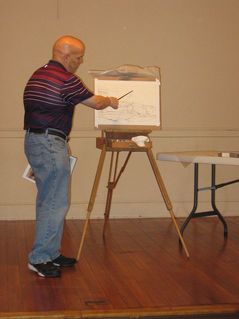 Jeff makes a point about the painting.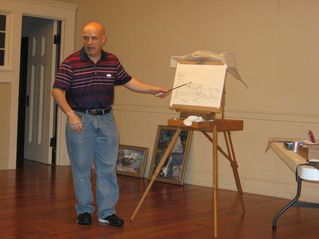 Another area of the painting.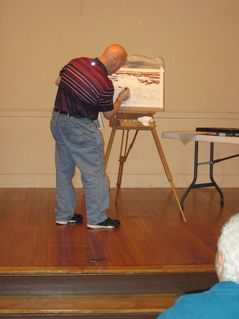 Starting with the sky.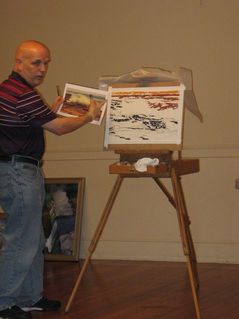 The source material.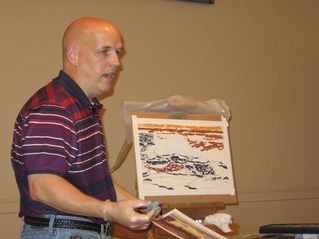 Part done.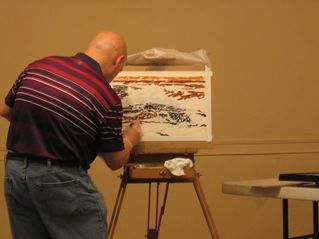 Working the foreground.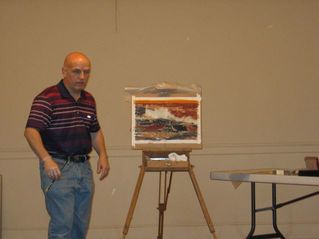 Done
You can see some of Jeff's work at his web site, http://www.fioravanti-fineart.com/
Jeff Fioravanti's Bio
Jeff Fioravanti is an expressive realist painter, who offers to the viewer works of art that are not only representations of the subject, but images of mood and feeling, that entice and stimulate the viewer to make an emotional and personal connection to each piece.
Very involved in the preservation of America, Jeff is included in Who's Who in American Art and Who's Who in America, has had a number of solo exhibitions, as well as exhibited in many national and international juried exhibitions, receiving many top honors over the years including the "Michael Allen Company Award: Best in Show" at the 2000 7th annual "Renaissance in Pastel" national Juried exhibition
Jeff has also judged exhibitions such as the 2001, 8th annual, "Renaissance in Pastel", national exhibition sponsored by the Connecticut Pastel Society, and has been featured in publications such as American Artist Magazine (Nov. 2005) & Pastel Artist International, "Masters of Pastel Artists of the World, USA Showcase."
A member of several national pastel societies, with the added distinction/honor of "Signature Artist Member" in the very prestigious Pastel Society of America (New York, NY), as well as The Connecticut Pastel Society (Meriden, CT.) and the Pastel Painters Society of Cape Cod (Barnstable, MA.). Mr. Fioravanti's work can be found corporate and private collections throughout the US and Europe, as well as part of the permanent collection of the Cape Ann Historical Museum.
---
Mission Statement
About Us
Our Program
Membership
Schedule
General Information
Archives
---
Home
Search
Acknowledgements and Links
Add Sidebar Menu
---
This web site and all of its content, text and images are Copyright © 2000 - Reading Art Association
All rights reserved.
Last updated October 30, 2016