October 2019 Demonstration
Our demonstrator was Traci Thayne-Corbett, who did an acrylic marine painting demonstration.
The meeting was held in the Guild Hall, First Congregational Church (middle side door), Sanborn Street, Reading, Wednesday October 9th, 2019 at 7:30 p.m.
We have some photographs of the event in case you could not make it there in person.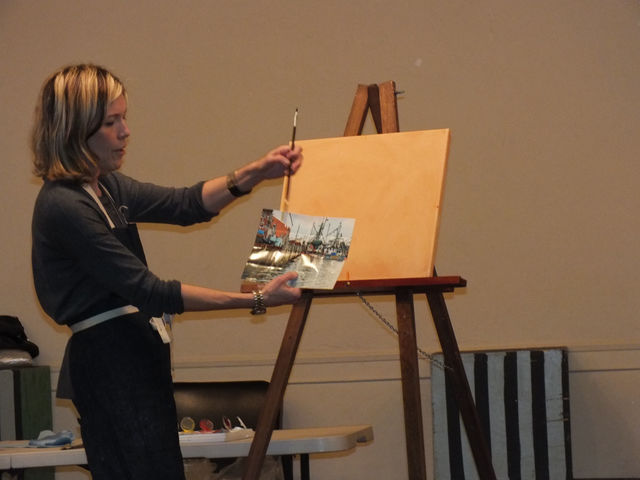 Traci paints with acrylics on a toned canvas.
She uses photographs for reference materials.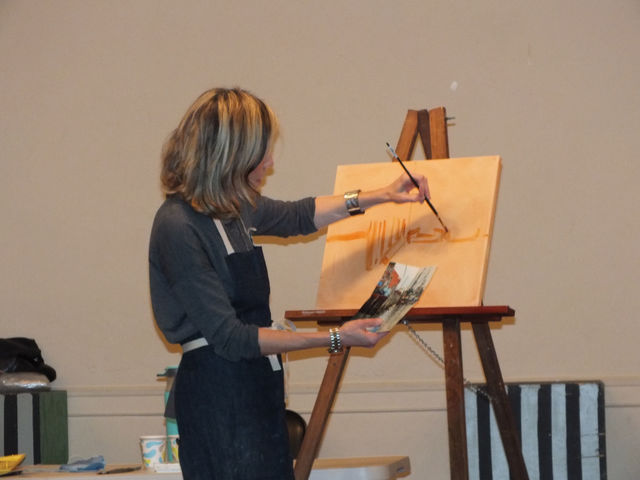 She sketches in a rough drawing using the brush.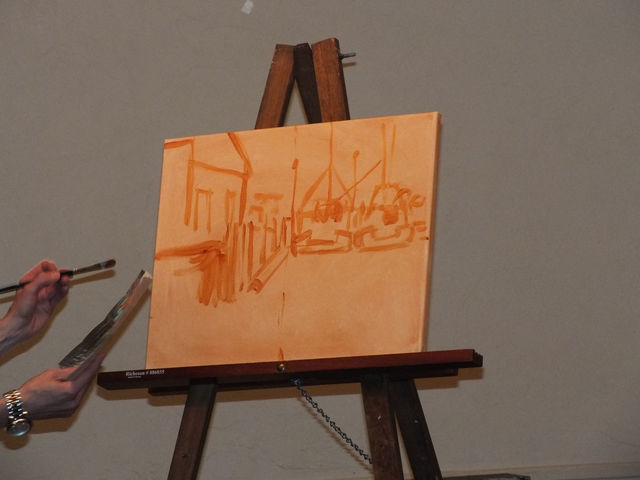 This is how far she takes the drawing. Not much detail.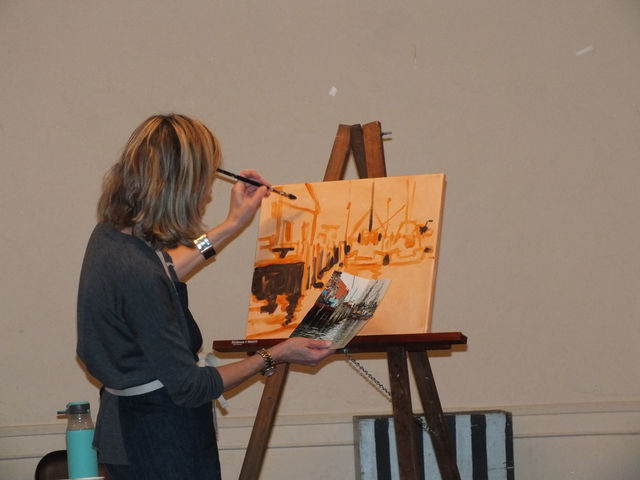 Then, she paints in the large masses of color.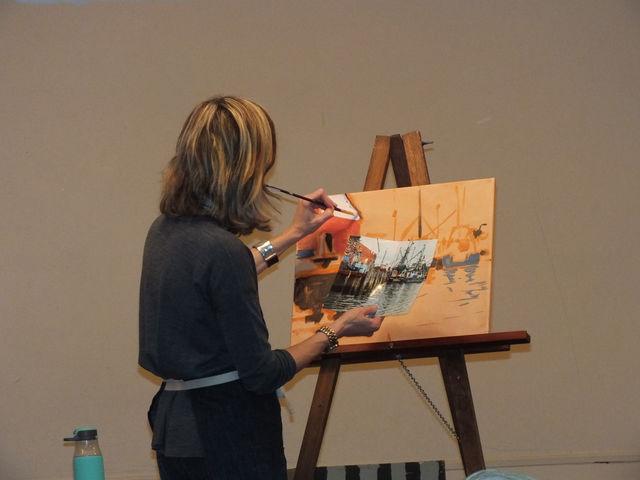 The painting starts to look like the subject matter.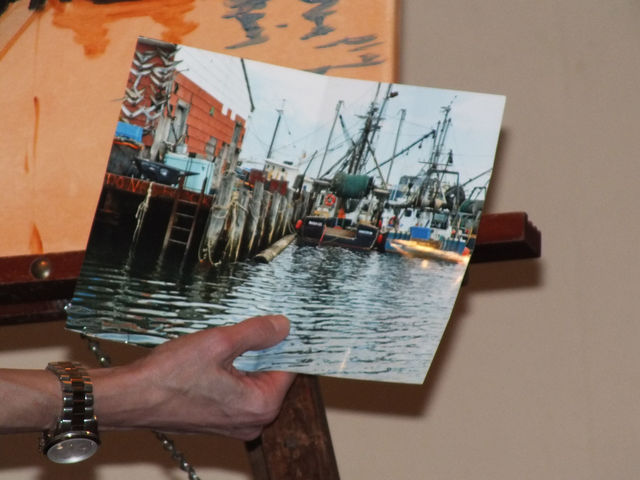 Here is the photo reference she used for the demo painting.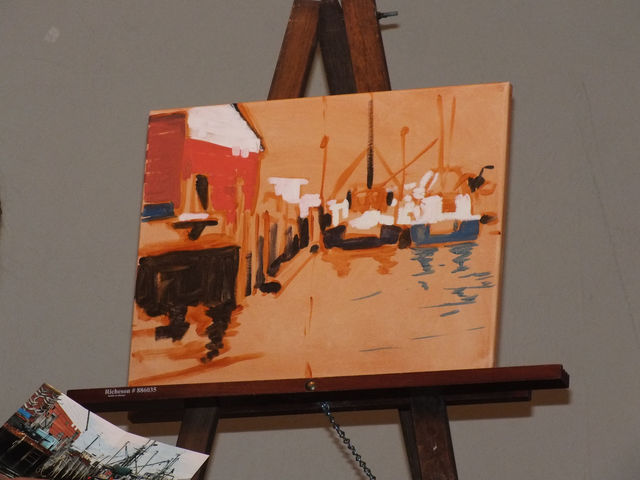 The major shapes are in place.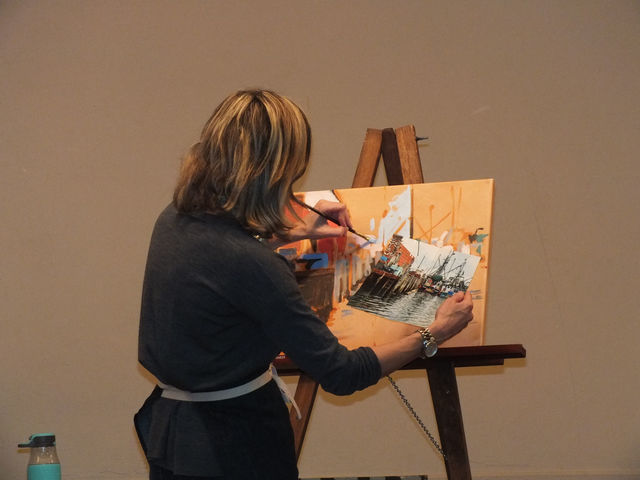 Traci paints the sky in, avoiding the rigging of the boats.
She is careful to retain some texture in the painting.
This is not like painting a wall.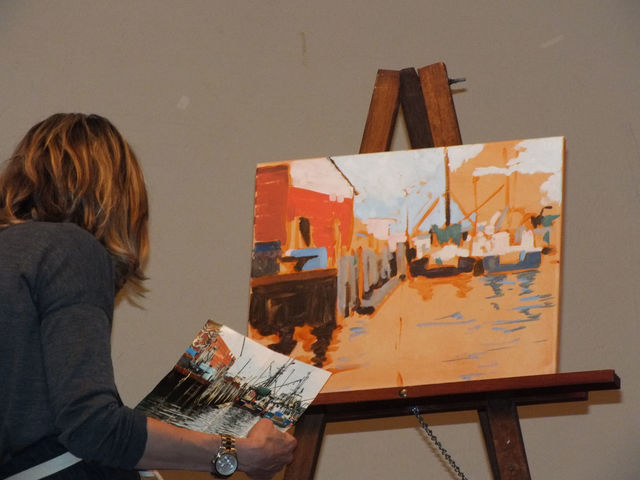 The sky is mostly in place.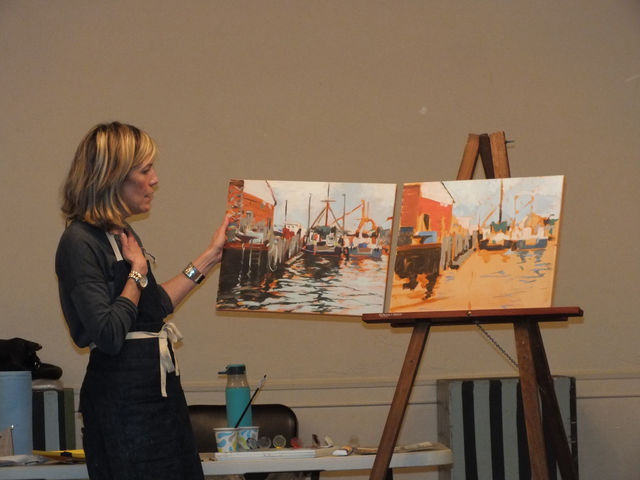 It was getting late, so to move the demo along Traci brought
out another painting of the same subject that is more finished.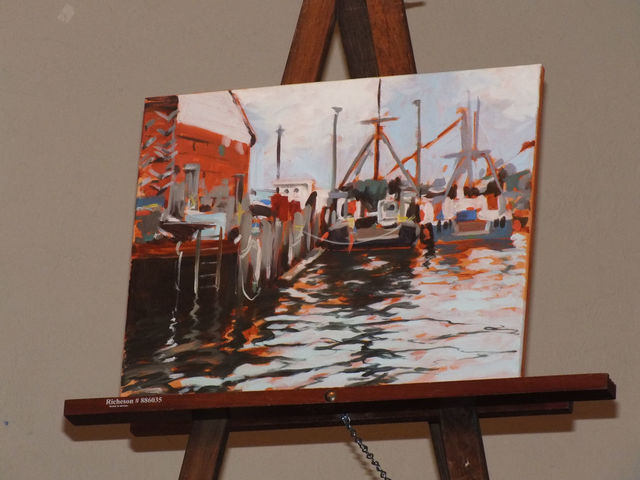 This is the new starting point for the finishing touches.
Traci adds some details.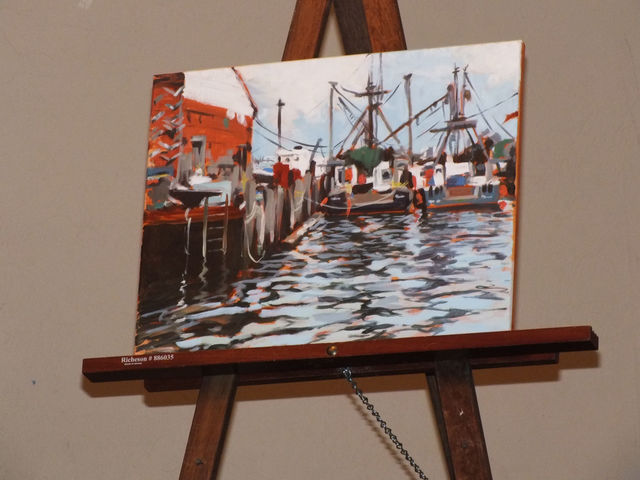 The final painting.
You can see some of Traci's work at her web site, https://www.tracithaynecorbett.com
Traci Thayne-Corbett's Bio
Ever since I can remember, I have been drawing. In grade school I drew horses, middle & high school, rock stars, college, fashion, in my corporate job all of my notetaking was punctuated by harbor scenes, abstract patterns, and yes, some horses & fashionable ladies... Always drawing.
Along the way I have taken as many classes and workshops as I could, and learned to combine my drawing with paint, charcoal, pastels, watercolor. My teachers have been wonderful and inspiring, and truth be told, I have never met an art product I don't like.
When I take the time to draw something, to focus on it, learn all of it's little details, I can't help but get drawn into it's whole story. I think about what makes that particular subject unique - "why is this boat so rusty? Isn't it cool how the waves make the reflections look like lightning, how the summer air makes a haze over the boatyard?.... Making art that tells those stories, that draws the viewer in the way the subject drew me- that is the goal. It is an elusive goal - and I am always almost there. You can always tell the story better, with fewer strokes, more color(or less, or none...)... So I paint & draw some more, and feel very lucky when people enjoy looking at my works... If someone says, "that reminds me of the feeling..." - or- "that feels just like..." - then I know I've done something right.
---
Mission Statement
About Us
Our Program
Membership
Schedule
General Information
Archives
---
Home
Search
Acknowledgements and Links
Add Sidebar Menu
Message Board
---
This web site and all of its content, text and images are Copyright © 2000 - Reading Art Association
All rights reserved.
Last updated October 10, 2019