October 2022 Demonstration
Our demonstrator was Arnie Casavant.
The meeting was held in the Guild Hall, First Congregational Church (middle side door), Sanborn Street, Reading, Wednesday October 12th, 2022 at 7:30 p.m.
We have some photographs of the event in case you could not make it there in person.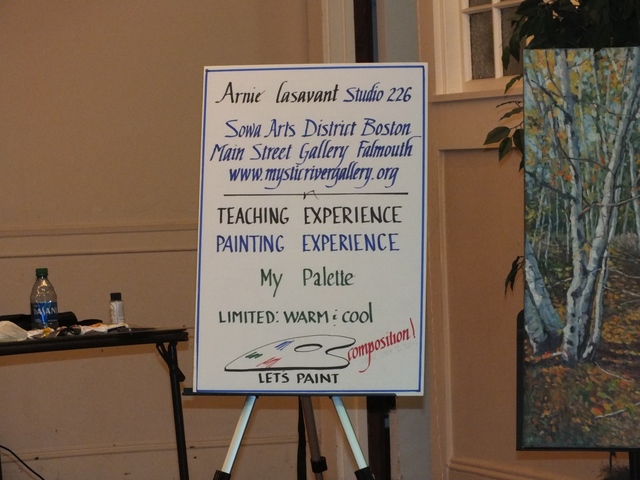 Arnie's Professional Information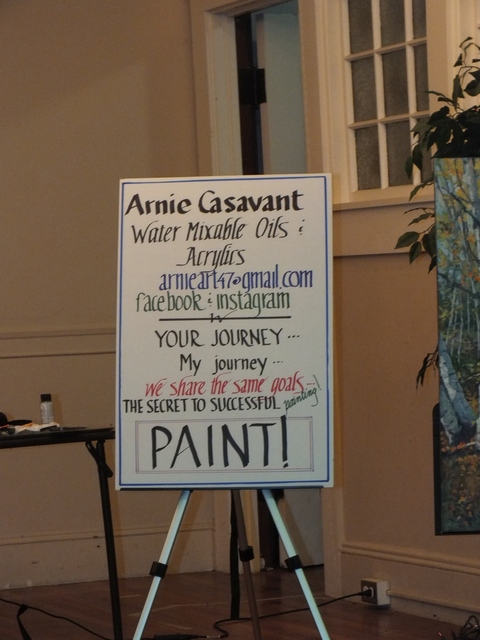 More information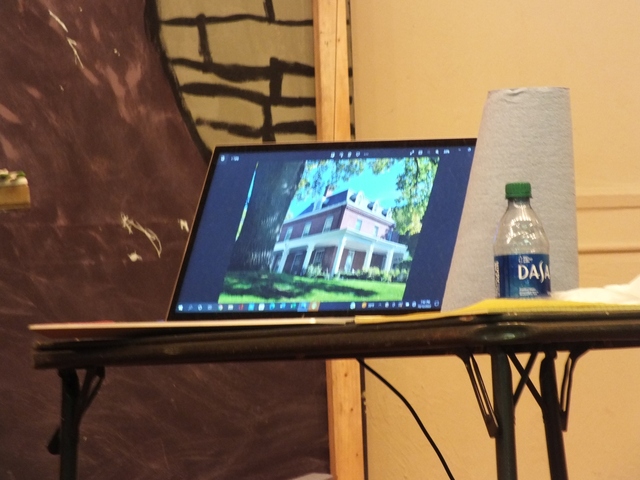 The source material for this demonstration.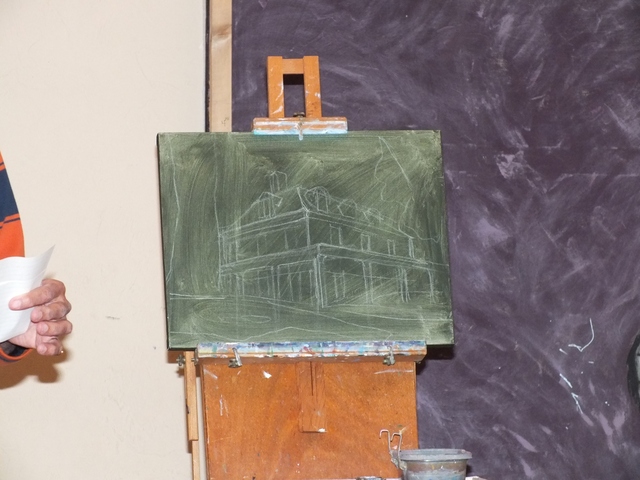 The canvas is toned with dark acrylic.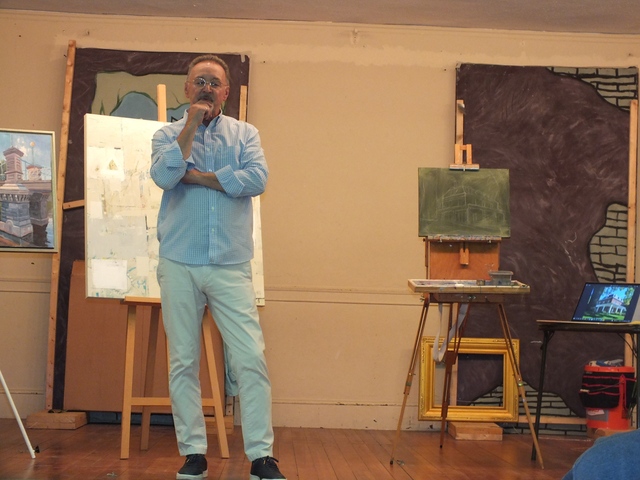 Before starting the demo, Arnie shared his philosophy of painting.
Arnie uses a limited pallet of two reds, two blues, and two yellows.
Occasionally, at the end he will drop in some special colors, such as "luminous orange"
to add a grabber. For this demonstration, Arnie's pallet was.
Cadmium Red Light
Alizarin Crimson
Ultramarine Blue
Cerulean Blue
Indian Yellow
Lemon Yellow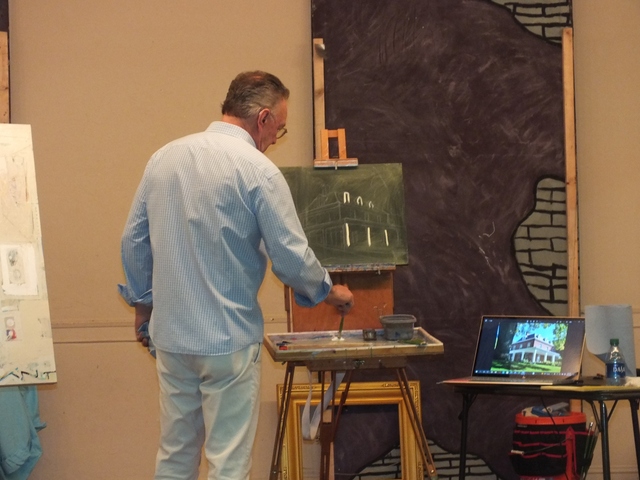 He started putting in some bright pillars on the building.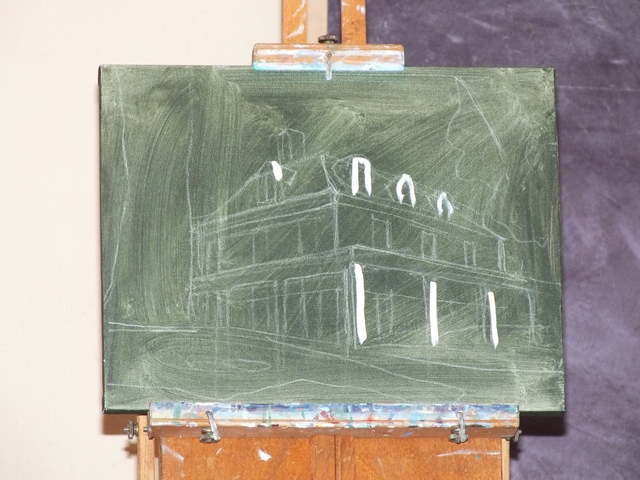 A closeup of the progress so far.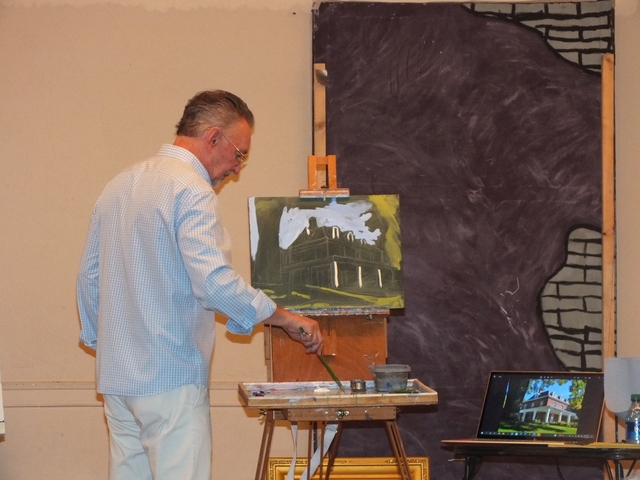 Next, he scrubbed in the sky.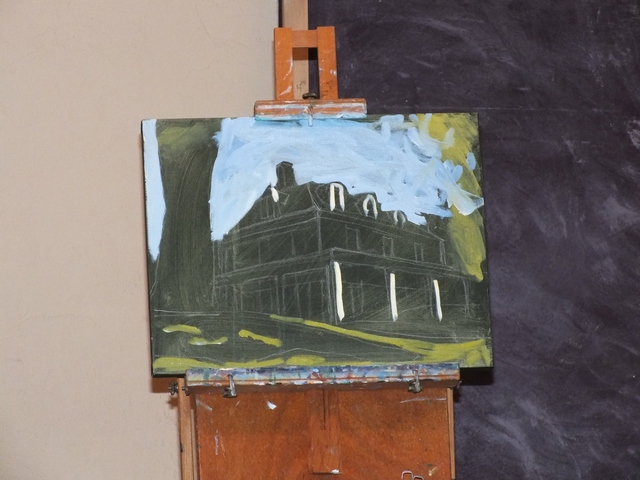 A closeup.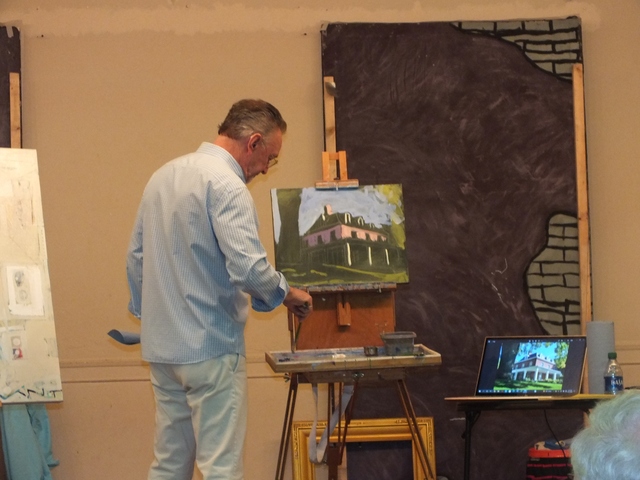 He adds the bricks.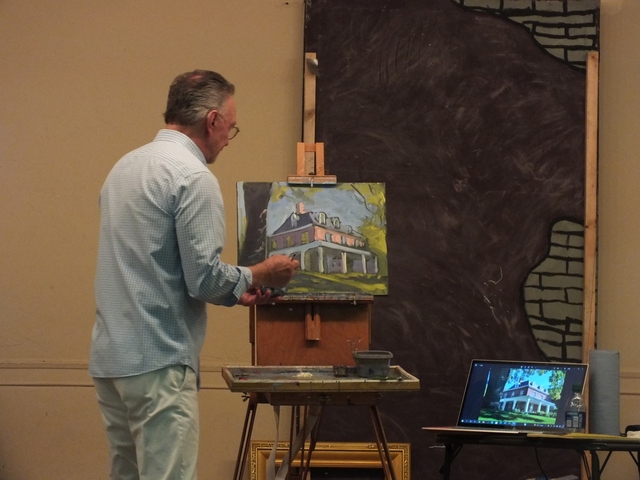 He adds some more details.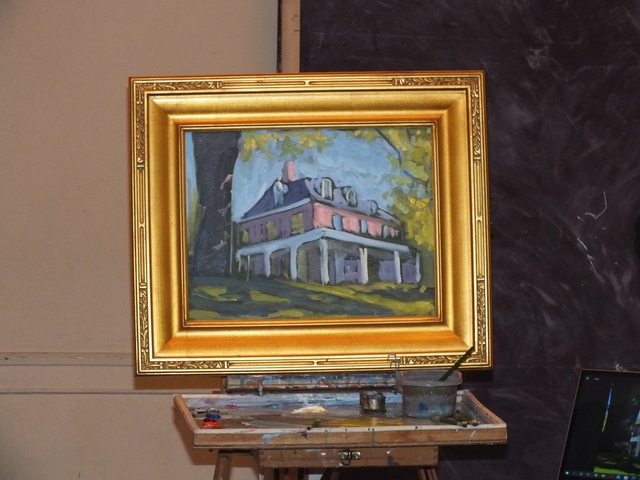 The finished painting.
Arnie Casavant's Bio
Arnie works in studio and en plein air, painting largely in oil on location at dawn or dusk, when the sun's interaction with his subject matter is at its most dramatic. Arnie adheres to the old adage that "light is the bringer of beauty" and his work reflects a strong emphasis on the interplay of light, shape and color and a devotion to impressionism. "Chasing the Light" best describes Arnie's paintings. "The natural elements and my paints combine to reward me with lasting memories."
Arnie attended the University of Massachusetts - Dartmouth, courtesy of the GI Bill and until 2005, was an art instructor and Department Chair at Oliver Ames High School in Easton, Massachusetts, a position which he held for 27 years. He taught landscape and abstract painting at various locations in Boston and on Cape Cod through Northeastern University's Graduate Institute in Education until 2011.
He has exhibited is work at the Yellow Barn Gallery in Glen Echo, Maryland, Hummingbird Gallery in Elbow Cay, Bahamas. the Gallery at Spencer Lofts and the True Grit Gallery in Middleboro. His displays include exhibits at the Weston Town Library in November and December of 2012 and the Natick Arts Center in 2016. His work is available for viewing at Studio 226 at SOWA at 450 Harrison Avenue in Boston during First Friday's and Sundays May through October. He is represented by Main Street Gallery in Falmouth as well as showing and teaching at the Bristol Art Museum. He resides in Chelsea, MA.
Arnie can be contacted at arnieart47@gmail.com or at 617-884-4129 for information regarding your interest in his work.
---
Mission Statement
About Us
Our Program
Membership
Schedule
General Information
Archives
---
Home
Search
Acknowledgements and Links
This web site and all of its content, text and images are Copyright © 2000 - Reading Art Association
All rights reserved.
Last updated October 13, 2022