October 2023 Demonstration
Our demonstrator was Alan Bull.
The meeting was held in the Guild Hall, First Congregational Church (middle side door), Sanborn Street, Reading, Wednesday October 11th, 2023 at 7:30 p.m.
We have some photographs of the event in case you could not make it there in person.
Alan gave us a stupendous demonstration. He painted an acrylic of his Grandfather's potato truck.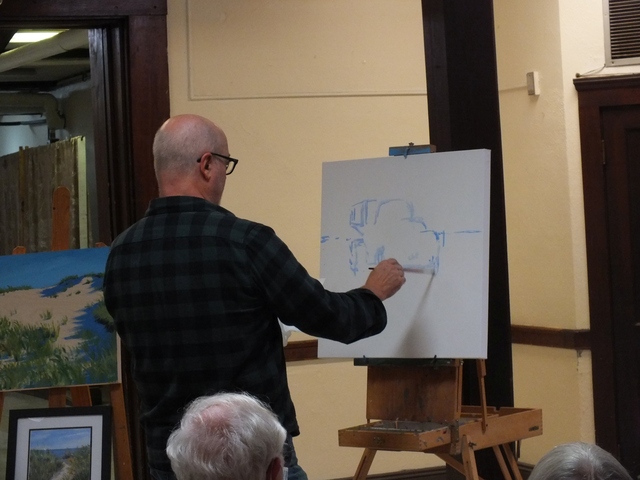 Alan blocks in the truck with a small brush.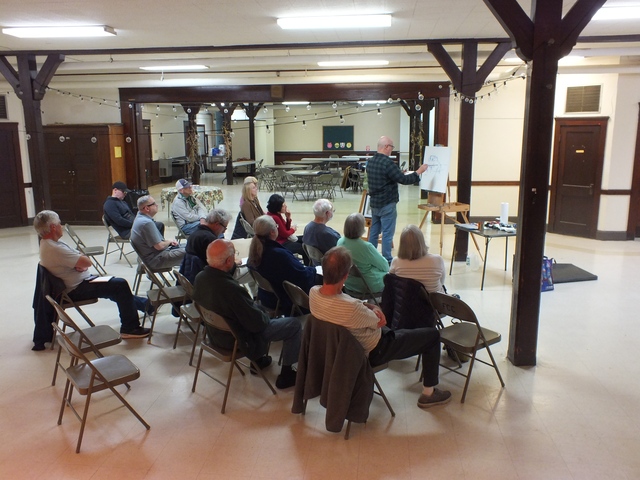 To get batter lighting, we set up the demo on the floor instead of the stage.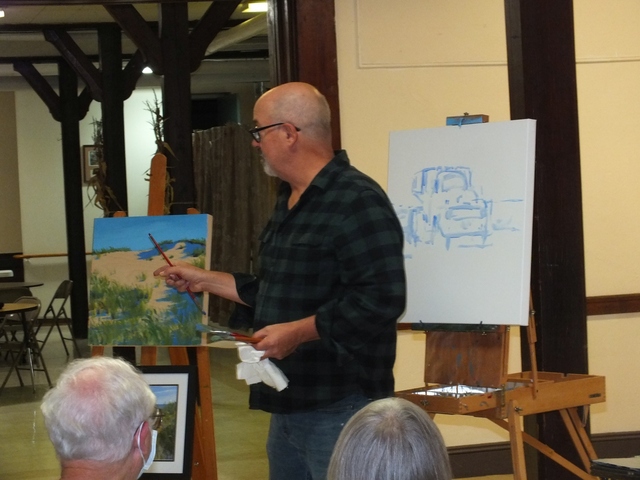 Alan said that he sometimes paints on birch plywood.
In this painting, the grain of the plywood creates the texture in the sand.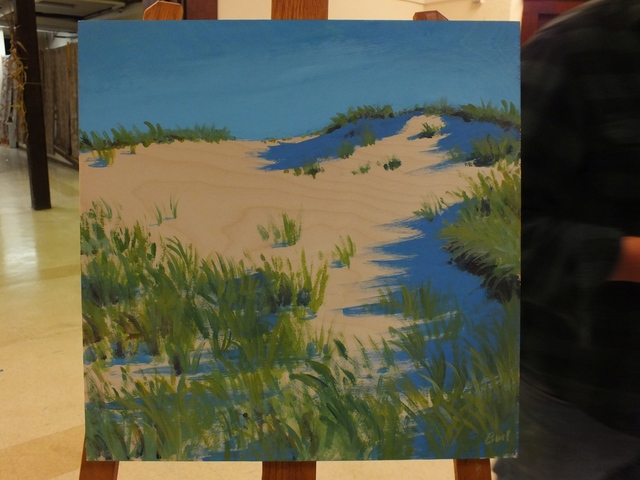 Look closely. You might be able to see the grain swirls in the sand.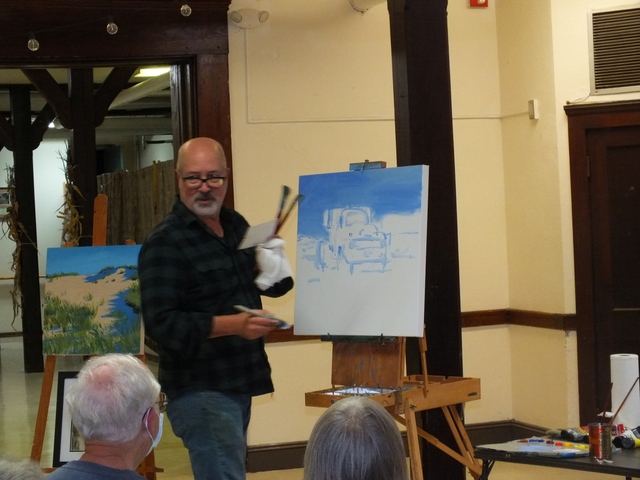 Alan blocks in the sky all at once to get a flat color.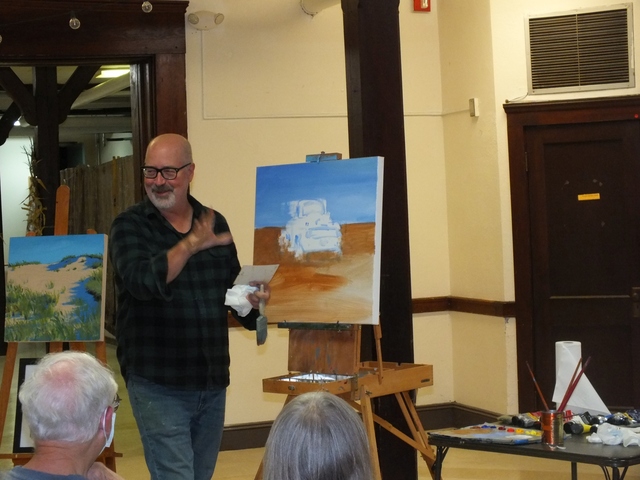 He added the rusty color to the foreground.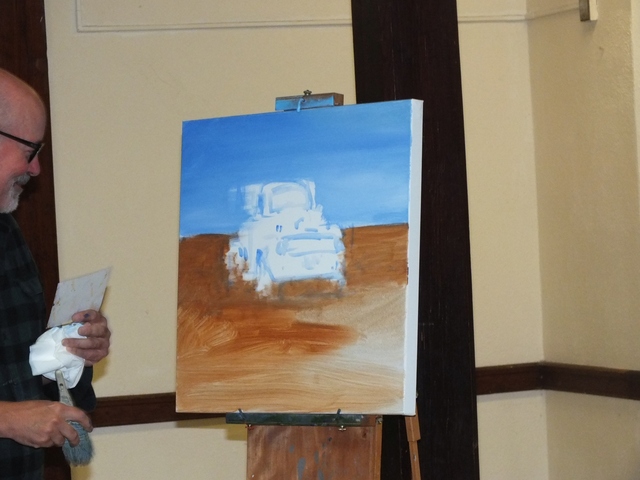 So far, so good.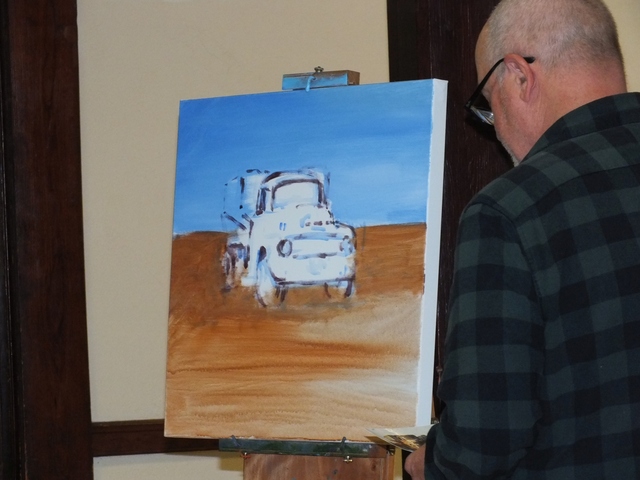 Next, he started painting the truck.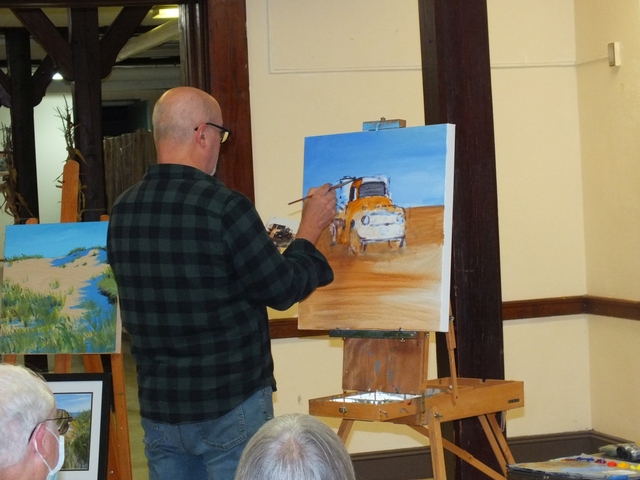 Adding more color to the truck.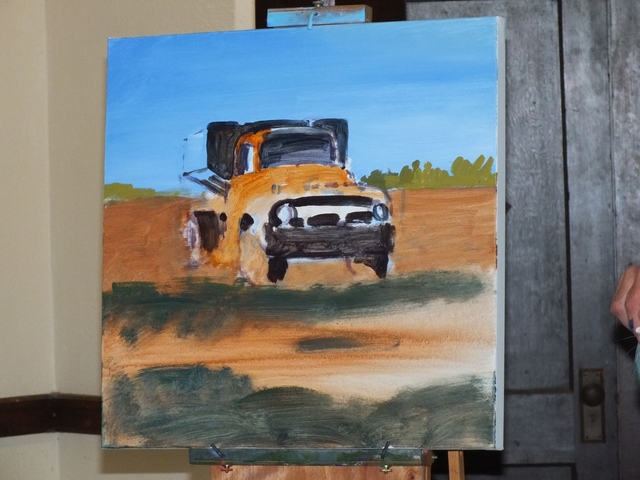 The progress so far.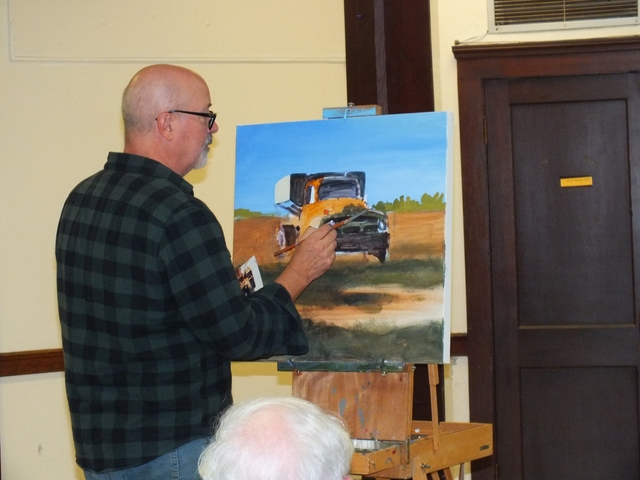 Working on the truck.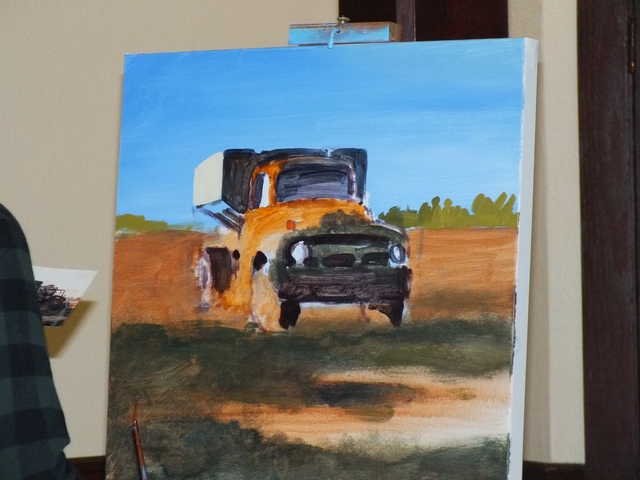 It's beginning to look like a truck.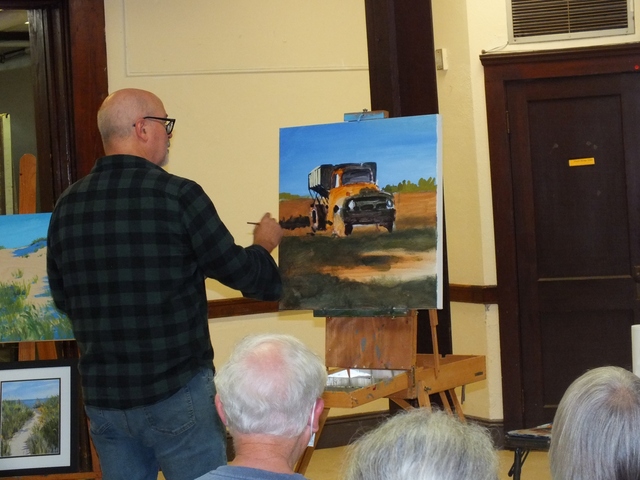 Working on the foreground.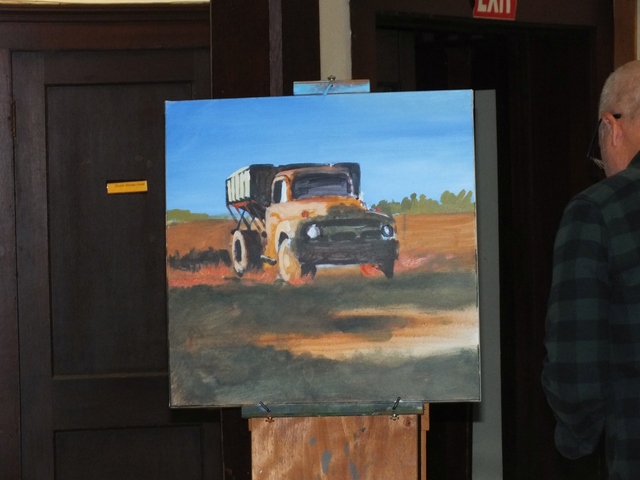 Looks pretty good.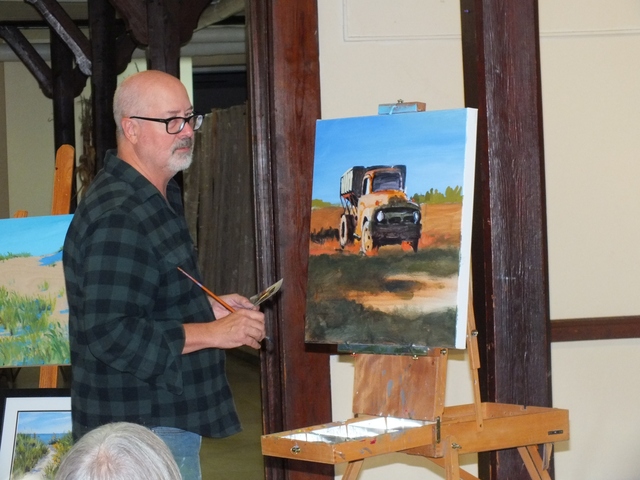 More progress.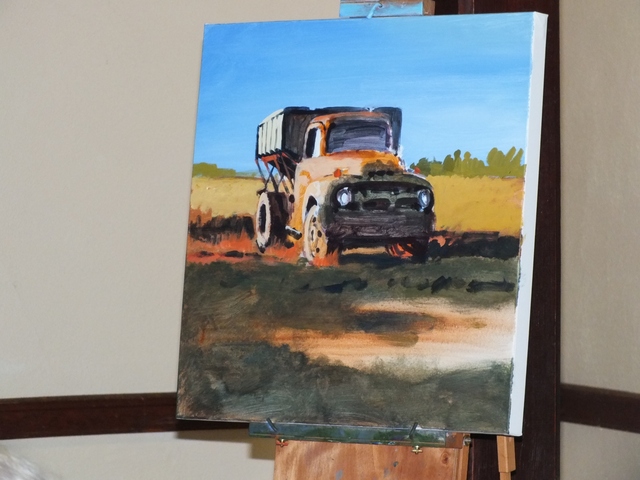 That is definitely a painting of a truck now.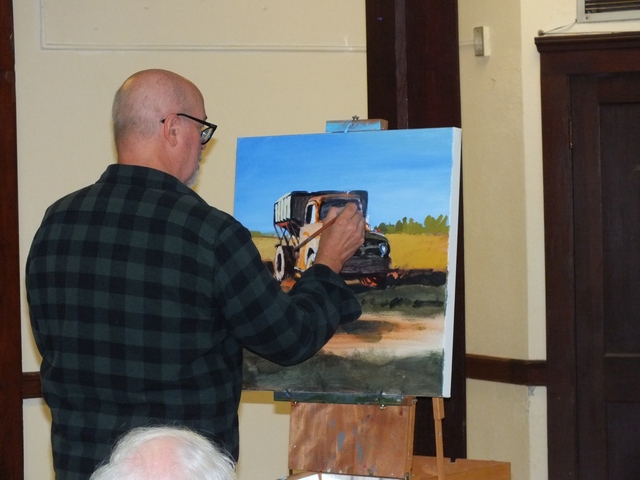 Adding details.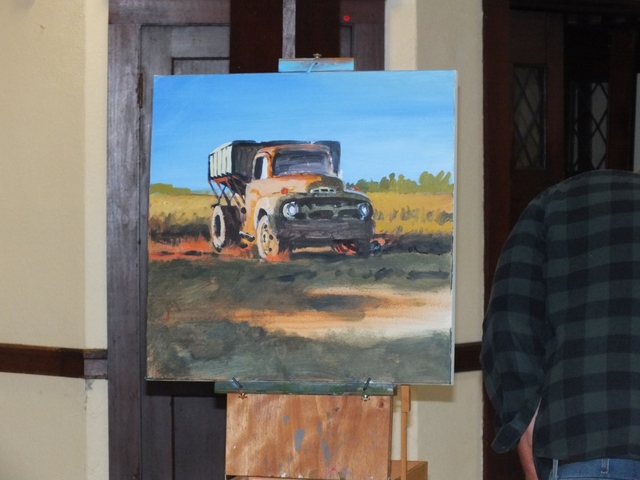 Progress so far.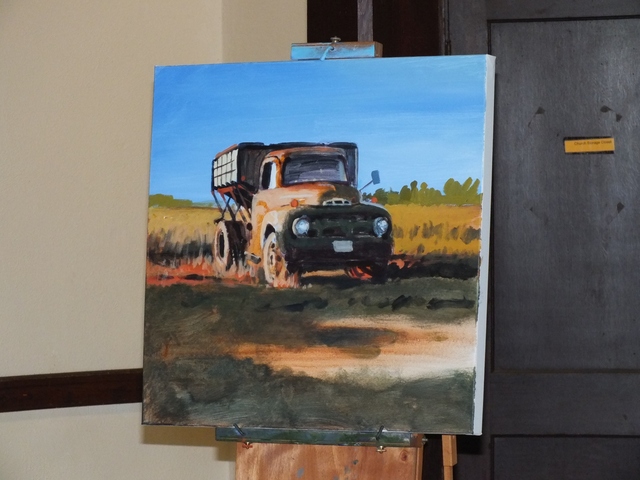 Done.
Alan Bull's Bio
Alan Bull is a painter, muralist, illustrator and art instructor based in Newburyport, Massachusetts. Originally from Old Town, Maine, he received a BFA from the Philadelphia College of Art and has painted images of New England for the past 30 years. Primarily a visual artist, he has also worked in music and theater and has enjoyed improvisational performance collaborations with guitarist Dave Herlihy, Hidden City Orchestra, The Parrish Percussion Project, and the composer Herbert Deutsch. His works are widely collected and have been seen in feature films, in children's books (Augustus and Me; Fisherman Fred), on album covers (including Ian Hunter's new release Defiance Part 1 on Sun Records), and in print media including Architectural Digest, The New York Times and The Boston Globe. Alan has been a participant in Cape Ann Plein Air and Parrsboro International Plein Air Festival, and offers classes and workshops throughout New England.
More information about Alan is available at his website, http://www.alanbull.com/
---
Mission Statement
About Us
Our Program
Membership
Schedule
General Information
Archives
---
Home
Search
Acknowledgements and Links
This web site and all of its content, text and images are Copyright © 2000 - Reading Art Association
All rights reserved.
Last updated October 12, 2023