September 2014 Demonstration
Our demonstrator for September was Jeff Ventola. He presented a pastel demonstration.
The meeting was held in the Guild Hall, First Congregational Church (middle side door), Sanborn Street, Reading, Wednesday September 10th, 2014 at 7:30 p.m.
We have some photographs of the event in case you could not make it there in person. You can click on any of the images on this page to view a larger version of it. Then, use the Back button on your browser to return to this page.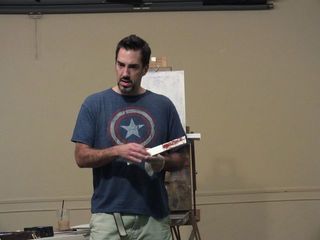 Jeff paints on sanded paper. He prefers Kitty Wallis
Sanded Pastel Paper ®, although he also uses other brands as well.*.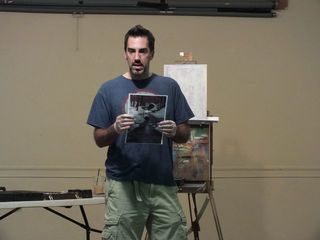 Jeff painted a snow scene from a photograph he took.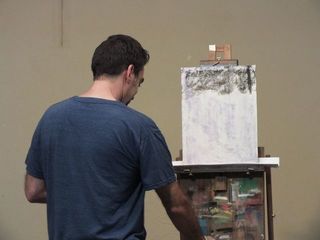 He started by blocking in the trees.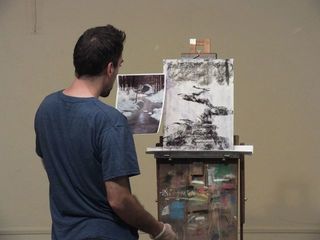 Then, he blocked in the river in the middle
ground and the foreground.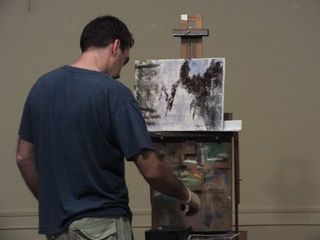 Sometimes he turns the painting on its side
in order to put a fresh eye on the image.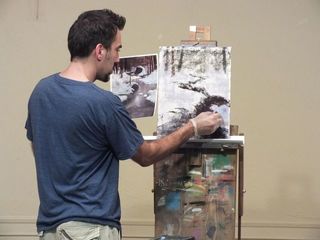 Jeff continues to refine the painting.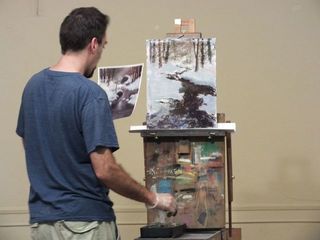 He works on the trees and the middle ground.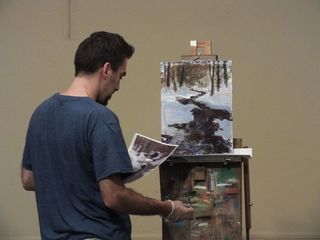 He has added more detail and color to the middle
ground, just beneath the tree line at the top.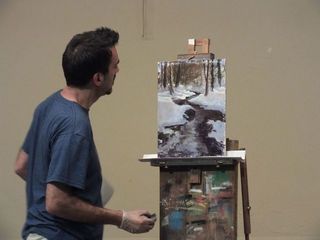 You can see that the sunlignt on the snow is more pronounced.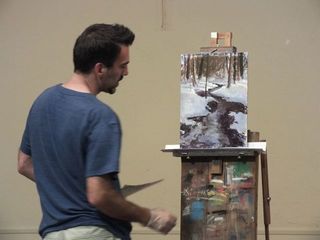 There is more refinement of the river in the foreground.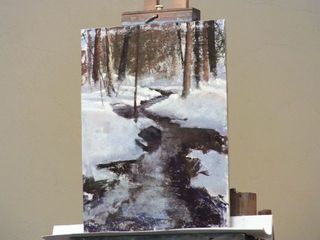 Jeff did not have time to make a complete painting,
however, this is a good start toward one.
*This statement does not imply a commercial endorsement of Kitty Wallace paper. RAA receives no compensation from the company.
Jeff Ventola's Bio
"I am an oil paint and pastel artist from Southern New Hampshire. I have been painting for almost four years, however I have been an artist my whole life. I enjoy subjects of all kinds especially those that challenge me. As you'll see from my work, I love sunsets and I love the beach. I try to work with those subjects as often as possible."
You can read more about Jeff at his web site, jeffventola.com/.
---
Mission Statement
About Us
Our Program
Membership
Schedule
General Information
Archives
---
Home
Search
Acknowledgements and Links
Add Sidebar Menu
---
This web site and all of its content, text and images are Copyright © 2000 - Reading Art Association
All rights reserved.
Last updated October 30, 2016