September 2015 Demonstration
Our demonstrator was Carolyn Letvin, who did a demonstration about Monotyping for Oil Paints.
The meeting was held in the Guild Hall, First Congregational Church (middle side door), Sanborn Street, Reading, Wednesday September 9th, 2015 at 7:30 p.m.
We have some photographs of the event in case you could not make it there in person.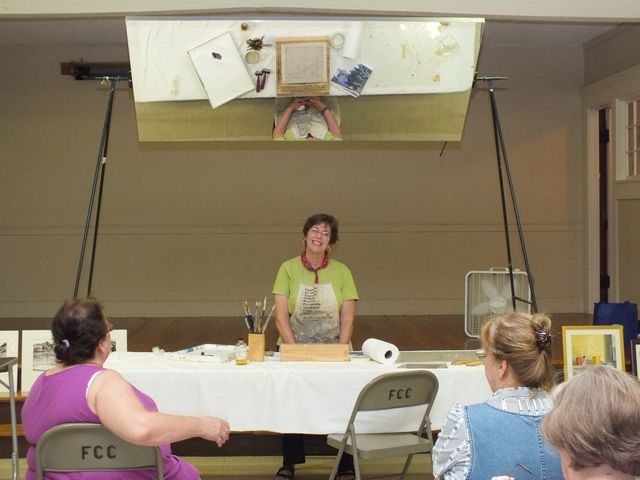 Here is Carolyn with her setup.
We put up the mirror because she works flat.
The mirror allows us to watch Carolyn and also see her work.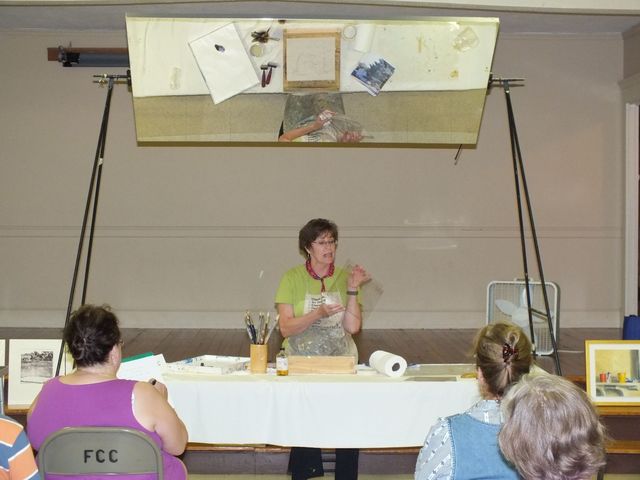 Carolyn paints on Plexiglas® when she is going to print.
She can put her drawing under the glass for reference.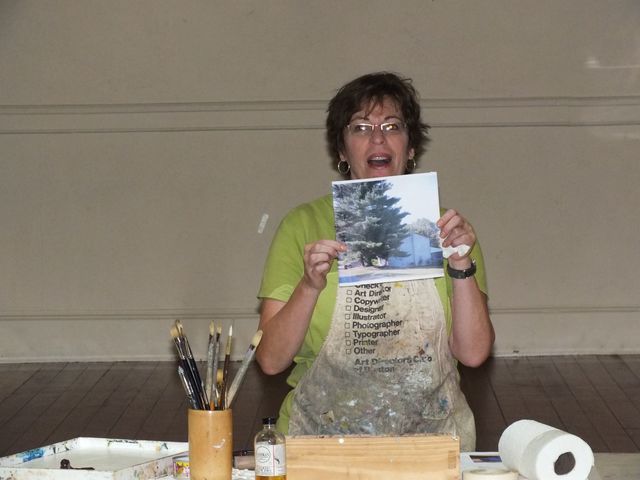 Here is the subject matter for her painting.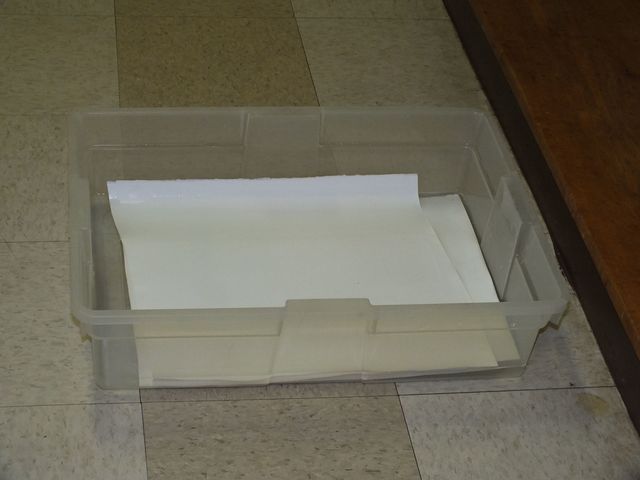 While she paints, the paper is soaking in a tub of water.
It is necessary to keep the paper wet for this to work.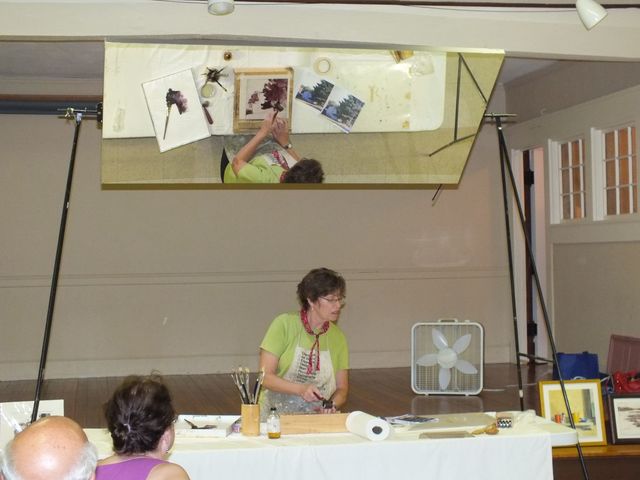 She starts out roughing in the large spaces with a brayer.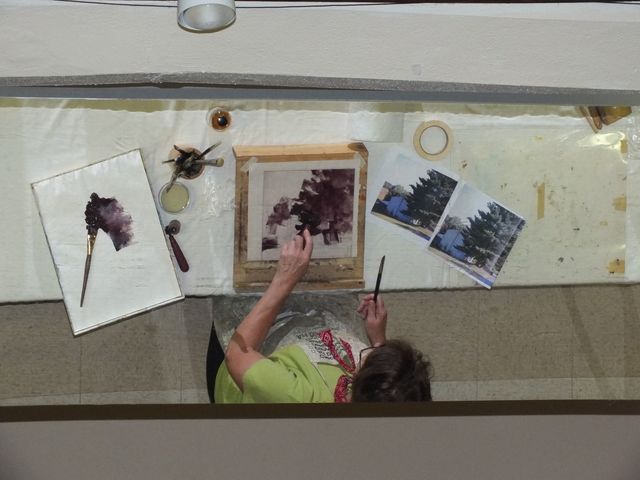 Here is a photo from above, using the mirror.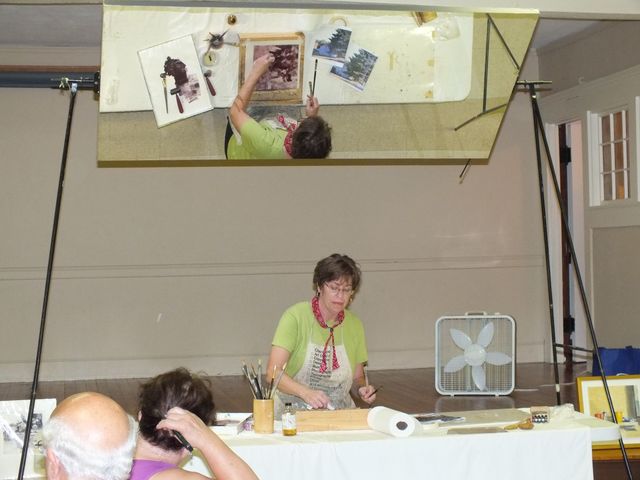 Next, Carolyn moves the paint around on the Plexi.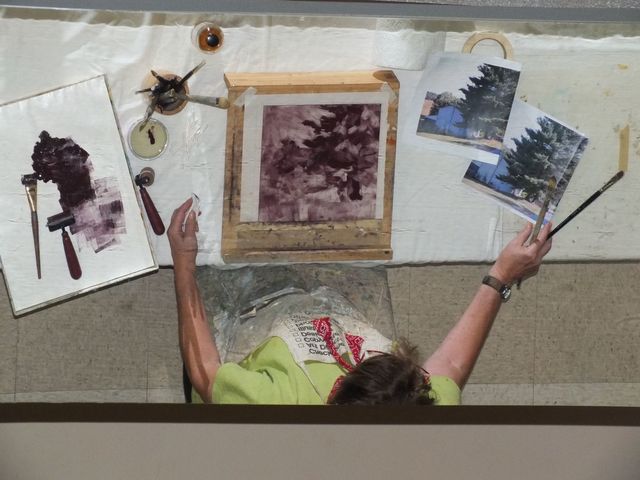 Another view from the top.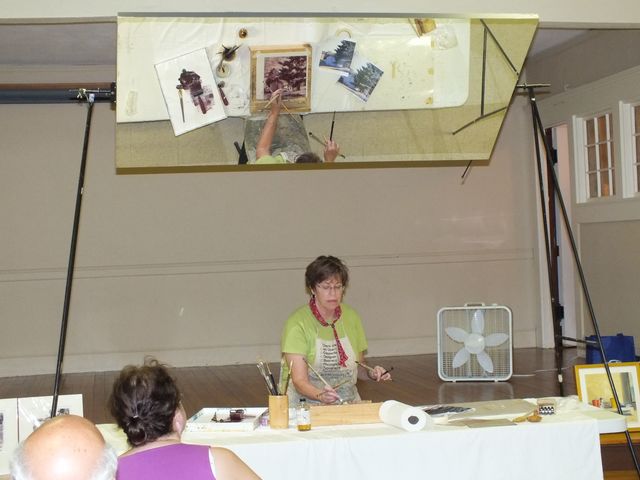 She puts in the details using brushes, just like regular painting.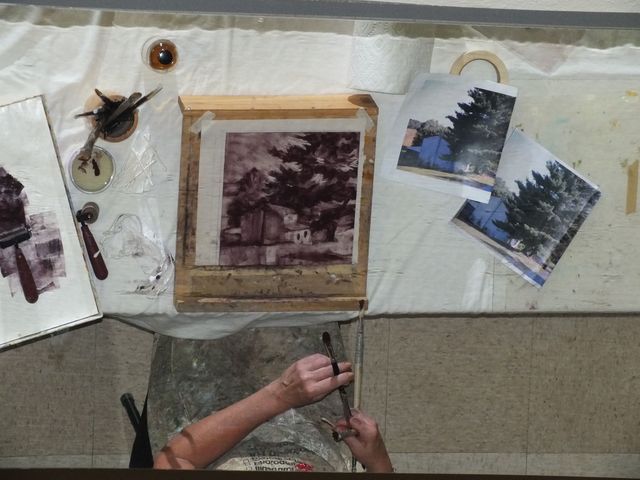 The painting is starting to look like a picture.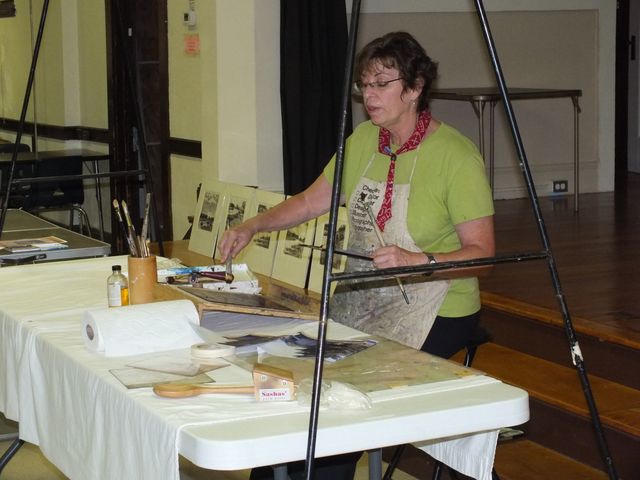 Here is a view from the side, so you can see how Carolyn works.
She has the Plexiglas sitting on and angled surface.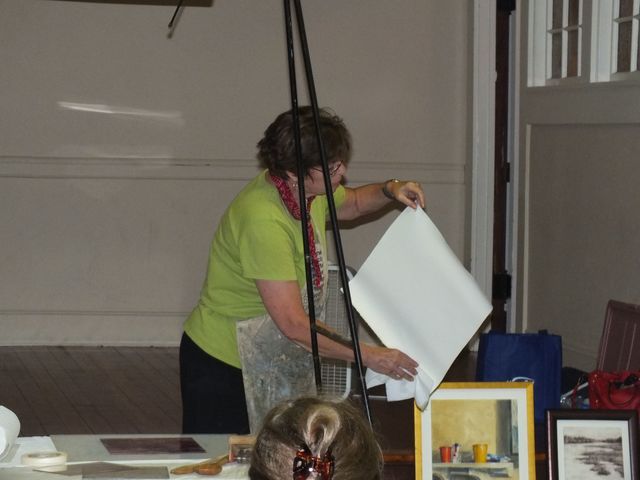 OK. It is time to print the painting.
Carolyn pulls the soaked paper out of the tub.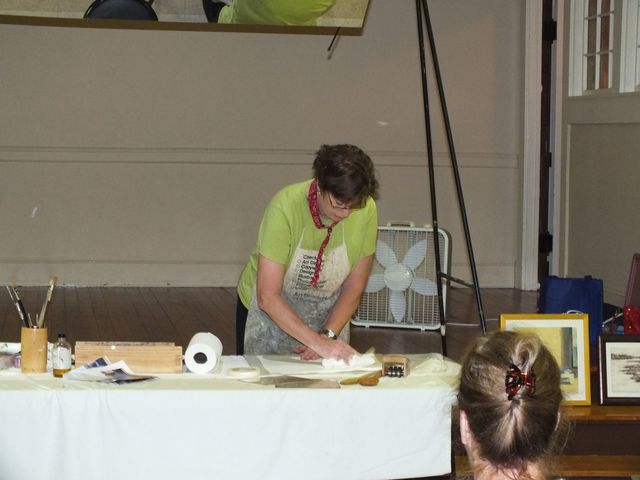 She puts it down on the painted Plexiglas and rubs it.
There is a sheet of thin plastic on top of the paper.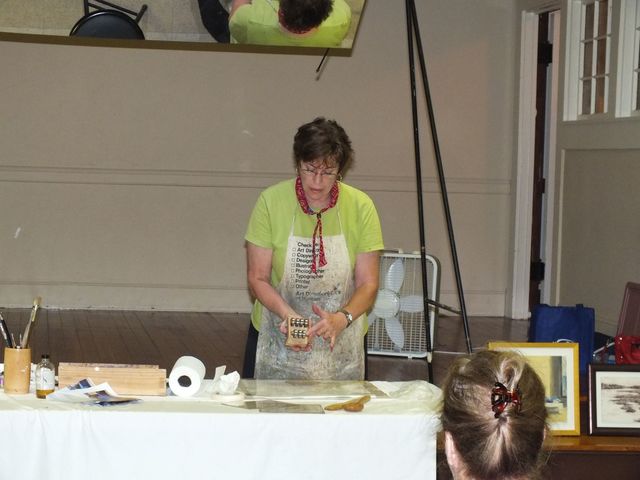 This is her "printing press", a wooden block with steel rollers.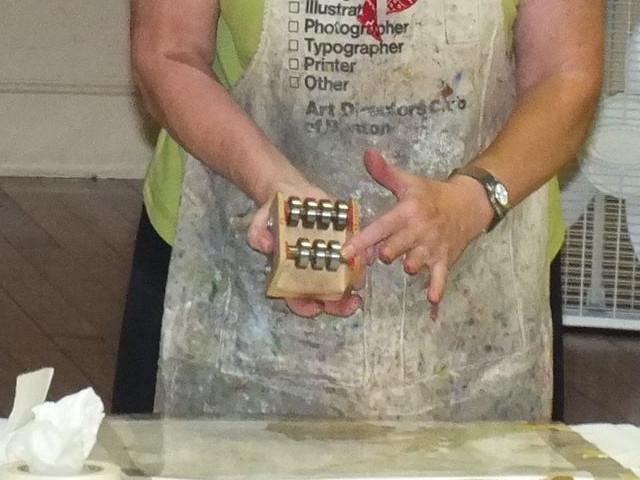 Here is a closeup of the business end of the device.
The rollers are steel to obtain the pressure needed to print.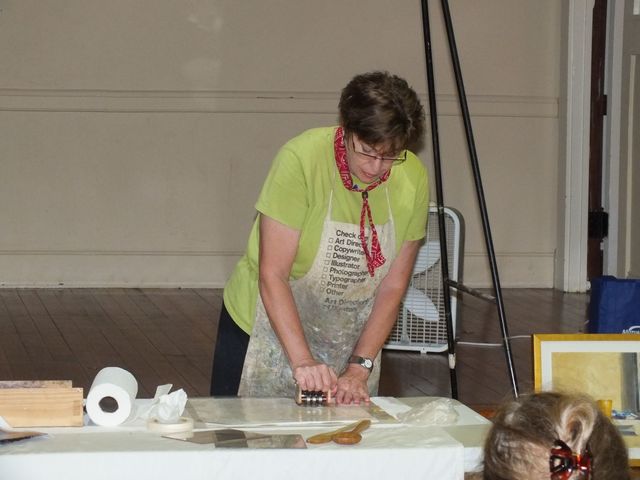 Carolyn pressed hard down on the rollers to do the print.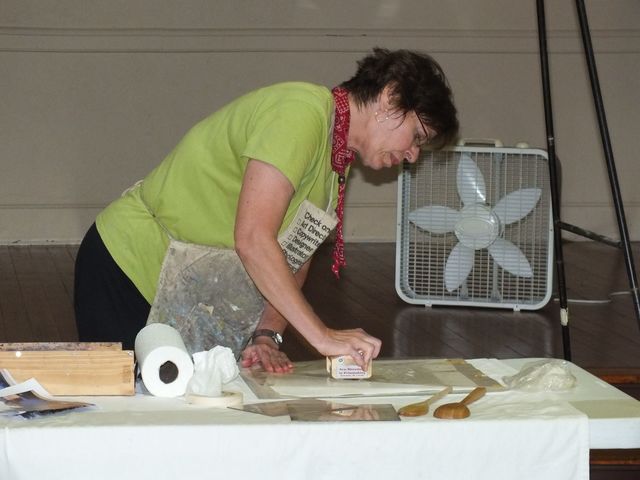 She presses in all different directions to get an even print.
And there is the print.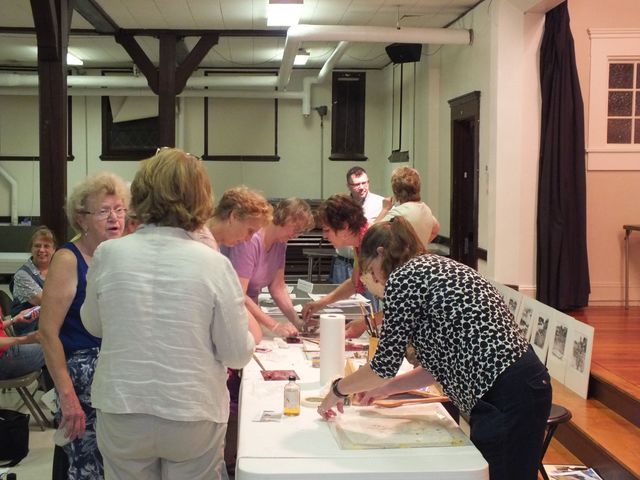 Carolyn invited the attendees to try their hand at printing.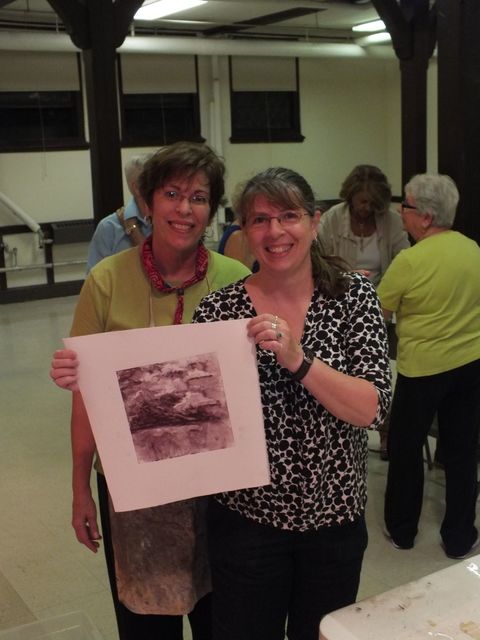 Susan and Carolyn, showing off Susan's first print.
Good job!
You can see more of Carolyn's work at her web site, www.carolynletvin.com/
Carolyn Letvin's Bio
Carolyn Letvin is a resident of Milford, Massachusetts. She has exhibited in the New England area since 1990. She is an accomplished landscape painter and also creates stylized feline and farm animal imagery. She works on-site and from photographs.
She has won many awards through the years, including the Top Award at the 18th Annual Faber Birren National Color Award Show, an Honorary Mention/Sakura Award from the United Pastelists of America/Oil Pastel Association and a second place in the 2014 Blanche Ames National Juried Exhibition. Currently, her work can be seen at Lauren Clark Fine Art in Great Barrington, MA, Hudson Art & Framing in Hudson, MA and Gallery Wright in Wilmington, VT. She is on the board at the Concord Art Association and a board member for the Monotype Guild of New England.
Why Plein Air Monotypes?
I'm a painter, and thanks to a simple process, I'm a printmaker, too. To make my monotypes, I do a painting on a piece of plexiglass, dampen a sheet of paper, and transfer that painted image onto the paper using a press, a brayer or a palm press - that's it! The process is exciting because there's a constant surprise element. When transfered, the image is squished, changing my brush strokes and paint placement into something very different than what I applied to the plexiglass. Also, the image is reversed, which is always a bit of a jolt when first viewing the print. I like these surprises very much because they've added an energy to my painting experience, which at times can become a bit of the "same old, same old."
By adding this simple technique to your painting repertoire, you will open opportunities to be able show with organizations like Boston Printmakers and the Monotype Guild of New England.
Schooled in Flemish Old Master techniques, I have a great respect and admiration for the traditional systems and applications. Currently, I'm using an expanded palette and a bold, active paint application to portray my realities.
I experience life, with all its subtleties and intricacies, as a direct, perceptible experience. Therefore, my subjects are what I perceive and are all worthy of depiction by virtue of their existence in the world.
The act of painting is a series of constant surprises - an experience that is always exhilarating and, at times, even magical. Bringing composition, color, surface and light quality together is my continual struggle and challenge.
Why sheep? The sheep series started with a painting retreat to a farm in Pennsylvania eight summers ago. I went to paint cows, but couldn't take my eyes off the Jacob's Sheep, an ancient breed that dates back to biblical times. I found their huge curved horns, fluffy spotted coats and spindly short legs quite captivating. They've become my primary source of imagery, allowing me to explore paint application, surface texture, composition and color in a way that satisfies me.
---
Mission Statement
About Us
Our Program
Membership
Schedule
General Information
Archives
---
Home
Search
Acknowledgements and Links
Add Sidebar Menu
---
This web site and all of its content, text and images are Copyright © 2000 - Reading Art Association
All rights reserved.
Last updated October 30, 2016