September 2017 Demonstration
Our demonstrator was Arnie Cassavant, who did an oil painting demonstration.
The meeting was held in the Guild Hall, First Congregational Church (middle side door), Sanborn Street, Reading, Wednesday September 13th, 2017 at 7:30 p.m.
We have some photographs of the event in case you could not make it there in person.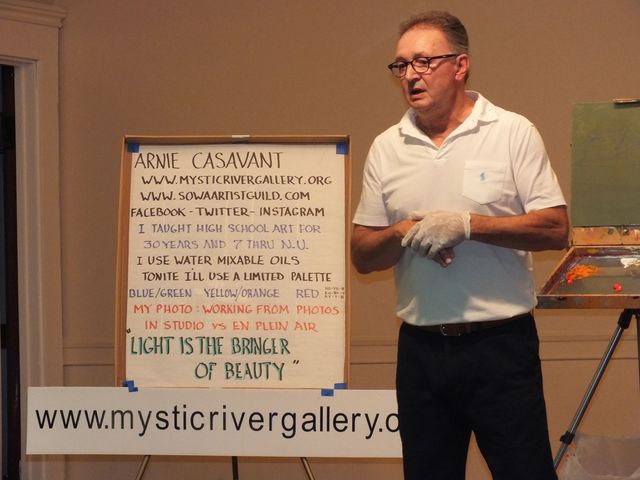 Arnie demonstrated a painting done using a limited pallet.
As you can see in the sign, the pallet, which is in water miscible oils, was:

White
Blue/Green
Yellow/Orange
Red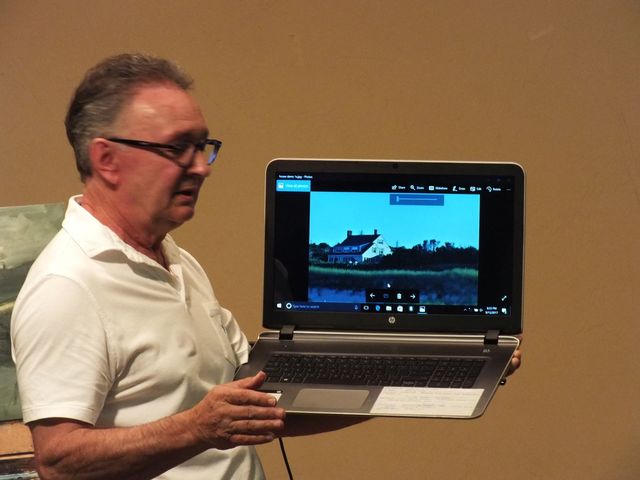 Arnie usually works from photographs, although he does some plein air.
His source material for the demo was on his laptop computer.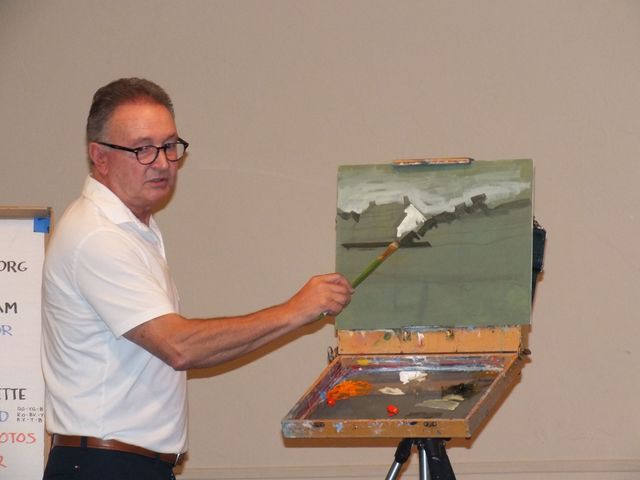 He started by using the Blue/Green for the sky.
The contrast with the white side of the building is established early on.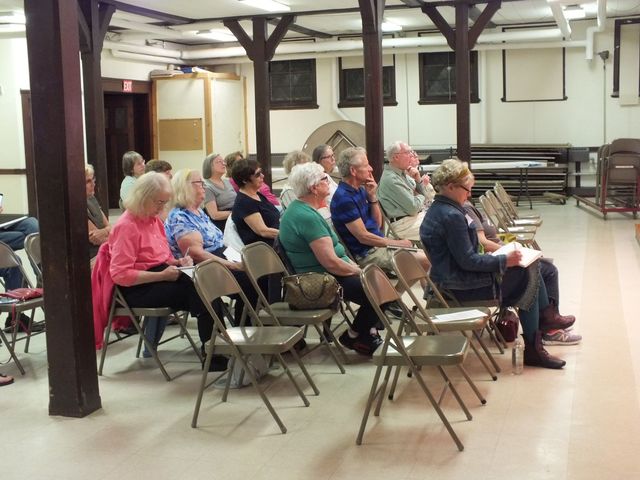 We had a small, but enthralled audience.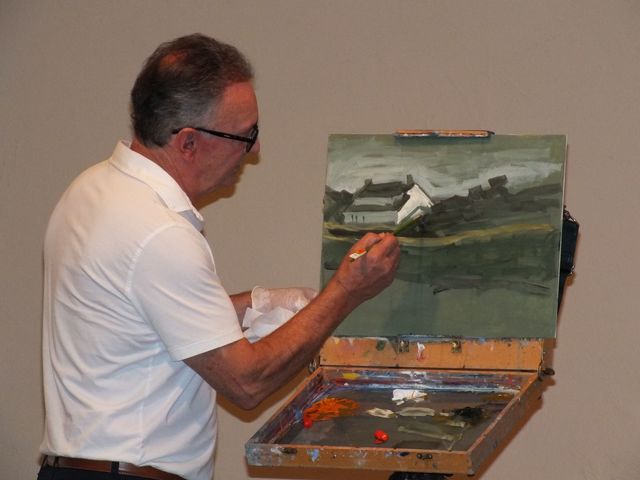 Arnie continued, adding the middle ground.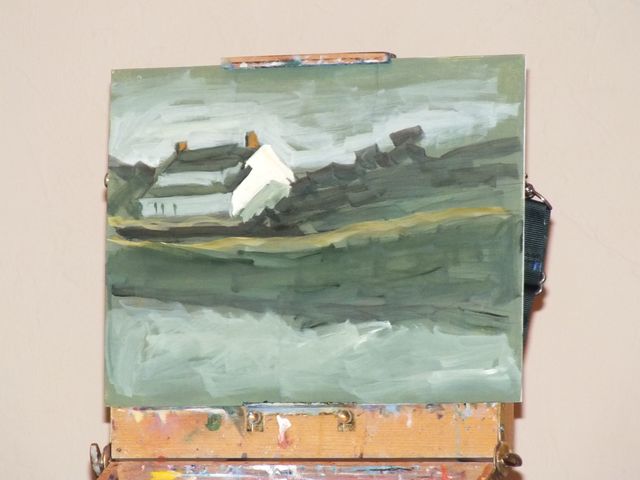 Here is a closeup of the painting so far.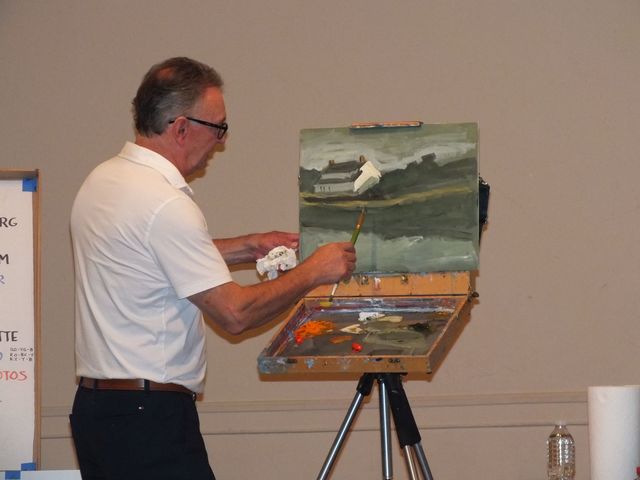 He added some high key accents to the middle ground.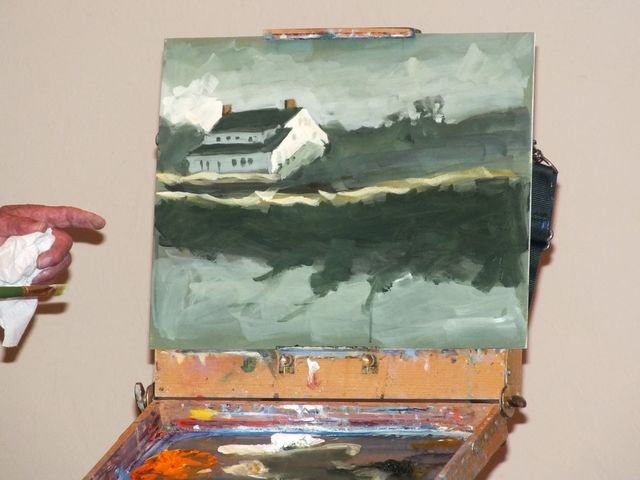 Arnie steps back from the painting to see the overall effect.
He does not obsess over the details.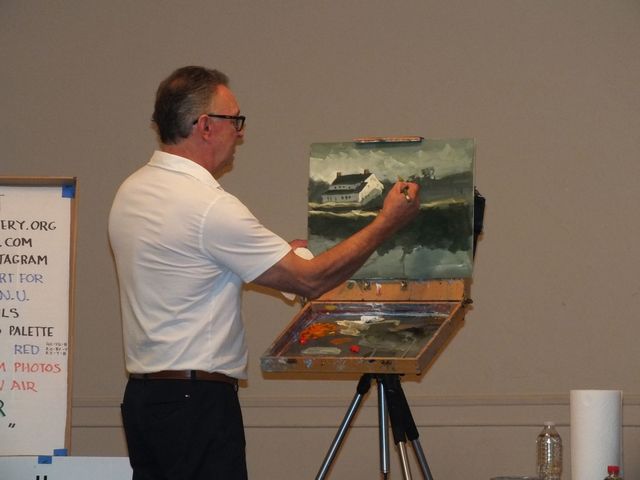 Adding some clouds and foliage to the background.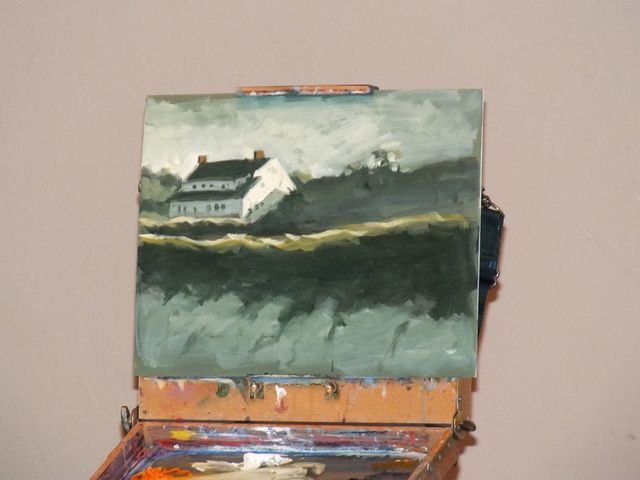 The painting is coming together.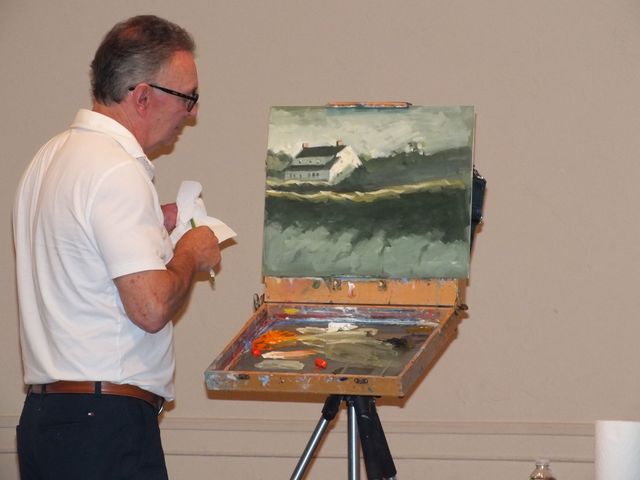 The painting is almost finished in this photo.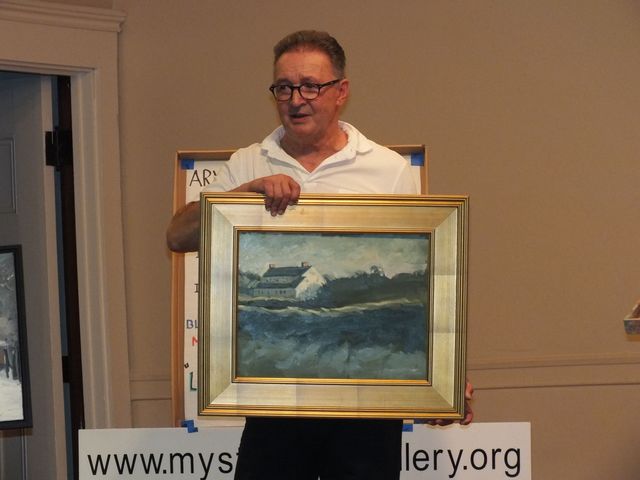 Arnie showed us the finished painting in a frame.
Looks good.
Arnie Cassavant's Bio
Casavant's passion for painting has developed over the past several years, as he taught landscape and abstract painting in Boston and on Cape Cod through Northeastern University's Graduate Institute in Education. He has exhibited his work at myriad of locations, including the Joesph Moakley Federal Courthouse, Boston, Pearl Street Gallery, the Gallery at Spencer Lofts in Chelsea, MA and the Yellow Barn Gallery in Glen Echo, MD.
Casavant prefers to work en plein air, painting largely in oil on location at dawn or dusk, when the sun's interaction with his subject matter is at its most dramatic. He adheres to the old adage that "light is the bringer of beauty", and his work reflects a strong emphasis on the interplay of light, shape and color, and a devotion to impressionism. "Chasing the light" best describes Casavant's paintings; "The natural elements and my paints combine to reward me with lasting memories." Lowell, Massachusetts
---
Mission Statement
About Us
Our Program
Membership
Schedule
General Information
Archives
---
Home
Search
Acknowledgements and Links
Add Sidebar Menu
Message Board
---
This web site and all of its content, text and images are Copyright © 2000 - Reading Art Association
All rights reserved.
Last updated October 7, 2017