September 2019 Demonstration
Our demonstrator was Byron Carr, who did a watercolor landscape demonstration.
The meeting was held in the Guild Hall, First Congregational Church (middle side door), Sanborn Street, Reading, Wednesday September 11th, 2019 at 7:30 p.m.
We have some photographs of the event in case you could not make it there in person.
We set the mirror up for Byron since he works flat when painting watercolors. So in the photographs you are looking at a mirror image of what he was painting.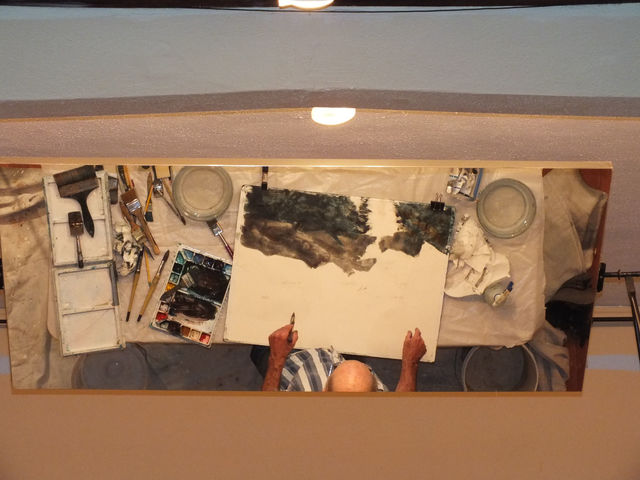 Byron started by putting in the dark areas.
He goes directly for the darks to save time.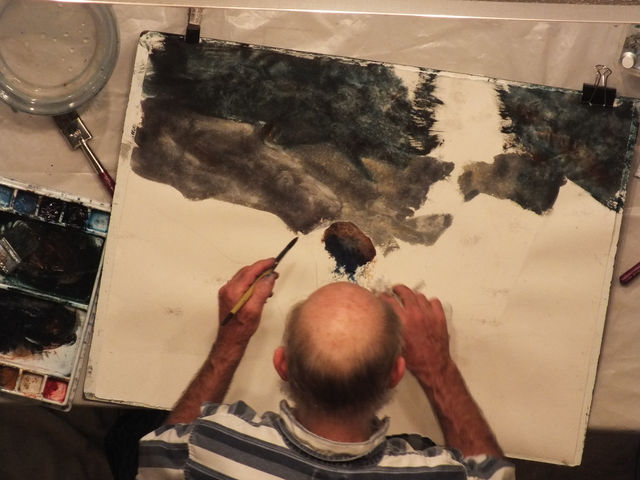 Here he is adding a rock.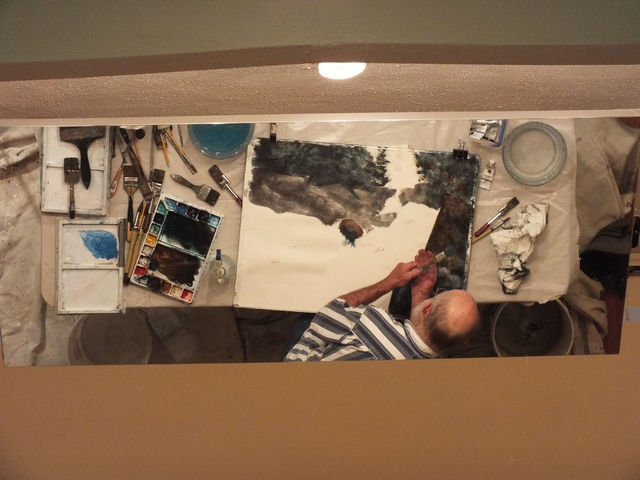 He spatters paint to create texture on the stones.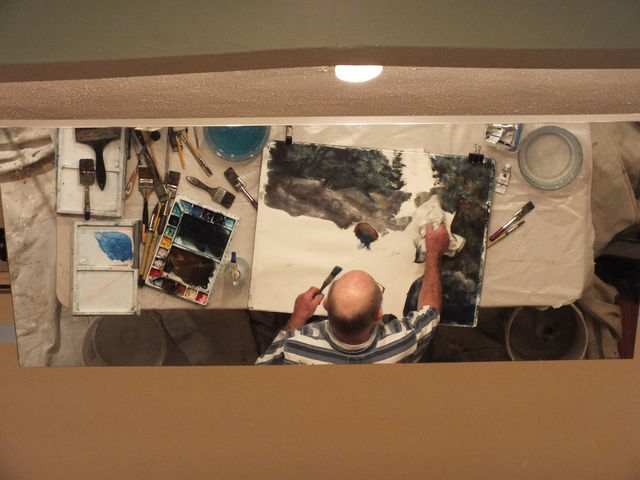 He also dabs the wet paint with a paper towel to create texture.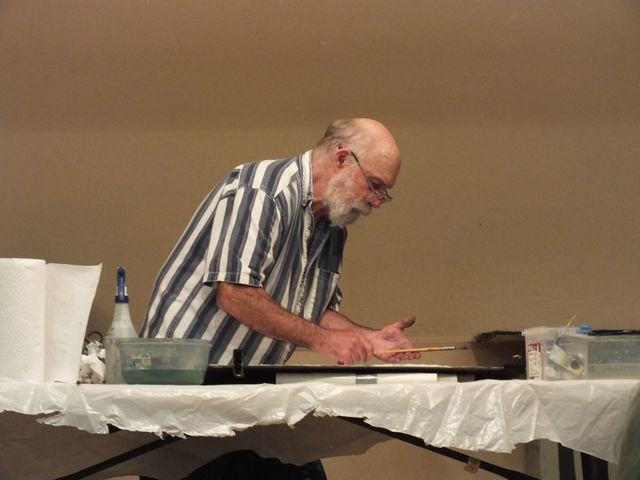 Here he is spattering a texture.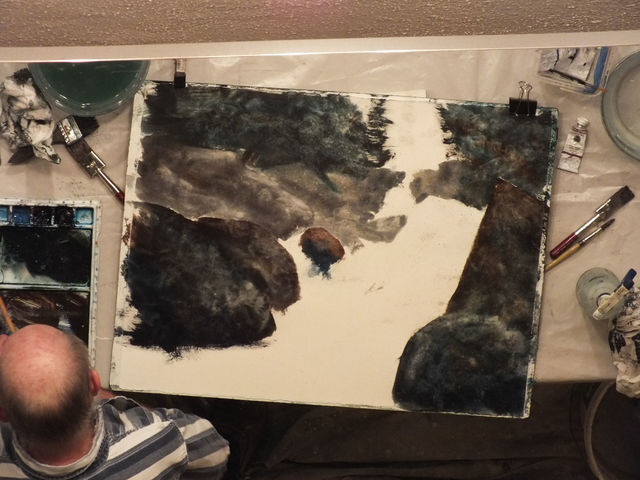 You can see the waterfall taking shape.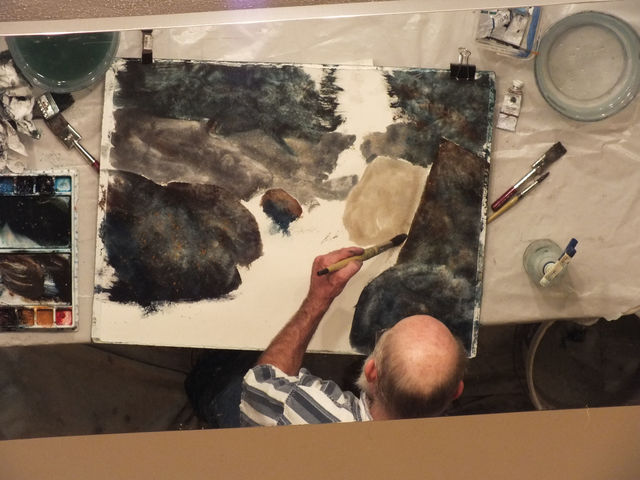 This is the beginning of a stone.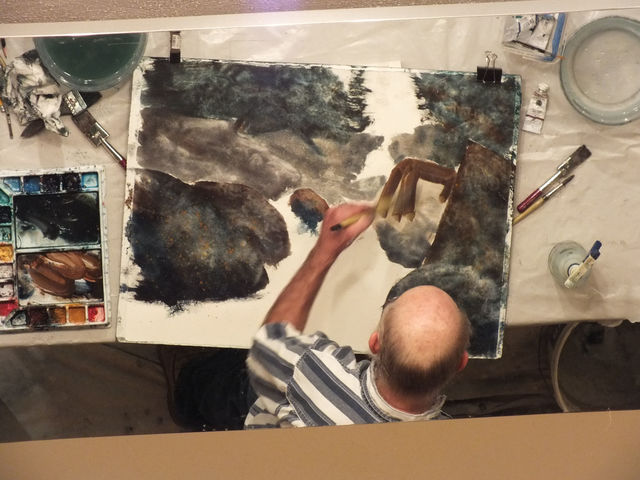 He then added some darker color to it.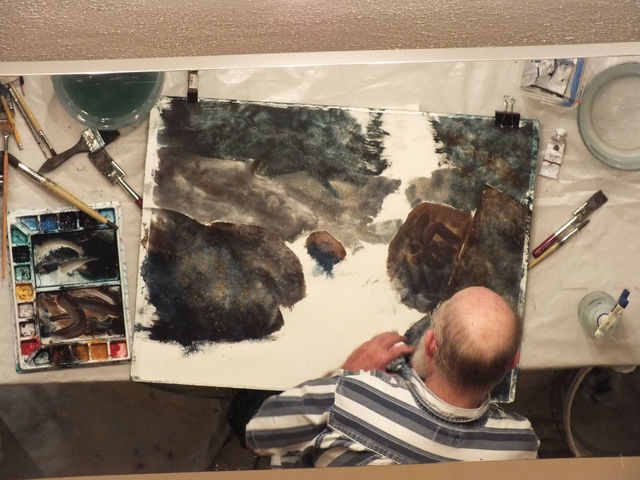 And then he added even darker paint.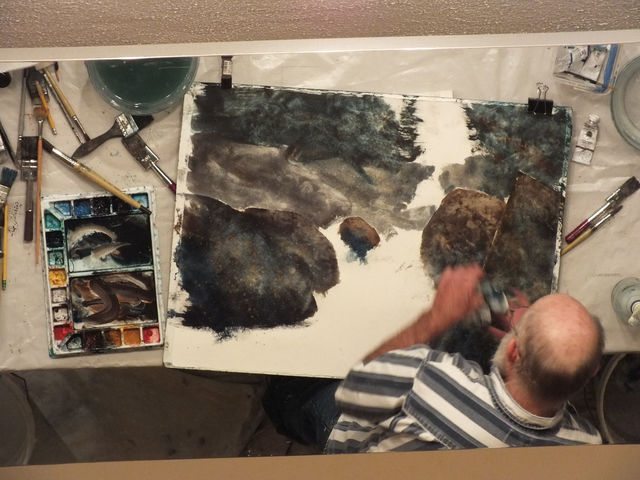 He spattered some texture onto the stone.
Byron put away the first painting to dry and got out a new paper.
He soaked the paper with a large brush until it was very wet.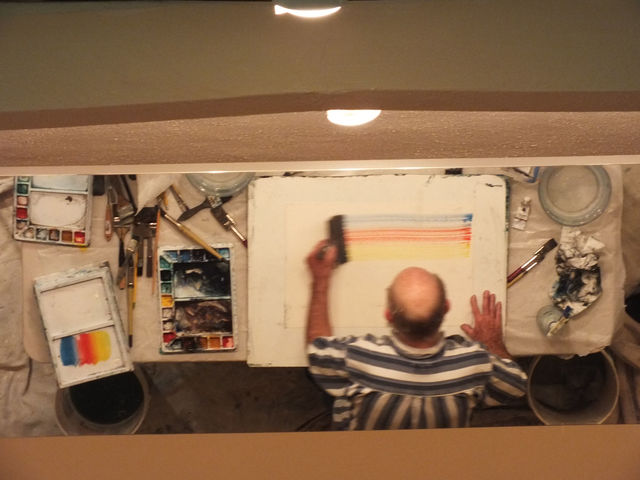 Then, with three colors on the brush at once,
he made a bold stroke across the width of the paper.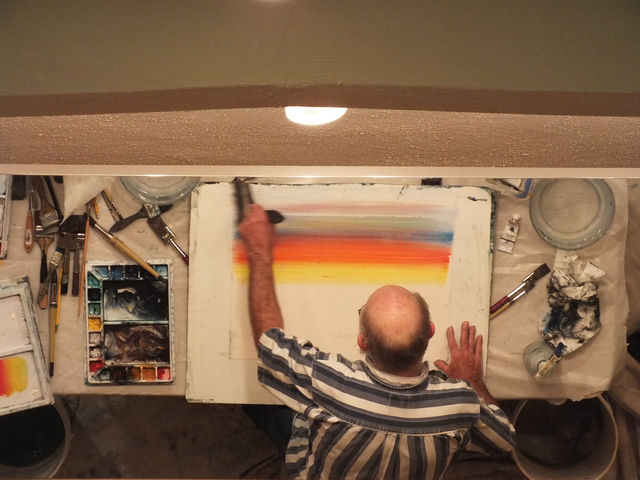 This is the bright band that he ended up with.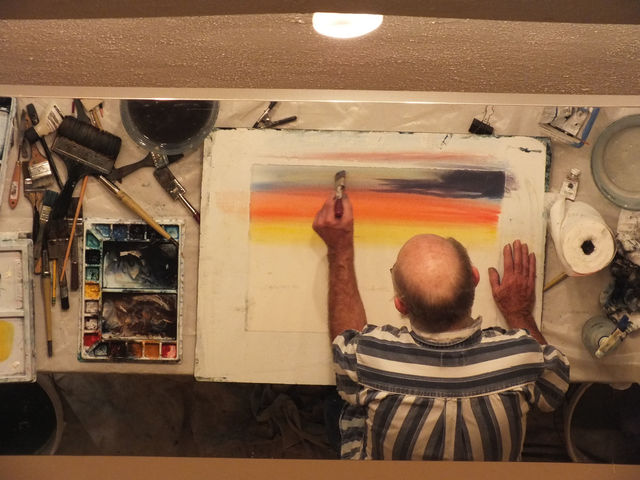 Putting in some detail.
Some more dark masses.
The painting of a sunset is taking shape.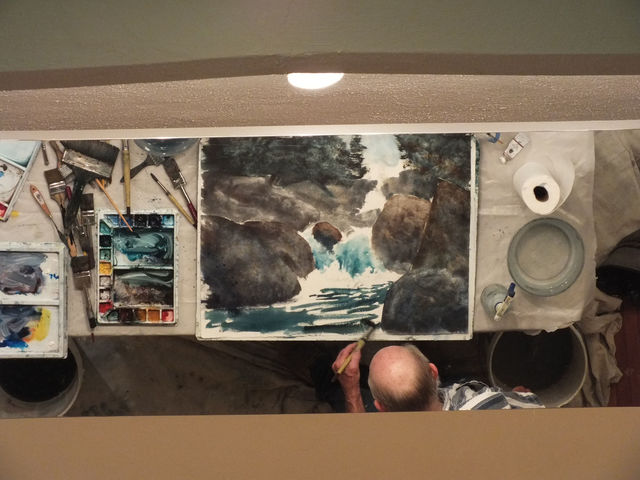 He brought back the first painting and continued on it.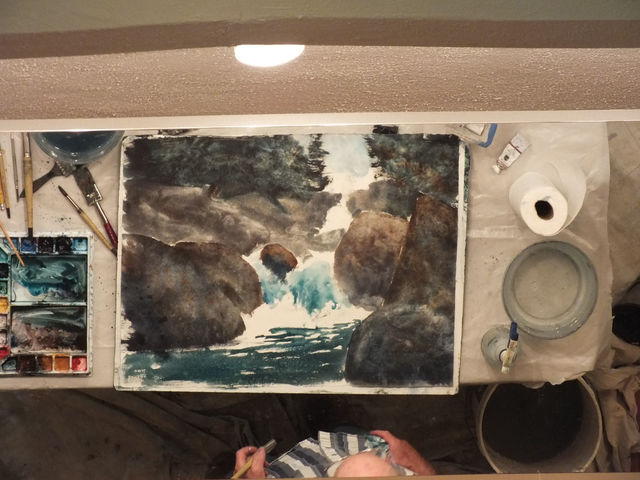 Here it is with the waterfall in place.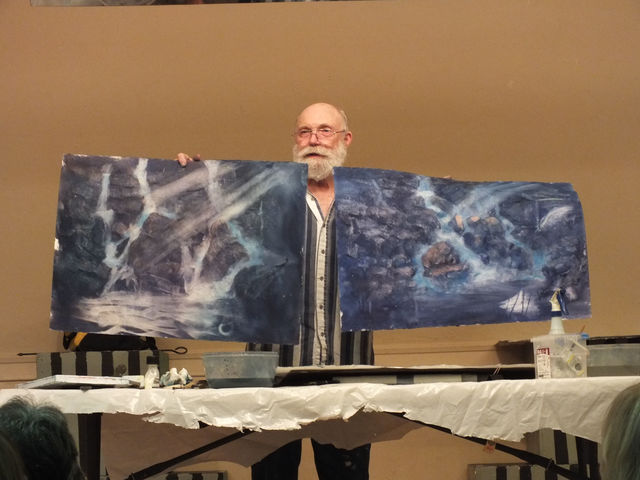 Byron showed us some paintings that he did by painting
the entire paper blue, then removing the light areas.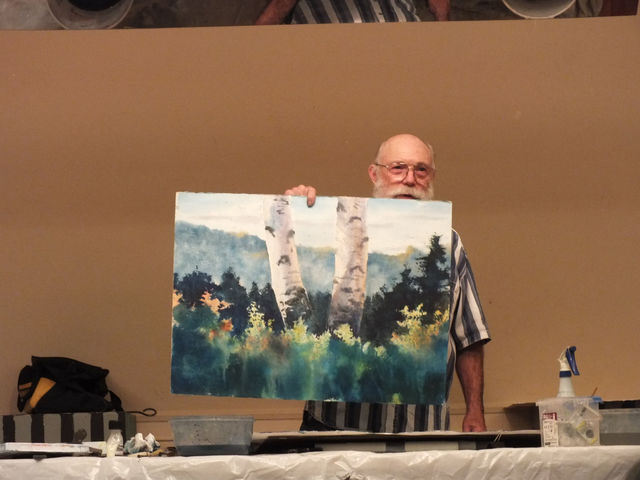 This is a painting that he used in a workshop.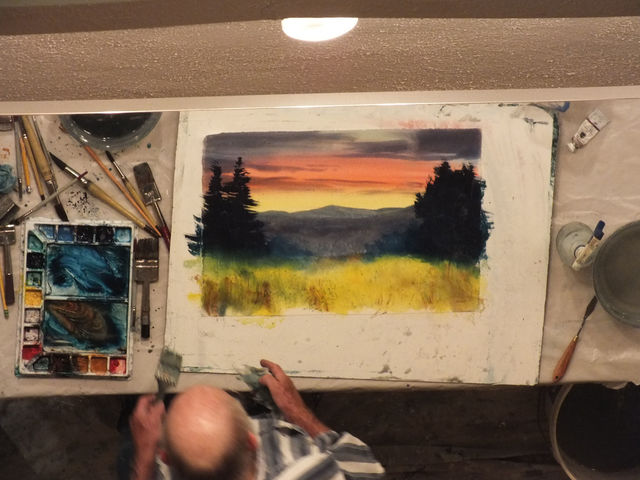 Finally, he finished off the sunset painting.
Thank you to Byron for a very entertaining and educational demonstration.
You can see some of Byron's work at this web site, http://www.cbgallery.com/byroncarr.htm
Byron Carr's Bio
Byron grew up on the banks of the Contoocook River in Contoocook, NH. He spent many hours exploring the river, swamps and forest around his home. Without children of his own age around, he entertained himself by drawing. As a teenager, he completed the Famous Artist Course for Young People. After graduating from high school, Byron attended a three year commercial art course at the Vespar George School of Art in Boston, MA. Even though he graduated in the top quarter of his class, he went into the building trades in the central New Hampshire area. With a family and a busy schedule, he drifted away from art until 1987, when his daughter was two years old. He started reworking a children's book he had started in art school. By the end of 1988 DOODLES was written, illustrated, and published. During the next couple of years, he also completed a course with the Institute of Children's Literature. Byron still spends time at elementary schools, drawing with the students, using DOODLES as the inspiration.
In 1992 Byron's interest turned toward fine art. He was now working from 6:00am to 2:30pm, maintaining 12 buildings on Main Street in Concord, NH and living back on the banks of the Contoocook River. Most of 1992 was spent on basic drawing. In the fall, he attended a week long watercolor workshop. In Jan. 1993, he submitted his first piece to a juried show and was accepted into the Thorne-Sagendorff Regional Show. That was his first sale and his first award. Also among his awards are a First Place and a People's Choice from the Sharon Arts Center, the Costello award from the New Hampshire Art Association, and the 2000 Theme Award from the New Hampshire Antiquarian Society.
The State of New Hampshire purchased four of Byron's 42"x16" format waterfall paintings for the new Rockingham County Courthouse in 1995. In 1996 he had his most successful show at the Covered Bridge Fine Art Gallery in Contoocook, NH. He sold 16 of the 30 pieces in the show including a 4'x 6' waterfall painting. This show was featured in the Boston Globe New Hampshire Edition. He also started painting with oils during the summer for an added challenge.
A second successful show at the Covered Bridge Gallery in 2000 featured many large oil paintings of New Hampshire landscapes, as well as a variety of watercolors. Byron Carr's latest methods include painting "en plein air", by working outside, on location. The changing light conditions limit the observation time to two hours or less, in order to capture the essence of a scene and its visual impression. Byron then uses many of these works as reference for larger pieces that he creates in his studio.
"The more I paint the luckier I get," Byron often comments while instructing his "Paint Until The Magic Happens" watercolor workshops. In addition, he conducts oil painting workshops and demonstrations at his studio in Contoocook, NH, and on location throughout New England. Byron produces about 60 paintings a year of a quality high enough to present for sale. The ones that don't make the cut are thrown into "the pile of tears" in the back room.
Byron's approach to painting is to, "Keep it simple: shape, value and color. After that I just have fun slopping, splashing, spraying and scraping." If a painting is acceptable for sale he puts on his business hat and realizes that his piece is, for most who view it, just something for sale. Several Carr painting owners have said their "spiritual moment" each day is the time they spend in front of his work. "I do not expect that comment," says Byron, "but it is the most I can hope for and I thank God whenever it happens."
---
Mission Statement
About Us
Our Program
Membership
Schedule
General Information
Archives
---
Home
Search
Acknowledgements and Links
Add Sidebar Menu
Message Board
---
This web site and all of its content, text and images are Copyright © 2000 - Reading Art Association
All rights reserved.
Last updated September 18, 2019