Spring Show 2020

The Spring show is coming up. The show is scheduled for May 1st, 2nd and 3rd. Here are the details.
| | | |
| --- | --- | --- |
| Application Deadline | April 6, 2020 | |
| Artwork Delivery | Thursday, April 30 | 4:00 - 8:00 p.m. |
| Opening Reception | Friday, May 1 | 7:30 - 9:30 p.m. |
| Show Times | Saturday May 2 | 10 a.m - 4:00 p.m. |
| Show Times | Sunday May 3 | 12:30 - 3:30 p.m. |
| Artwork Pickup | Sunday May 3 | 3:30 - 4:00 p.m. |
Please note.
We are pleased to welcome the Reading Garden Club this year for
an "Art in Bloom" presentation on the stage. Members of the Garden
Club will match floral arrangements with selected paintings.
This is always a crowd pleaser, so don't miss it.
Also Please Note.
The Spring Show is now a members only show.
You need to be a member of in good standing of RAA to exhibit.

We will be having a drawing at the show to award a pen & ink work that was done by Beverly Cook. Here is a photo of it.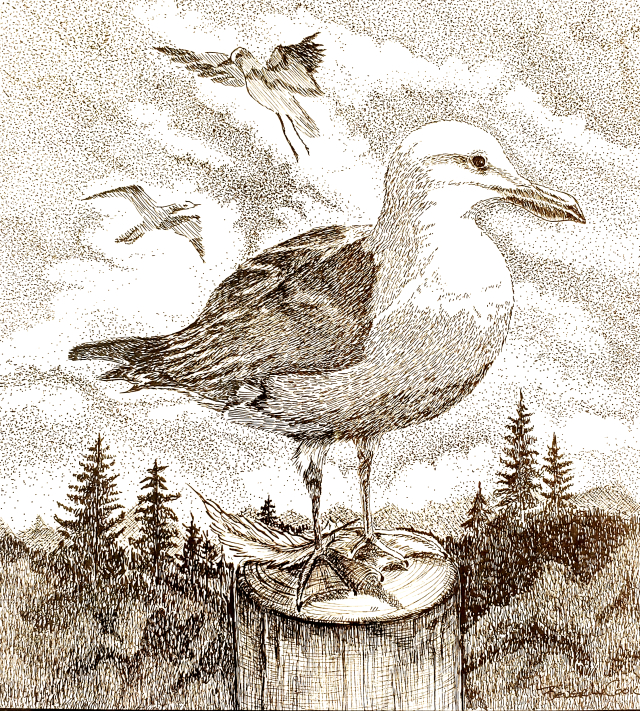 There are two files available on this page, the detailed information sheet and the entry form. If you are a member in good standing of RAA you have received these forms in the mail. However, if you have misplaced the forms or you are not yet a member of RAA, you can download them here and print them on your printer.
Spring Show 2020 Entry Form
Spring Show 2020 Information
To print the PDF documents, click on the links above to display the documents. Then, click on the Acrobat Reader print button to print the file. Use your browser's "Back" button to get back to this page.
You can also download the pdf files onto your own computer by clicking on the PDF link with the right mouse button to display a menu, then choose "Save Target As..." or "Save Link As..." and choose a folder to store the file in.
Viewing the PDF file requires that you download and install the free Acrobat Reader from Adobe, which can be obtained from Adobe.
---
Mission Statement
About Us
Our Program
Membership
Schedule
General Information
Archives
---
Home
Search
Acknowledgements and Links
Add Sidebar Menu
---
This web site and all of its content, text and images are Copyright © 2000 - Reading Art Association
All rights reserved.
Last updated March 16, 2020