April 2006 Demonstration
The demonstrator for the April demo was Don Reed.
The meeting was held in the Guild Hall at the First Congregational Church of Reading (middle side door) at 7:30 p.m. on Wednesday, April 12th.
We have some photographs of the event in case you could not make it there in person. You can click on any of the images on this page to view a larger version of it. Then, use the Back button on your browser to return to this page.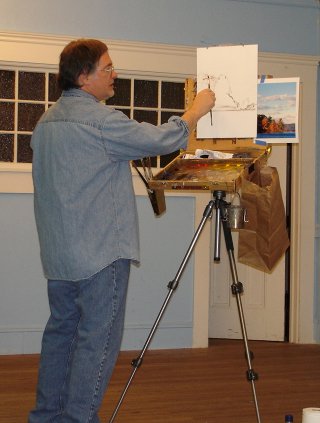 Don started out by sketching in the basic areas of the painting.
He does not use a pencil or charcoal, but starts out with the brush.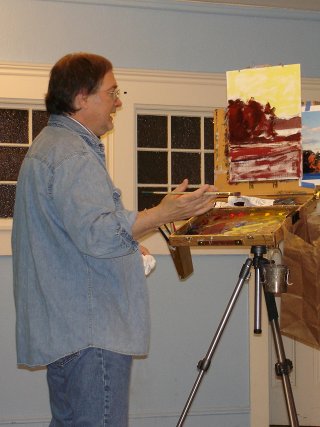 In this photo you can see that Don has the basic shapes blocked in.
He often blocks in the sky with an underpainting of Cadmium Yellow, which you can see here.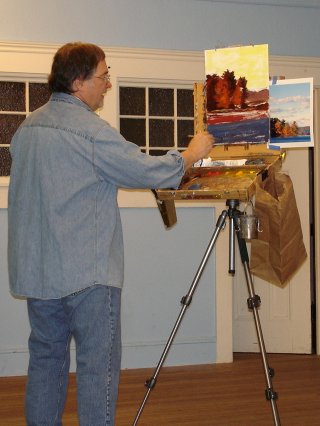 The basic shapes have been defined better and he is adding the blue foreground.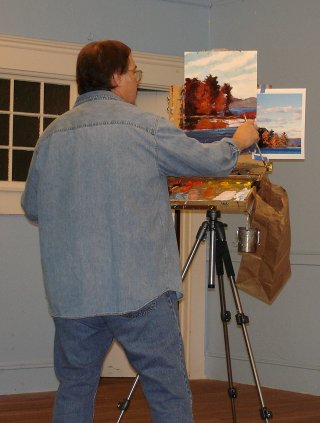 More high key spaces have been added, plus the background shapes are defined.
Don says, "Paint enough for the eyes to see and let the brain fill in the rest."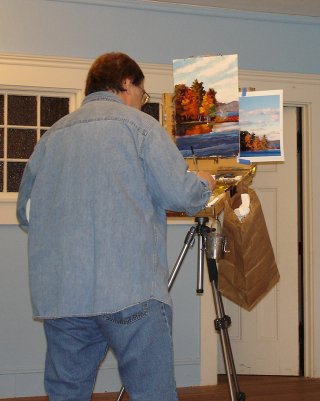 The painting is almost done.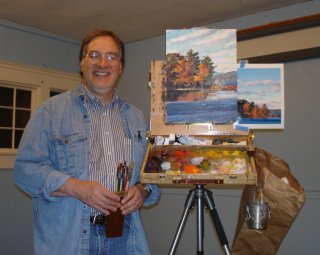 A big "Thank you" to Don for a terrific demonstration!
---
Don Reed's art education began at the age of 12 in York, Maine, under Edwin Booth. Don's stepfather, well-known cartoonist and advertising artist Wilbur Bullock, was a strong influence on Don's desire to become an artist. During high school Don developed an interest in dry-brush watercolors and was especially influenced by Andrew Wyeth and Winslow Homer.
Over the years Don continued his education at The Art Institute of Boston, The Famous Artist School, and in portrait and watercolor classes at the New Hampshire Institute of Art. In the 80s Don became interested in science-fiction painting and aviation, exhibiting his work at air shows and art shows throughout New England. He helped restore and maintain several World War II-era aircraft, recreating authentic paint schemes for the aircraft.
Don has received many awards, including Purchase Prize Awards at Rochester Art in the Park and Portland Sidewalk Art Festival; First Place Watercolor in the NH Institute of Art Student Exhibit, the Milford Keyes Art Group Art in the Park, and Carlyle Place Art Show; and Second Place Watercolor at Downtown Nashua Art Festival and the Lawrence Heritage Park Art Show. His exhibits have included a one-man show at the Amherst, NH, Public Library, the Magnificent 7 at the Fountain House, and Magnificent 7 Plus One at Salzburg Square.
Don is a member of the New Hampshire Artist Association; Keyes Art Group; Nashua Area Artist Association; Newburyport Art Association; and is also a member and past president of the Manchester Artist Association. He and his wife, Susan, live in Merrimack, NH. His full-time career is in sign designing.
If you want to learn more about Don and his art, you can visit his own web page at http://www.fineartbydonreed.com/.
---
Mission Statement
About Us
Our Program
Membership
Schedule
General Information
Archives
---
Home
Search
Acknowledgements and Links
Add Sidebar Menu
---
This web site and all of its content, text and images are Copyright © 2000 - Reading Art Association
All rights reserved.
Last updated October 30, 2016