April 2007 Demonstration
Our demonstrator for April was Bernard Gerstner. He presented a watercolor demonstration.
The meeting was held in the Guild Hall, First Congregational Church (middle side door), Sanborn Street, Reading, Wednesday April 11th, 2007 at 7:30 p.m.
We have some photographs of the event in case you could not make it there in person. You can click on any of the images on this page to view a larger version of it. Then, use the Back button on your browser to return to this page.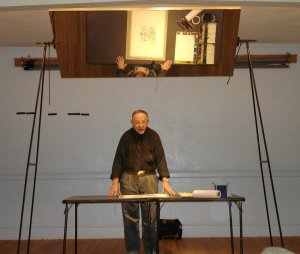 This is Bernie Gerstner. We set up our overhead mirror for
the demo because Bernie likes to work flat, and we can see
what he is doing in the mirror. Bernie based his painting
on the sketch which you can see reflected in the mirror.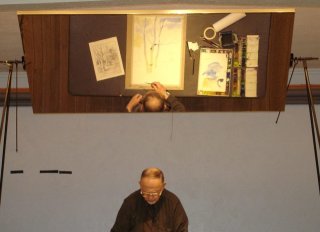 Bernie started by putting in the trees in the middle ground.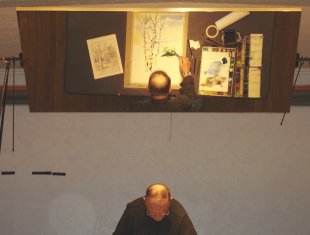 After the trees were roughed in he started adding the background.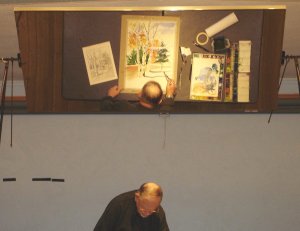 In this photo, most of the background is in
and he is starting to work on the foreground.
The painting is almost done.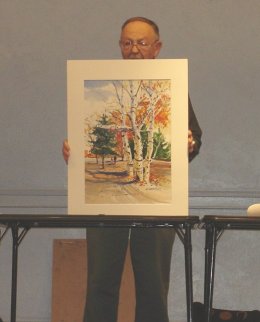 Here is the finished painting in a matte.
Bernard Gerstner's Bio
Bernard Gerstner is a painter, art teacher, and demonstrator noted for his crisp color and design. He has been teaching for some 33 years and has been the watercolor instructor for the Rockport Art Association for nearly 20 years, having taught some 5,000 students there! He likes to use Russian watercolors. Bernie will share with us some special techniques, good drawings, and the importance of outstanding subject matter, especially in the center of interest. Bernie enjoys working outdoors and still produces some 200 paintings each year.
---
Mission Statement
About Us
Our Program
Membership
Schedule
General Information
Archives
---
Home
Search
Acknowledgements and Links
Add Sidebar Menu
---
This web site and all of its content, text and images are Copyright © 2000 - Reading Art Association
All rights reserved.
Last updated October 30, 2016