April 2008 Demonstration
Our demonstrator for April was Monique Sakellarios. Monique presented an oil landscape demonstration.
The meeting was held in the Guild Hall, First Congregational Church (middle side door), Sanborn Street, Reading, Wednesday April 9th, 2008 at 7:30 p.m.
We have some photographs of the event in case you could not make it there in person. You can click on any of the images on this page to view a larger version of it. Then, use the Back button on your browser to return to this page.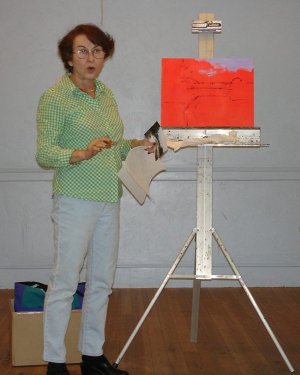 Monique paints on masonite which is covered with gesso and then painted
with red acrylic. This provides her the middle values for the painting.
At this stage, she has made a very quick sketch of the scene
and put in part of the sky. Monique uses no toxic paints in her
pallette, and uses walnut oil with some alkyd mixed in for a medium.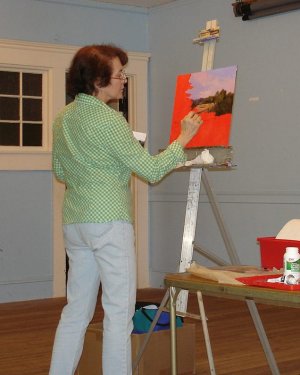 Here Monique has put in the sky and part of the background.
She uses cheap brushes because she is rough on them. She does not
use any turpentine or other toxic solvents to clean the brushes preferring
to use different brushes for different colors and simply wipe them off.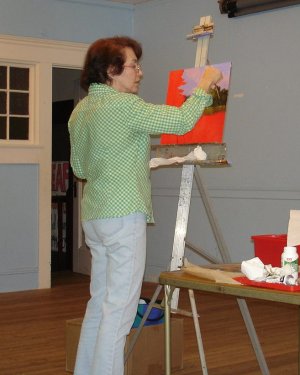 The tree trunks go in by using a small brush and going from the
bottom up. This makes the trunks thicker at the bottom than the top.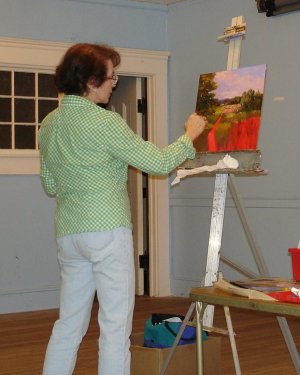 The middle ground and the foreground go in next. Monique warns
not to mix the paint too much on the pallette. Leaving the colors
somewhat separated on the canvas keeps them from becoming flat.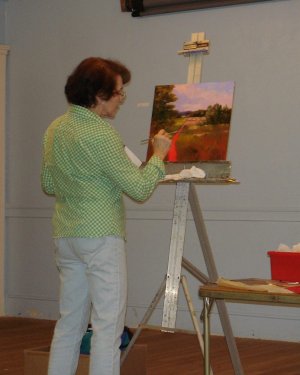 The road goes in next. The edge of the road is kept dark to give
it some depth and keep it from looking flat and painted-on.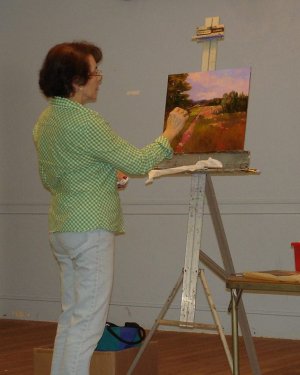 There is a house in the background and a figure. These go in last.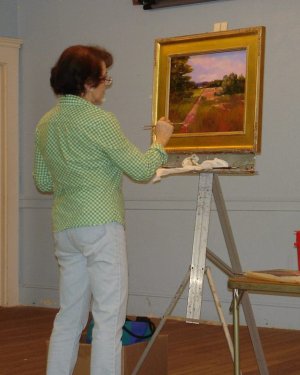 Even with the frame on, Monique makes some improvements to the road.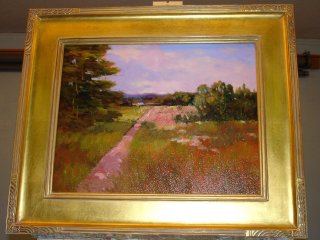 Here is the finished painting.
If you would like to see more of Monique's work or contact her, visit her web site at http://www.moniquesakellarios.com/.
Monique Sakellarios' Bio
Monique Sakellarios has been painting professionally for 24 years, having been schooled at the Leonardo DaVinci School of Art and the American University, both in Cairo, Egypt. She is an internationally recognized and collected impressionist artist. She was awarded "Founders Award - Best of Show" by the National Oil and Acrylic Painters Society's Best of America Competition in 2005. She has been honored as one of only approximately 130 Signature Members in the United States of both the Oil Painters of America and the NOAPS. Monique has received numerous other national and international awards, and her Best in Show, First Place, and other significant awards for shows and competitions in the New England area number in the hundreds. The Board of Directors of the Oil Painters of America described her as an artist of "... outstanding accomplishments ... and remarkable talent ...."
Published articles featuring her accomplishments and talent include those that appeared in The Artist's Magazine, March and September 1997 and October 2003; International Artist, August/September 1999; Watercolor, Winter 2000; Arts around Boston, Spring 2000; New Hampshire Magazine, April 2001; Gallery & Studio, May/July 2001; and American Artist, May 2006.
---
Mission Statement
About Us
Our Program
Membership
Schedule
General Information
Archives
---
Home
Search
Acknowledgements and Links
Add Sidebar Menu
---
This web site and all of its content, text and images are Copyright © 2000 - Reading Art Association
All rights reserved.
Last updated October 30, 2016