December 2003 Demo
The December 2003 demonstration was "Figurative Acrylic" with Tom Gill. It was held in Guild Hall, Congregational Church (Middle side door), Sanborn St., Reading. MA The demonstration was held on Wednesday, December 10th.
Tom is an entertaining demonstrator, and once again he did not disappoint. He painted a scene which contained a picture of a friend sitting on a bench in a garden.
We have some photographs of the event in case you could not make it to the show in person. You can click on any of the images on this page to view a larger version of it. Then, use the Back button on your browser to return to this page.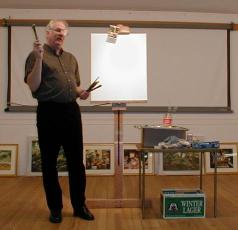 Tom showed us his painting equipment, including his large brush.
He says that now he uses it mostly for cleaning the pallette.
He works mostly from photographs.
You can see the reference photograph that he has taped to the top of his easel.

Tom uses a basic pallete of Red, Yellow, and Green.
He adds blue if there is something in the
painting that has blue as its local color.
He uses white to lighten and black to darken.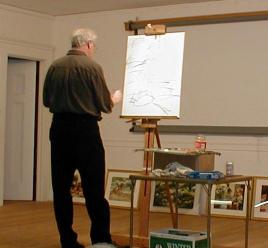 He started right in drawing with the brush.
He calls these rough outlines "Structure Lines".
In this photo you can see that he has begun to fill in the major shapes in the painting.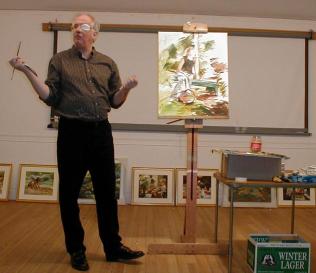 The painting has begun to take shape. You can see the figure now.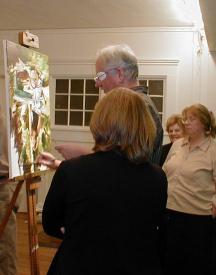 Tom sometimes turns the painting upside down to work on it.
This allows him to see the painting in terms of large shapes of color,
and it removes the distraction of the subject matter.
If you look closely, you can see that the figure is upside down.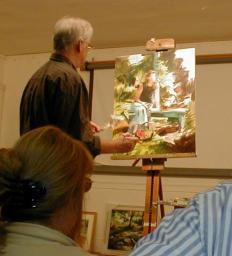 The demo is done.
There is more work to do on this painting,
but it is still a well finished image
for the short amount of time he had to work on it.
Tom paints in acrylics. He refers to his work as "Impressionistic realism". An intensity of color with vigorous brushwork and boldness of execution characterize his paintings.
His paintings hang in public and private collections throughout the New England area, as well as in galleries such as Francesca Anderson Fine Arts, the Brush Gallery, North Shore Art Association, and the State of the Art Gallery. Gill has won numerous awards including "3 out of 3" for recent entries into the North Shore Art Association's 2002 season.
---
Mission Statement
About Us
Our Program
Membership
Schedule
General Information
Archives
---
Home
Search
Acknowledgements and Links
Add Sidebar Menu
---
This web site and all of its content, text and images are Copyright © 2000 - Reading Art Association
All rights reserved.
Last updated October 30, 2016