December 2011 Demonstration
Our demonstrator for December was Carolyn Letvin. She presented a demonstration using oil sticks.
The meeting was held in the Guild Hall, First Congregational Church (middle side door), Sanborn Street, Reading, Wednesday December 14th, 2011 at 7:30 p.m.
We have some photographs of the event in case you could not make it there in person. You can click on any of the images on this page to view a larger version of it. Then, use the Back button on your browser to return to this page.
Carolyn uses oil sticks to do her paintings. They are made of oil paint with a wax binder to hold them together in a stick. They are different from oil pastels because they are made of oil paint and can be used with regular oil paint. They are quite soft and place paint on the surface easily.
She works dark to light and paints on wooden panels, which she has gessoed and sanded.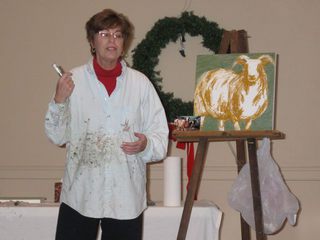 Carolyn started with a basic drawing already in place. That saved
some time on the demo since she takes a while to do the drawing.
You can see one of the oil sticks in her hand in the photo.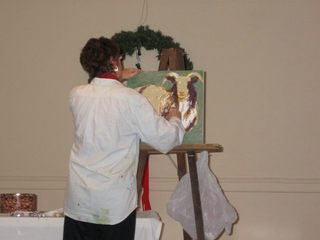 In this photo she is putting in the first dark shapes.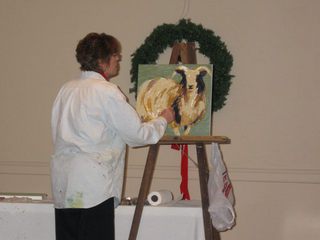 Next she added the mid tones and light areas.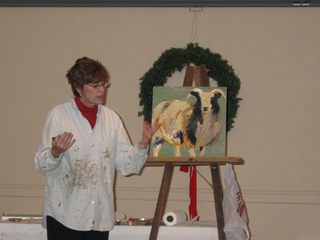 Carolyn makes a point about enjoying painting with the paint sticks.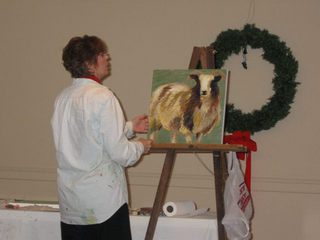 The painting is almost done in this photo.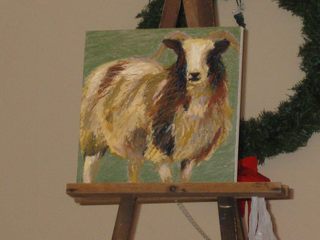 This painting was done in about an hour.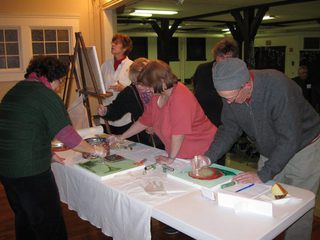 Carolyn set up some panels and let the audience try
their hand at using the paint sticks so that we could
see what they are like. The result is very much like
using normal paint, but much easier to handle.
You can see more of Carolyn's work at her web site, www.carolynletvin.com/
Carolyn Letvin's Bio
Carolyn Letvin, a resident of Milford, Massachusetts, began her painting career in 1973 by attending a three-month Painting Intensive with the renowned Pennsylvania realist, Ted Fitzkee, at York Academy of Arts, York, Pennsylvania. After graduating valedictorian from New England School of Art & Design in 1977 with a Certificate of Graphic Design, she took a hiatus from painting to run a freelance graphic design business. She returned to painting in 1989 and has exhibited in the New England area since 1990. Carolyn is an accomplished landscape painter and also creates stylized feline and farm animal imagery. She paints sheep! She works on-site from photographs and memory.

In three separate workshops Carolyn has studied plein air painting with Eric Aho, most recently in August 2002, at the Great River Arts Institute in Walpole, New Hampshire. Artists who have influenced her work include: Ted Fitzkee, Eric Aho, Richard Deibenkorn, Wolf Kahn, Louisa Matthiasadottir, Susan Rothenberg, Fritz Scholder, Gema Phillips, Lynette Haggard, Ellen Granter and Will Kirkpatrick.

She has won many awards through the years, including Top Award at the 18th Annual Faber Birren National Color Award Show and an Honorary Mention/Sakura Award from the United Pastelists of America/Oil Pastel Association. Currently her work can be seen at Edgewater Gallery in Middlebury, VT; Lauren Clark Fine Art in Housatonic, MA; The Gilded Moon Framing and Gallery in Millerton, NY; and Hudson Art & Framing in Hudson, MA. She is on the board at the Concord Art Association and is a member of the Monotype Guild of New England.



---
Mission Statement
About Us
Our Program
Membership
Schedule
General Information
Archives
---
Home
Search
Acknowledgements and Links
Add Sidebar Menu
---
This web site and all of its content, text and images are Copyright © 2000 - Reading Art Association
All rights reserved.
Last updated October 30, 2016