Annual Dinner Meeting 2012
The annual dinner meeting this year was Wednesday, June 6th, 2012 at The Hillview in North Reading.
Our speaker was Lynne Schulte, a Georgetown artist. Lynne offered a slide presentation and discussion on her body of work called "The Pink Chair Project". This traveling exhibit pays homage to her Mom who passed away last year. By using a pink Adirondack chair, painted in various locations in Maine, as a metaphor for her Mom she has found healing and a way to celebrate the life of her Mother.
Information on this is available at www.pinkchairpaintings.blogspot.com or www.lynneschulte.com
We have some photographs of the event in case you could not make it there in person. You can click on any of the images on this page to view a larger version of it. Then, use the Back button on your browser to return to this page.
The place settings included our surf and turf friends again.
The crowd of the regulars showed up for the party.
A good time was had by all.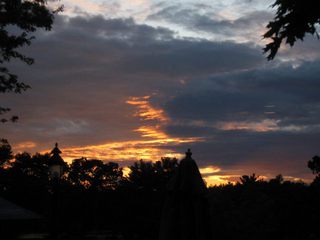 We were treated to a spectacular sunset while we were there.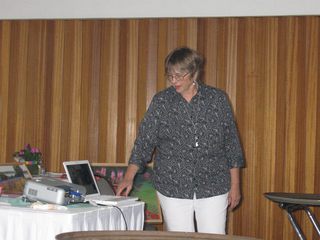 Lynne showed us slides of her paintings she did for her Pink Chair Project.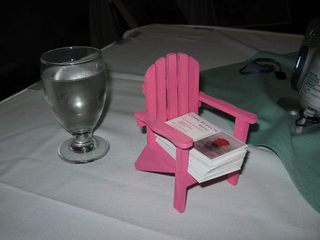 She has an interesting holder for her business cards.
---
Mission Statement
About Us
Our Program
Membership
Schedule
General Information
Archives
---
Home
Search
Acknowledgements and Links
Add Sidebar Menu
---
This web site and all of its content, text and images are Copyright © 2000 - Reading Art Association
All rights reserved.
Last updated October 30, 2016