Annual Dinner Meeting 2013
The annual dinner meeting this year was Wednesday, June 5th, 2013 at The Hillview in North Reading.
Gerry Kehoe was born and raised in Woburn and has lived for 40 years on the shores of Horn Pond. She is a self-taught naturalist and an accomplished, award winning Nature Photographer, specializing in the "nature of Horn Pond" and many other Conservation Areas in Woburn. Gerry showed us photographs of Horn Pond that she has taken over the years and told us about the plants and animals that flourish there. If you would like to see some of Gerry's work, visit her web page, http://www.innitou-photo.com/.
We have some photographs of the event in case you could not make it there in person. You can click on any of the images on this page to view a larger version of it. Then, use the Back button on your browser to return to this page.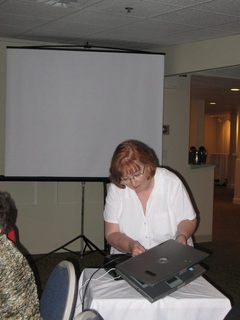 Here is Gerry setting up the projector for the show.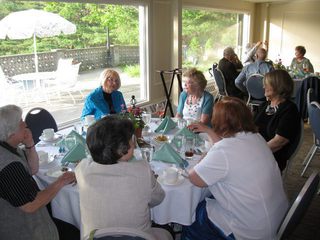 They have renovated the Hillview. The curtains on the picture windows are gone.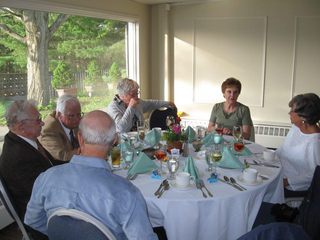 The sun was quite bright that evening.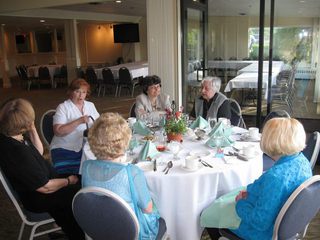 In the background you can see that the bar is gone as well.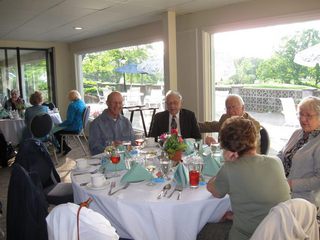 Lots of smiles.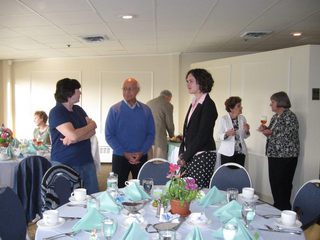 Good conversations with good friends. A good time was had by all.
---
Mission Statement
About Us
Our Program
Membership
Schedule
General Information
Archives
---
Home
Search
Acknowledgements and Links
Add Sidebar Menu
---
This web site and all of its content, text and images are Copyright © 2000 - Reading Art Association
All rights reserved.
Last updated October 30, 2016