Fall Exhibit and Sale 2001
The 2001 Fall Exhibit and Sale is done. And it was a wonderful show.
I have posted the award winners at the bottom of the page.
In case you could not make it to the show in person I have posted some photographs of the event. These images are small for faster loading. You can click on any of the images on this page to view a larger version of it. Then, use the Back button on your browser to return to this page.
We start with the wonderful centerpiece over the refreshments table.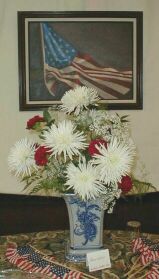 Thank you, Pat Wells for the painting of Old Glory.

Don't forget to look for the floral arrangements.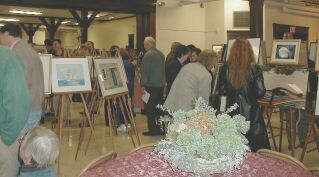 There was quite a crowd on Friday night.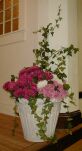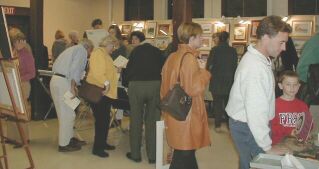 The small works sale did a brisk business.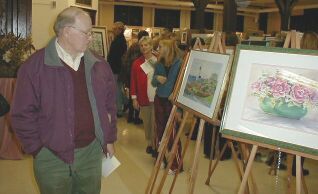 Many fine works of art were on display.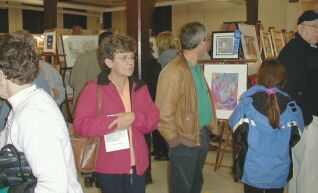 Looking for the prize winning paintings.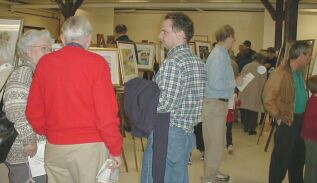 And some good conversation.

Back to Red, White, and Blue.
The Award Winners


Award
Artist
Painting
Medium
President's
Robert Pyle
Chapel, Abbaye du Thoronet
Photo
Director's
W. Marty Marshall
Big Blue Gorilla
Acrylic
Dora B. Evans
Memorial
Pamela Fiske
Burnham House - Spring
Pastel
Mr. & Mrs. Edward
Johnson Memorial
Jean L. Allen
Tree Boundary
Pastel
Most Popular
Don Doyle
Dedication Day
(N. Reading 1874)

Watercolor
Excellence *
Linda Scola
Solitude (Rockland, ME)
Oil
Excellence
Daniel Sheldon
Pemaquid, ME Lighthouse
Watercolor
Excellence
Joyce Wood
Last Autumn
Watercolor
Excellence
Don Doyle
Dedication Day
(N. Reading 1874)
Watercolor
Excellence
Lori Rae Palumbo
Frenzied Feline
Acrylic
Excellence
Charles McCarthy
The Wedding Ceremony
Pastel
Excellence
Carolyn Latanision
Tantalizing Choices
Watercolor
Excellence
Ginger Greenblat
Summer Storm
Watercolor
Excellence
David Mitchell
Chasmosaurus and Baby
Acrylic
Excellence
James J. Delaria, Jr.
Motif No. 1-A Cape Ann, MA
Acrylic

*Best of Blue Award
Don't forget the December Demonstration on December 12th. See you there.
---
Mission Statement
About Us
Our Program
Membership
Schedule
General Information
Archives
---
Home
Search
Acknowledgements and Links
Add Sidebar Menu
---
This web site and all of its content, text and images are Copyright © 2000 - 2003 Reading Art Association
All rights reserved.
Last updated January 11, 2003