February 2004 Demo
The February demonstration was held on February 11, 2004. Dawn Mahoney demonstrated ink painting and other techniques. The demo was held at Guild Hall, Congregational Church Sanborn St., Reading. MA.
We have some photographs of the event in case you could not make it to the show in person. You can click on any of the images on this page to view a larger version of it. Then, use the Back button on your browser to return to this page.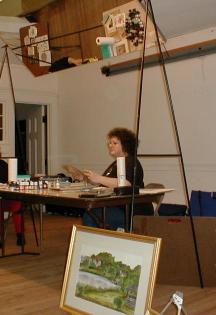 Dawn showed us her setup and explained the
inks that she uses. You can see the bottles
of ink reflected in the mirror in the upper
part of the photo.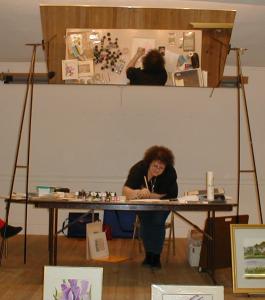 She demonstrated her ink technique by making a painting
of a flower using a photograph for reference.

Here she is roughing in the first wash.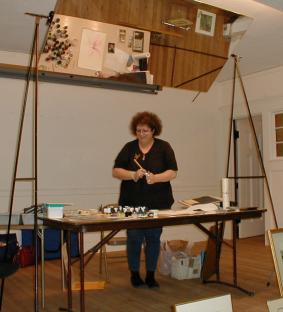 Once the washes are done, she added details using a pen and darker ink.
Here you can see the beginnings of the painting
reflected in the mirror next to the cluster of ink bottles.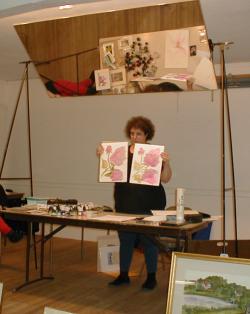 Using a different painting, Dawn showed us the
different stages of completion as she works through a painting.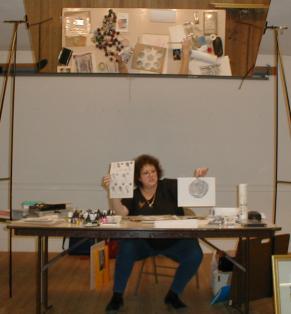 She also showed us the seven different pen strokes
she uses when adding the details to a painting.

The seven strokes are:


Contour Lines
Crosshatching
Parallel Lines
Stippling
Scribble
Wavy Lines
Criss-cross Lines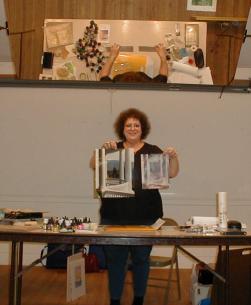 Finally, she showed us a technique she uses for
making drawings directly from photographs.
She scratches the photographs with sandpaper to give
them a texture, then she draws directly on the photograph
to make the image into a multi-media drawing.

In the photograph above, Dawn shows the original photo
along with the image she created using her technique.
Mainly a self-taught artist, Dawn Mahoney worked and studied with many artists in the Boston area. She was chosen from the Boston school population to study art at the Boston Museum of Fine Arts in a special art program, and also spent time in Montreal Quebec working with the artist Verdi of Montreal. She has been a member of the Winthrop Art Association since 1979, and has served on its board in various capacities including President. She has chaired many special projects for WAA, and held shows in other associations including Hamilton/Wenham, Greater Lynn Arts and Crafts, in Beverly Farms and a WAA group show at the Marblehead Art Association's Hooper Mansion.
Mahoney has won a vast number of awards over the years and her artwork can be seen from Winthrop, MA, across the United States, to France, Australia, and Canada.
---
Mission Statement
About Us
Our Program
Membership
Schedule
General Information
Archives
---
Home
Search
Acknowledgements and Links
Add Sidebar Menu
---
This web site and all of its content, text and images are Copyright © 2000 - Reading Art Association
All rights reserved.
Last updated October 30, 2016