February 2008 Demonstration
Our demonstrator for February was Kathy Cooper. Kathy presented a still life oil painting of a small, white pitcher that she brought with her.
The meeting was held in the Guild Hall, First Congregational Church (middle side door), Sanborn Street, Reading, Wednesday February 13th, 2008 at 7:30 p.m.
We have some photographs of the event in case you could not make it there in person. You can click on any of the images on this page to view a larger version of it. Then, use the Back button on your browser to return to this page.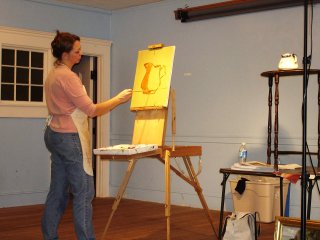 Here is a photo of Kathy's setup. She had already toned the canvas
with a warm tone. She started by sketching the pitcher with the brush.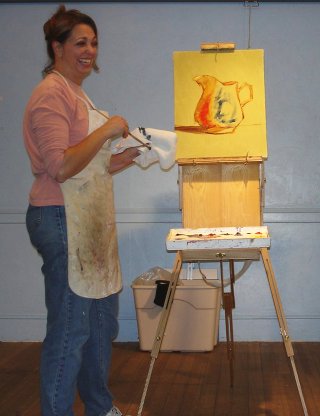 Next she added some base colors. Kathy uses very little medium,
just some Turpenoid in the beginning. She works wet-in-wet.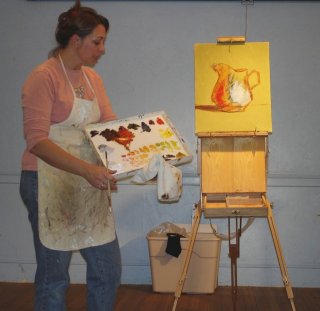 Here is Kathy's pallette. She uses a limited pallette.
She cleans her brushes with olive oil instead of turpentine.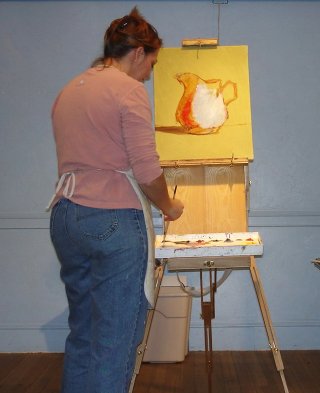 The main colors in the painting go over the base colors and
are worked into them. This provides an interesting mix of colors
that is more vibrant and alive than just white and shadow.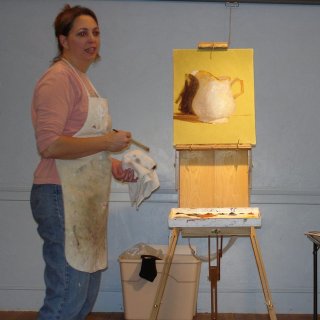 The shadow area has now been placed, and a dark background
makes the light colors look brighter. The edge of the pitcher
near the dark background is left soft so that it will turn the corner.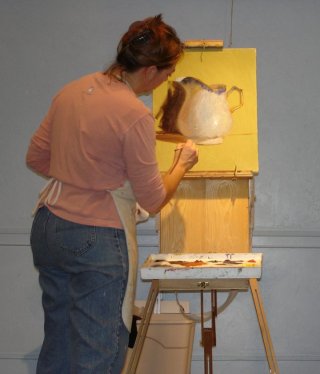 Some details help to define the shape of the pitcher.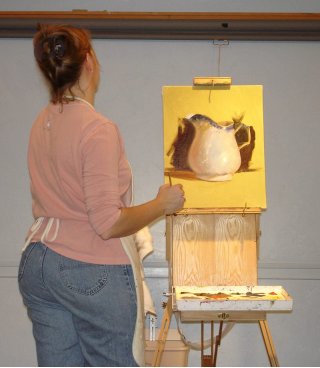 The final touch is the gold trim along the top of the pitcher.
The gold is painted using burnt umber, burnt sienna, orange
highlights, and a tiny bit of green made from ivory black and yellow.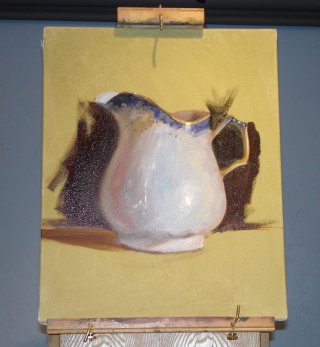 You can see the gold trim in this image of the final painting.
Kathy Cooper's Bio
If you would like to see some examples of Kathy's fine work, visit her web page at www.KathyCooperFineArt.com
Kathy Cooper, a national professional oil painter, will demonstrate her techniques on how to paint exciting whites and sparkling gold in oil. As a representational painter, Kathy captures the essence of her subjects with the proven principles of art and the beautiful brushstrokes of her own a la prima techniques. She paints mostly from life with her large collection of interesting antiques. Porcelain vases or teacups, lace and fresh flowers are typical for Kathy to paint in her classic, painterly, old-master's style. She also paints and teaches landscape (from photo and en plein air) and portrait and figurative oils. Kathy explains,
"While browsing antique stores, I'm inspired by a romantic period of time of the past. I never know exactly what I'm looking for, but I know it when I see it. I not only look for beauty in these items, but interesting character and texture. With these items of yesterday, I will interject 'life' by adding scattered flowers from my gardens. My mind is consumed with images for my paintings, such as a delicate English vase lavished in fragrant peach roses resting on lace, or a partially rusted country gravy boat surrounded with lilacs. The possibilities are endless."
Kathy is the 2007 2nd VP/Show Chairman for the national art organization, Women Artists of the West. She planned and promoted their national show at Hilligoss Galleries in Chicago titled, 'East to West ' Meeting in the Middle.' Her show honored Nancy Guzik (artist and wife of Richard Schmid) with the WAOW 2007 Award of Excellence, and hosted ten other nationally acclaimed invited artists. She will discuss her experience with this show and have a show catalog available for purchase for $15. Kathy will also bring paintings which can be purchased at the demonstration.
Kathy is represented by The Cranes Collection in Manchester-by-the-Sea and Horizon Gallery in Jackson, WY. Her work is also shown in Oil Painters of America, Impressionist Society, and Women Artists of the West fine art shows across the country.
Kathy paints and teaches in her Westford, MA, studio and performs workshops and demonstrations around New England. As one of her students states, 'Kathy is an excellent artist and an exceptional teacher. She works with students individually to help them express their unique styles, while also providing a solid foundation in artistic techniques and color theory. During my eight months of study with Kathy, I have made significant progress and have grown to appreciate my individual style of painting.' If you would like more information about her teaching, email her at kcooperfa @ aol.com, and visit her gallery online at www.KathyCooperFineArt.com.
---
Mission Statement
About Us
Our Program
Membership
Schedule
General Information
Archives
---
Home
Search
Acknowledgements and Links
Add Sidebar Menu
---
This web site and all of its content, text and images are Copyright © 2000 - Reading Art Association
All rights reserved.
Last updated October 30, 2016