January 2004 Demonstration
The January demonstration was held on January 14, 2004. It was called "Understanding Tones" Oil Landscape Painting featuring David P. Curtis. The demo was held at Guild Hall, Congregational Church Sanborn St., Reading. MA.
We have some photographs of the event in case you could not make it to the show in person. You can click on any of the images on this page to view a larger version of it. Then, use the Back button on your browser to return to this page.
David gave us a good lesson in how to use tonal values to grab an outdoor scene and capture it on canvas. He paints mostly outdoors where the scene is always changing and the lighting conditions vary from minute to minute. This requires a quick and decisive method of painting.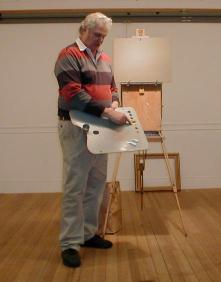 David began by describing his pallette.
He was using a limited number of colors for
this demo, but said that he would use a larger
number if he had more time to spend on the work.
His pallette consists of two colors for each
of the primaries (warm plus cool) and white.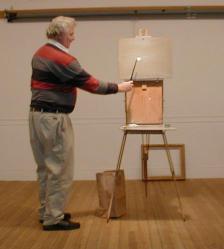 This is called "spotting". David took a large brush
and located the center of interest in the painting
by placing a large, white spot there.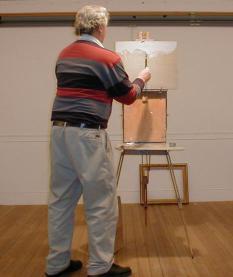 He then began to rough in the large areas using the
three major tonal values in the painting. He limited
the number of tonal values to three in order to keep the painting
under control and make the basic statement quickly and cleanly.

In this photo he is roughing in the sky.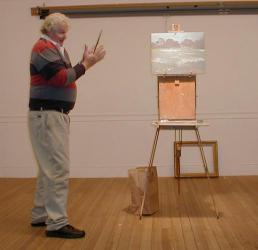 Here is the painting after the major values have been
roughed in. He has also added some interest in the foreground
by painting some flowers which were growing in the field.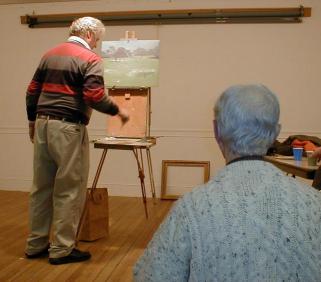 David continued to work through the break.
Here he puts in some more details while Anthony watches.
The painting is almost finished.
David checks it out.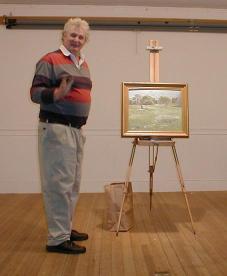 And finally, we get to see the painting in a frame.
Good job!





David P. Curtis was introduced to painting at an early age by his father, marine artist, Roger W. Curtis and took art classes from his uncle, Howard Curtis, while a student at Gloucester High School. He grew up surrounded by the painters, and the paintings of Cape Ann, an area noted for its artistic connections.

He attended Mass College of Art, the Boston Museum School, and Vesper George. He worked under Boston painter R.H. Ives Gammell, and associated with other noted artists including Ken Gore, and Robert Douglas Hunter.

Curtis has won numerous awards. He is a past Copley Master and held board positions on the Guild of Boston Artists and the North Shore Arts Association. He is current President of the Rockport Art Association.

David will present a landscape demonstration in oils, emphasizing the importance of light and dark as it relates to values and the keying of a painting. He will also demonstrate how to build on these undertones to create color values and finally, how to develop the tones. Other fundamentals important to the plein air painter will also be discussed during the demonstration.



---
Mission Statement
About Us
Our Program
Membership
Schedule
General Information
Archives
---
Home
Search
Acknowledgements and Links
Add Sidebar Menu
---
This web site and all of its content, text and images are Copyright © 2000 - Reading Art Association
All rights reserved.
Last updated October 30, 2016