March 2002 Demo
Our demonstrator for the March demo was Dustan Knight. The demo was on March 13, 2002.
Dustan Knight received her MA from Boston University and her MFA from the Pratt Institute, NYC. She has exhibited in many shows throughout New Hampshire and Maine and has gallery representations in New Hampshire, Maine, Massachusetts, Arizona, and Florida. She currently sits as chair on the Foundation Department at the New Hampshire Institute of Art in Manchester, NH. Besides being an educator she has juried and has lectures. Dustan's presentation on March 13, 2002 featured a watercolor demonstration on florals. She works her big loose florals using a fresh wet style that combines direct painting on wet and dry paper with final glazing steps to enrich the value contrast.
We have some photographs of the event in case you could not make it to the show in person. You can click on any of the images on this page to view a larger version of it. Then, use the Back button on your browser to return to this page.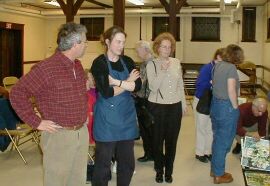 Dustan stands back to let her painting speak to her. One of her suggestions during the demonstration was to put a painting aside before it is finished and just let it speak to you. The answers to perplexing problems will come to you in time.
Dustan gives some pointers to an interested crowd.
Here you can see a good view of the floral that she worked on. Her watercolor style is loose and flowing. Her drawing serves as only a starting point, and happy accidents keep the work original.
Handing out cards.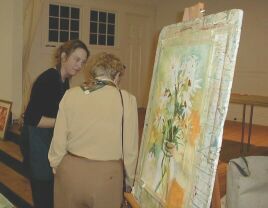 Dustan is a very entertaining demonstrator. Her humor and tips about the process of making her art were a joy.
Now that you have seen what can be done, get out there and paint! Time is racing by, and our Spring Show is coming up in April. Look for the application form in the mail soon.

---
Mission Statement
About Us
Our Program
Membership
Schedule
General Information
Archives
---
Home
Search
Acknowledgements and Links
Add Sidebar Menu
---
This web site and all of its content, text and images are Copyright © 2000 - 2003 Reading Art Association
All rights reserved.
Last updated January 11, 2003