March 2004 Demo
The March demonstration was held on March 10, 2004. It was held at Guild Hall, First Congregational Church, Sanborn St., Reading. MA.
The subject of this demo was "Gyotaku Printmaking" featuring Ray Bliss Rich.
We have some photographs of the event in case you could not make it to the show in person. You can click on any of the images on this page to view a larger version of it. Then, use the Back button on your browser to return to this page.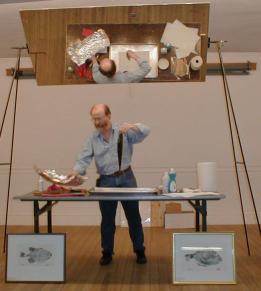 The first thing is to unwrap the fish. Here it is.
This fish was caught by Ray's wife the weekend before the demo.
The preparation of the fish prior to printing is of key importance. Ray emphasized that it is necessary to remove all water and slime from the fish before attempting to pull a print. Here are the steps that he follows to ensure a clean print.
Wash the fish with Dawn detergent to remove all oils.
Dry the fish thoroughly with paper towels.
Dry the fish further using rubbing alcohol.
Stuff paper towels into all the orifices to keep fluids inside the fish.
Pay special attention to the area behind the fin.
Prop up the dorsal fins using straight pins.
Make cardboard supports to go beneath the fins while printing.
To keep the ink off the cardboard supports, Ray removed them temporarily before applying the ink and then replaced them for the actual print.
It is possible to use any type of ink as long as it dries waterproof. The ink must be waterproof because the final print is mounted using a wet mount process. For this demonstration, Ray ground his own sumi ink.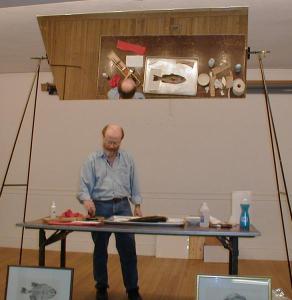 In this photo, Ray grinds the sumi ink he will use.
Sumi ink comes as a dry stick of ink. To suspend the ink
for painting it must be ground in water on a stone.
In the mirror you can see the fish laid out and ready to go.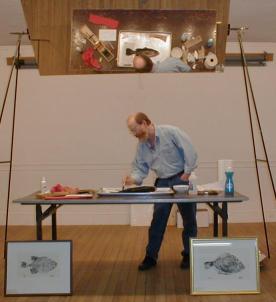 Ray starts brushing on the ink at the tail,
going against the grain of the scales.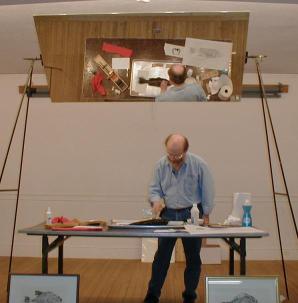 Here he is finishing up near the head.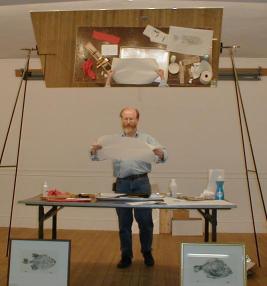 Once the fish is inked, the paper is placed onto the fish.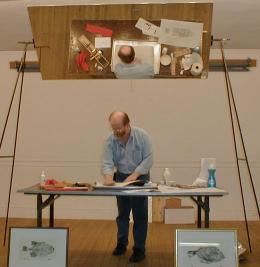 Then the paper is carefully pressed onto the fish
to transfer the ink onto the paper. This must be done
very carefully to ensure obtaining a good image.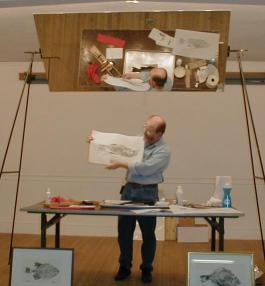 Here is the print.
To see how Ray mounts his prints using a wet mount process, please go to Page 2.
---
Mission Statement
About Us
Our Program
Membership
Schedule
General Information
Archives
---
Home
Search
Acknowledgments and Links
Add Sidebar Menu
---
This web site and all of its content, text and images are Copyright © 2000 - Reading Art Association
All rights reserved.
Last updated October 30, 2016