March Demonstration 2009
Our demonstrator for March was Ellen Rolli, who presented an acrylic lesson in color and composition.
The meeting was held in the Guild Hall, First Congregational Church (middle side door), Sanborn Street, Reading, Wednesday March 11th, 2009 at 7:30 p.m.
We have some photographs of the event in case you could not make it there in person. You can click on any of the images on this page to view a larger version of it. Then, use the Back button on your browser to return to this page.
Ellen paints in a very loose style using large brushes. She paints mostly in large format now, and the painting she did for our demo is small compared to the size she normally works with.
Ellen painted a platform shoe for the demonstration.
You can see the shoe on the stool at the right side of the photo.
She started with a very loose sketch of the subject.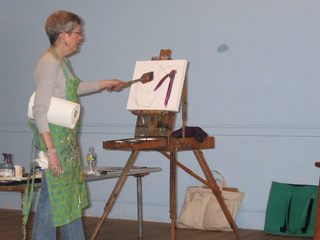 She started by blocking in the shoe with a dark purple color.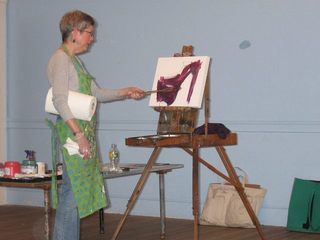 Here the shoe is mostly blocked in using her large brush.
The top of the shoe has been put in at this stage.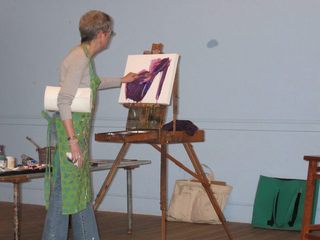 Some details are scraped in using her pallette knife.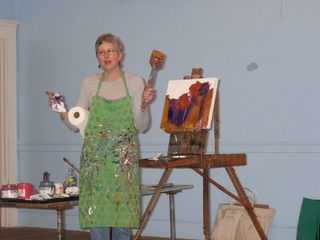 Here she demonstrates how to hold the brush. "Like a tennis
racket, not like a pencil" she said. Notice the size of the brush.
Next, the background goes in.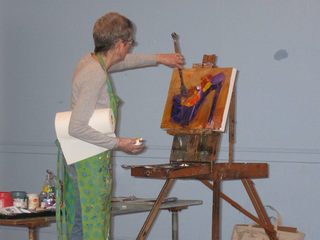 The straps of the shoe are a painted red and yellow.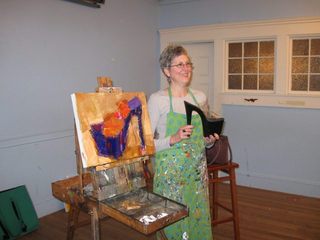 Here is Ellen with the shoe and the painting.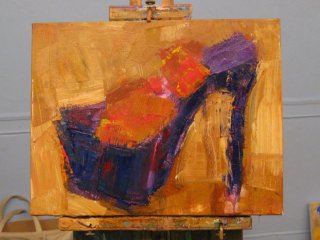 Here is the final painting.
Ellen Rolli's Bio
For more information about Ellen, you can go to her web page, ellenrolli.com.
Ellen Rolli of Melrose describes her approach to art by saying, "I tend to work in a series, whether still life, figurative, or landscape. When painting a particular subject, I become so familiar with the subject matter that I can delve into the excitement of the painting process with confidence and passionate energy. I apply paint generously with a direct, painterly, expressive and intuitive approach. I want my process to show through."
Ellen was encouraged at a young age to follow an artistic path, so she fulfilled her dream to attend Massachusetts College of Art, graduating in 1978 with a BFA in Art Education and a minor in painting. Her career has afforded her broad experiences as art educator, graphic designer, muralist, and as assistant manager of an art gallery.
Ellen is a member of several art associations, including The Copley Society of Art in Boston and the Melrose Art and Cultural Association. She presents demonstrations, teaches workshops, judges exhibitions, and enjoys painting in her Boston studio. She was published in the 2008 summer issue of American Artist Workshop magazine. Her work has received many awards, including the Sam Sargent Award for Best of Show, and her paintings hang in numerous private collections. She is represented by the Left Bank Gallery, Orleans; the Kevin Butler Gallery, Edgartown; Alpers Fine Art Gallery in Andover; and the Hourglass Gift Gallery in Melrose.
---
Mission Statement
About Us
Our Program
Membership
Schedule
General Information
Archives
---
Home
Search
Acknowledgements and Links
Add Sidebar Menu
---
This web site and all of its content, text and images are Copyright © 2000 - Reading Art Association
All rights reserved.
Last updated October 30, 2016