May 2002 Demo
"Cityscape in Acrylic"
with Eva Cincotta
Thanks go out to Eva Cincotta, who stepped in for John Krenick for our May demo when he became unavailable.
Eva is a Melrose resident and a graduate of the Boston Museum School of Art and a graduate of Tufts University. Currently she is teaching drawing at North Shore Community College, evening classes at Everett Art, and outdoor painting workshops in Rockport and Gloucester. Besides teaching, painting, and demonstrating for the past 25 years, she is active in the Malden Sketch Group and the Rockport Art Association.
Eva is a full-time painter, painting outdoors on location year round. She also maintains a studio in her home, working in all media. She is represented in galleries in Bar Harbor, Maine; Edgartown, Martha's Vineyard; and Main Street, Charlestown.
Eva demonstrated painting a city scene in Boston using acrylics. Here are some photos of the demonstration. Click on any of the photos to see a larger version.
Below, you can see the painting that Eva did for us as the evening progressed.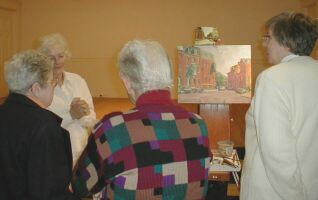 During the break, Eva discussed her philosophy of painting with the audience.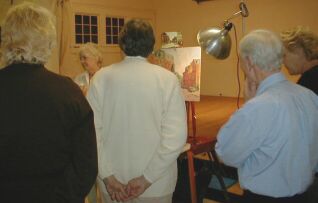 Eva uses a simple pallette of primary colors. She uses two blues; a warm blue and a cool blue, two reds; warm and cool, and two yellows; also warm and cool. She also adds an ochre and an orange. To tone down the colors, she adds the complementary color to it, so to tone down a red color, she adds some green. She calls all these colors "gray", although they are colorful grays, not simple black and white grays.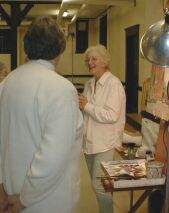 Eva recommends the book "Carlson's Guide To Landscape Painting", by John F. Carlson, available from Dover Books. In the book, he describes the four values needed to paint landscapes, from highest value to lowest value:
Sky
Ground
Slants
Verticals
See the book for further details.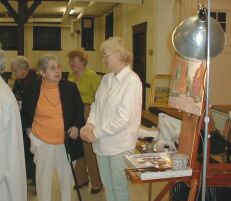 ---
Mission Statement
About Us
Our Program
Membership
Schedule
General Information
Archives
---
Home
Search
Acknowledgements and Links
Add Sidebar Menu
---
This web site and all of its content, text and images are Copyright © 2000 - 2003 Reading Art Association
All rights reserved.
Last updated January 11, 2003