October 2003 Demo
The October demonstration was held on October 8, 2003. It was a watercolor demonstration given by Bernard Gerstner.
We have some photographs of the event in case you could not make it there in person. You can click on any of the images on this page to view a larger version of it. Then, use the Back button on your browser to return to this page.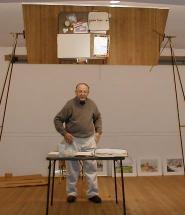 Bernie starts out with a white sheet of paper, as we all do.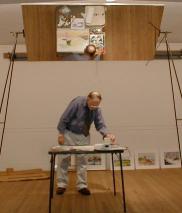 Here he has started by laying in the big areas of color such as the sky and the water.
Bernie uses vibrant colors in his paintings.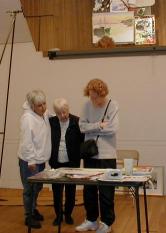 At the break people came up to get a closer look.
At this point the painting is well established.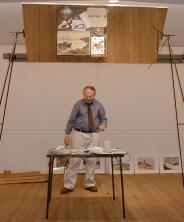 Almost done. Just a few more details.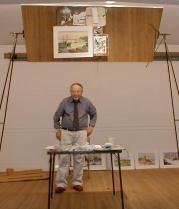 Putting a mat around the painting gives us an idea
of what it will look like when it is framed.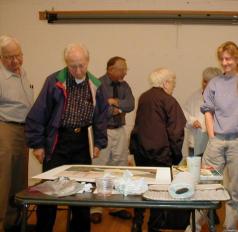 Time to party!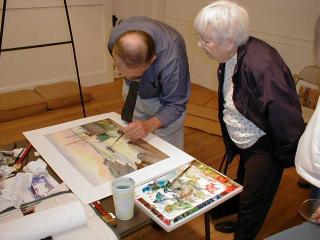 ... well even when its "done", there is always a detail that can be improved.
Thanks, Bernie for a great demo!
Bernard Gerstner maintains a summer gallery at Rocky Neck, East Gloucester, and a winter gallery at 1076 Washington Street in Gloucester, MA.
He is a painter (watercolorist), noted for his crisp colors and design. His subject matter is usually beautiful Cape Ann, although his artwork includes the beauty of all New England, the Caribbean, and the Southwest.
Gerstner graduated from Rochester Institute of Technology, and the New York Phoenix School of Design. He has permanent collections of his work at Manufacturers Hanover Trust Bank, R.I.T., and Engelhart Industries. Presently, he is teaching at the Rockport Art Association, in Gloucester, and other workshops throughout the country.
---
Mission Statement
About Us
Our Program
Membership
Schedule
General Information
Archives
---
Home
Search
Acknowledgements and Links
Add Sidebar Menu
---
This web site and all of its content, text and images are Copyright © 2000 - Reading Art Association
All rights reserved.
Last updated October 30, 2016