October 2009 Demonstration
Our demonstrator for October was Maris Platais. He presented a demonstration of an acrylic landscape.
The meeting was held in the Guild Hall, First Congregational Church (middle side door), Sanborn Street, Reading, Wednesday October 14th, 2009 at 7:30 p.m.
We have some photographs of the event in case you could not make it there in person. You can click on any of the images on this page to view a larger version of it. Then, use the Back button on your browser to return to this page.
Maris paints using only the primary colors. He has a very small palette. The colors he used for the demonstration were:
Ultramarine Blue
Cadmium Yellow Light
Cadmium Red Medium
To illustrate how he obtains all of the colors from those three primary colors he painted some color swatches on a blank canvas. He first mixed a dark neutral color from all three of his primary colors. Then he gradually brightened them and lightened them by adding more of one or two colors plus white.
After demonstrating his color technique, he went on to the demonstration.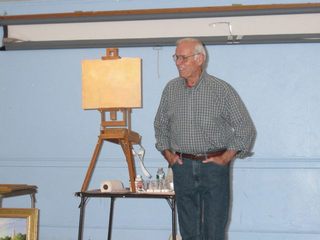 He began with a primed, colored canvas. The paint on the canvas was just
a bunch of colors left over from a previous painting session. He coats the canvas
with paint to keep it from absorbing the paint when he is painting the picture.
He blocked in various basic shapes using several different colors.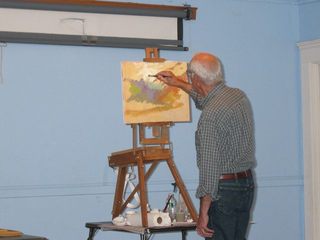 He added some warm colors on the right hand side and put some high key color in the sky.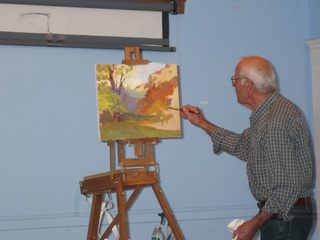 While he continues to block in large areas of color, a tree emerges on the left side.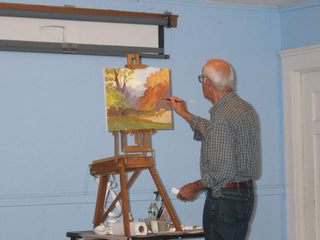 Maris works dark to light. He blocks in the basic shapes with
darker, muted colors and then brings out the lights as he paints.
As he continues to refine the areas of color, an Autumn scene emerges
from the painting. He says he starts painting "in the middle of the painting",
not physically in the middle, but conceptually in the middle.
At the break, Maris showed us some of his other work and
discussed his general technique. Here are some of the paintings he showed us.
| | |
| --- | --- |
| The bridge in Concord, MA | A scene painted in Colorado. |
| Another Colorado scene. | A scene from Maine. |
After he showed us the other works, he went back to the demo.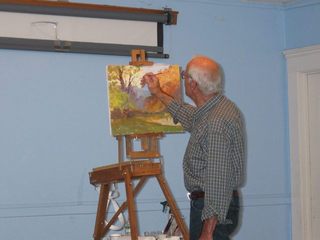 He puts the details in using a long hair, synthetic sable brush.
He does not use bristle brushes because he can control the paint better with the sable.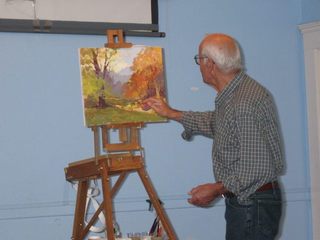 He added some highlights as a finishing touch to the painting.
Here is the final result: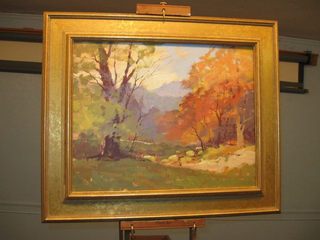 Thank you, Maris for an excellent demonstration.
Maris did a demonstration for RAA in 2005. If you would like to see some more photos of his works, check out our page from that demo, RAA Demo January 2005.
---
We are privileged to have Maris Platais return to RAA to present a demonstration in Acrylic Landscape. Maris is a native of Latvia and has lived in New England since 1949. He is a graduate of Tufts University and the Boston Museum School. After serving for 4 years in the United States Marine Corps, he worked as an advertising artist, both corporate and freelance, while also teaching drawing at the Museum of Fine Arts. Currently he teaches painting and drawing at the Lexington Arts and Crafts Painters Guild and lectures and demonstrates to art associations throughout the northeast. He has served as a juror for many organizations, including the New England and the Rhode Island Watercolor Societies.
Maris works both en plein air and in studio, often combining the two. His subjects are inspired by nature, land and sea. Color as well as good drawing are very important. He says, "I am particularly moved by the calligraphic lines of tree branches that produce an endless variety of abstract shapes through lost-and-found lines as well as changing edges and contrasts."
Maris Platais' work has been exhibited nationally and internationally, and he has won innumerable awards. He is a member of the Guild of Boston Artists, the Academic Artists Association, the American Society of Marine Artists, and the Concord Art Association, where he has served as president.
---
Mission Statement
About Us
Our Program
Membership
Schedule
General Information
Archives
---
Home
Search
Acknowledgments and Links
Add Sidebar Menu
---
This web site and all of its content, text and images are Copyright © 2000 - Reading Art Association
All rights reserved.
Last updated October 30, 2016