October 2011 Demonstration
Our demonstrator for October was Tom Sutherland. He presented an oil painting demonstration.
The meeting was held in the Guild Hall, First Congregational Church (middle side door), Sanborn Street, Reading, Wednesday October 12th, 2011, 7:30 p.m.
We have some photographs of the event in case you could not make it there in person. You can click on any of the images on this page to view a larger version of it. Then, use the Back button on your browser to return to this page.
In the demonstration tonight, Tom demonstrated his oil technique where he used a limited palette. His palette consisted of the following colors:
Ultramarine Blue
Alizarine Crimson
Cadmium Red Light
Burnt Sienna
Yellow Ochre
Cadmium Yellow Light
He uses Gamsol® for his paint thinner. Gamsol is odorless mineral spirits.
He painted a Paris street scene from memory.
He began by sketching in the basic shapes of the scene.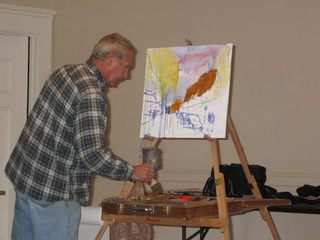 Then he roughed in the basic colors. You can see from his use of
lots of paint thinner the influence of his origins in watercolor.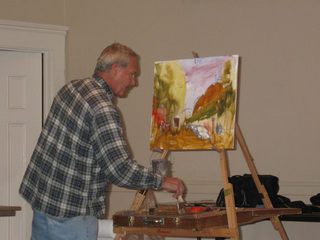 He continued roughing it in until the canvas was covered.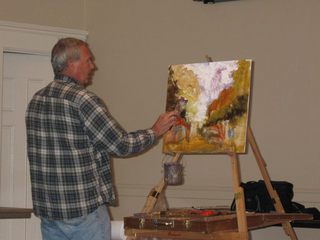 The next step was to put in a layer of paint with a putty knife
to get the coverage and the texture that he wanted.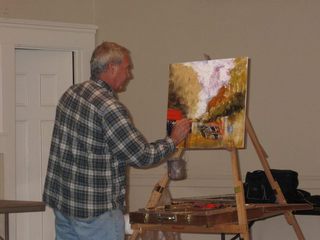 The final step was to put in some details with the brush.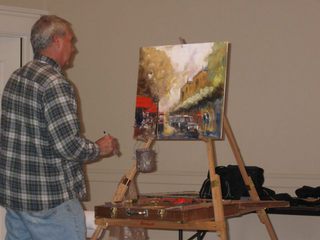 The painting is almost done.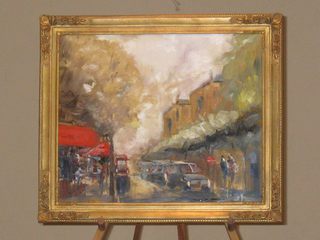 Here is the result of the demonstration.
Tom Sutherland's Bio
Tom Sutherland paints in a very expressive and impressionistic style in both oils and watercolors. His work has won numerous awards and is on display at various galleries and public spaces around the Greater Boston area. He is collected throughout the United States and Europe.
Tom began his fine art career later in life after many years in engineering and as a commercial artist specializing in hand-carved signs and corporate decor art. He is primarily self-taught but has studied extensively under international master artist Alvaro Castagnet.
Tom is a much-sought-after teacher, demonstrator and workshop instructor. He currently has a painting show on MMTV public television and performs a unique painting demonstration to music entitled, Painting with Puccini.
Tom is a member of the Reading Art Association (past president), Malden Sketch Group, Melrose Art and Cultural Association (past president), North Shore Arts Association, and Rockport Art Association. His many awards include The Best of Show at Reading Art, The Cheap Joe's Merchandise Award at North Shore Arts, and The Mary Bryan Memorial at Rockport Art and at North Shore Arts.
To see more of Tom's art, visit his web page at www.tomsutherlandart.com/.
---
Mission Statement
About Us
Our Program
Membership
Schedule
General Information
Archives
---
Home
Search
Acknowledgements and Links
Add Sidebar Menu
---
This web site and all of its content, text and images are Copyright © 2000 - Reading Art Association
All rights reserved.
Last updated October 30, 2016