September 2003 Demo
Our demonstrators for the September demo are members of RAA. This year the demonstration featured five of our talented members exhibiting many tips and techniques for us in their preferred media.
The demo was held on September 10, 2003. It started at 7:30 PM on September, 2003 10 at Guild Hall, Congregational Church (Middle side door), Sanborn St., Reading. MA.
Our demonstrators this year were:
| | |
| --- | --- |
| Leo Lambert | Woodcarving |
| Daniel Sheldon | Painting from Sketches |
| Molly Mugler | Watercolor |
| Anthony Accettullo | Stained Glass |
| Bruce Welsh | Oil Painting |
We have some photographs of the event in case you could not make it there in person. You can click on any of the images on this page to view a larger version of it. Then, use the Back button on your browser to return to this page.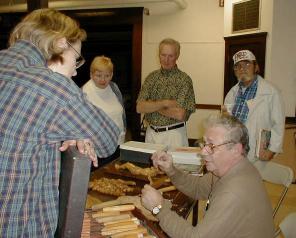 Leo Lambert demonstrated his woodworking techniques and tools.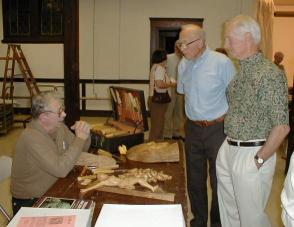 Leo likes to talk....
He did some carving too.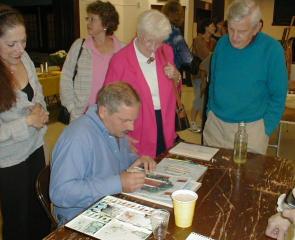 Dan Sheldon showed us how he paints from sketches.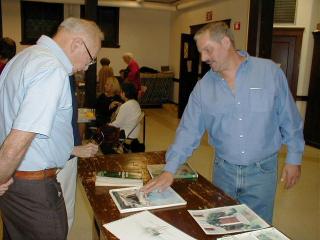 Dan has a very precise style in his watercolors.
He showed us some very nice sketches and paintings.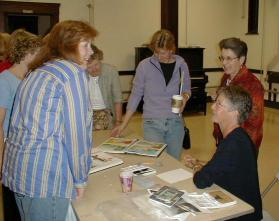 Molly Mugler also showed us her sketchbook.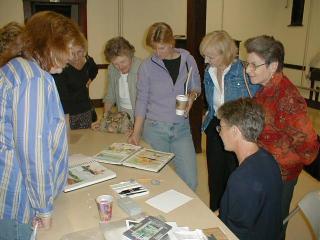 She drew quite a crowd.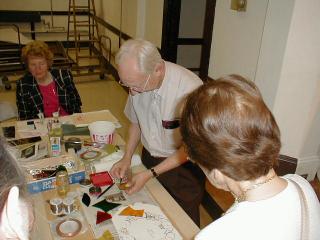 Anthony Accettullo demonstrated making stained glass.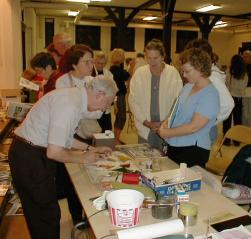 Anthony learned how to make stained glass
from his father, so this talent runs in the family.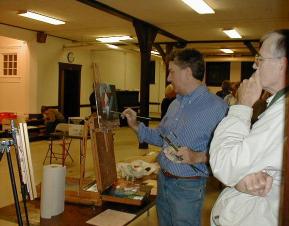 Bruce Welsh showed us how he paints in oils.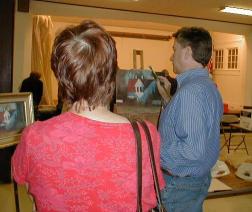 He starts with a board on which he has put a heavy texture.
This gives his paintings a unique mood.
---
Mission Statement
About Us
Our Program
Membership
Schedule
General Information
Archives
---
Home
Search
Acknowledgements and Links
Add Sidebar Menu
---
This web site and all of its content, text and images are Copyright © 2000 - Reading Art Association
All rights reserved.
Last updated October 30, 2016