September Demonstration 2009
Our demonstration for September was the annual "Members' Demo". For this demonstration, three of our very own members set up and showed us how they work. This was an informal demonstration where people walked around to the various artists and asked questions or just watched.
The meeting was held in the Guild Hall, First Congregational Church (middle side door), Sanborn Street, Reading, Wednesday September 9th, 2009 at 7:30 p.m.
Our member artists this year were:
Ginger Greenblatt - Oil
Dennis McQuillen - Oil
Edward Rice - Watercolor
We had a good crowd of people to watch the demos. We also had the pleasure of seeing one of our charter members again, Fred Peters.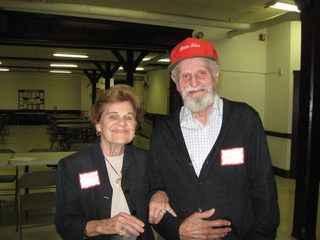 In case you did not know, Fred is famous for drawing Pluto in the Walt Disney cartoons many years ago. Fred is shown here with another long time member, Evelyn Knox.
Ginger demonstrated an oil portrait.
Ginger uses a magnifying glass to help her see the painting with a fresh eye.
Dennis also did an oil demonstration.
Dennis gave a practical demonstration from one chapter of the Carlson book on landscape painting.
Ed did a landscape in watercolor.
---
Mission Statement
About Us
Our Program
Membership
Schedule
General Information
Archives
---
Home
Search
Acknowledgements and Links
Add Sidebar Menu
---
This web site and all of its content, text and images are Copyright © 2000 - Reading Art Association
All rights reserved.
Last updated October 30, 2016