April 2004 Demo
The April demonstration was held on April 14, 2004. It was at Guild Hall, First Congregational Church, Sanborn St., Reading. MA.
Our scheduled speaker, Frank Lacano, could not make it to the meeting, and Eva Cincotta was kind enough to step in on short notice. So, the April demonstration was Eva giving us some tips on painting in acrylics.
We have some photographs of the event in case you could not make it to the show in person. You can click on any of the images on this page to view a larger version of it. Then, use the Back button on your browser to return to this page.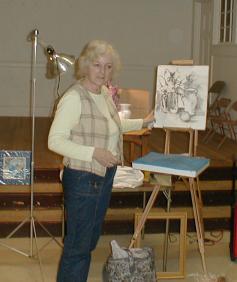 Eva first made a charcoal sketch of the still life
setup that she brought. This allowed her to demonstrate
how to define the shapes of the light values by drawing
the dark background around them. While drawing, she shifts
her attention from foreground to background.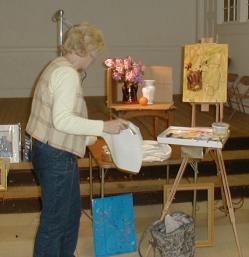 Eva normally tones her canvas with a complementary color
before starting on the painting. The complementary underpainting
shows through in the final painting and makes it more lively.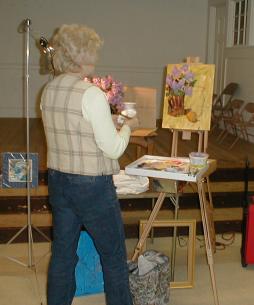 In this photo you can see that Eva has roughed in the
pot on the left and the flowers in it. She started out
by capturing the basic shapes and colors with no detail.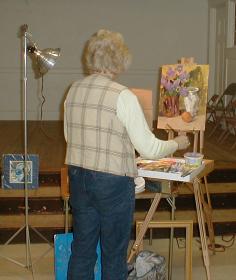 At this point, the white vase and the
orange have been roughed in as well.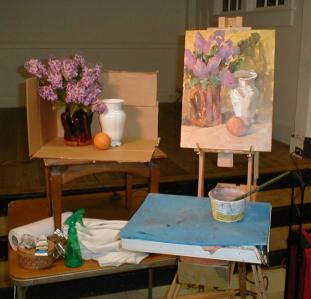 Here is a close up view of Eva's setup....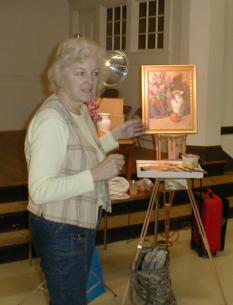 ... and the final the painting in a frame.
Eva has demonstrated at Reading Art Association before. You can see more of her work from our May, 2002 demonstration.
This Summer, Eva will be giving morning workshops in Rockport MA. The workshops are open to all. Just show up at the Rockport Art Association to check in.
The workshops are on Thursday mornings and run from 9:00 a.m. to 1:00 p.m. Contact Eva for cost and details.
Eva is a Melrose resident and a graduate of the Boston Museum School of Art and a graduate of Tufts University. Currently she is teaching drawing at North Shore Community College, evening classes at Everett Art, and outdoor painting workshops in Rockport and Gloucester. Besides teaching, painting, and demonstrating for the past 25 years, she is active in the Malden Sketch Group and the Rockport Art Association.
Eva is a full-time painter, painting outdoors on location year round. She also maintains a studio in her home, working in all media. She is represented in galleries in Bar Harbor, Maine; Edgartown, Martha's Vineyard; and Main Street, Charlestown.
---
Mission Statement
About Us
Our Program
Membership
Schedule
General Information
Archives
---
Home
Search
Acknowledgements and Links
Add Sidebar Menu
---
This web site and all of its content, text and images are Copyright © 2000 - Reading Art Association
All rights reserved.
Last updated October 30, 2016